Beginning Silver Metal Clay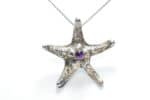 Beginning Silver Metal Clay
Company/Instructor Name:
Creator Haven, LLC, Patricia Evans
Class Description:
Learn all the essential techniques for making silver clay jewelry in this in-person class scheduled to fit your needs.
Extra information:
Silver metal clay is like magic! It starts in clay form and then fires to pure fine silver. Create two personalized projects while learning the essentials of working with metal clay.
Learn to shape and texture with simple tools to make solid silver jewelry without solder, saws or toxic chemicals. Then learn to fire and finish your beautiful creations. You'll also learn to use molding compound to make your own molds, two or more ways to set fireable gemstones, and several interesting ways to make bails. Your second piece will be picked up a week after class to allow for thorough kiln firing.