Exceptional Work in Metal Clay 2023 Calendar
Orders are now closed for the 2023 calendar

This calendar features a curated collection of 33 of the finest pieces created in metal clay by members of the Alliance for Metal Clay Arts Worldwide (AMCAW). Every page is a celebration of the versatility of this material and the artistry of the community.
We'll only be printing as many copies as are pre-ordered. If you want one, you must pre-order before the closing date of August 31st 2022. THIS IS YOUR ONLY CHANCE TO GET THE 2023 CALENDAR.
Once the order period is closed, we will print the calendars and ship them in October 2022.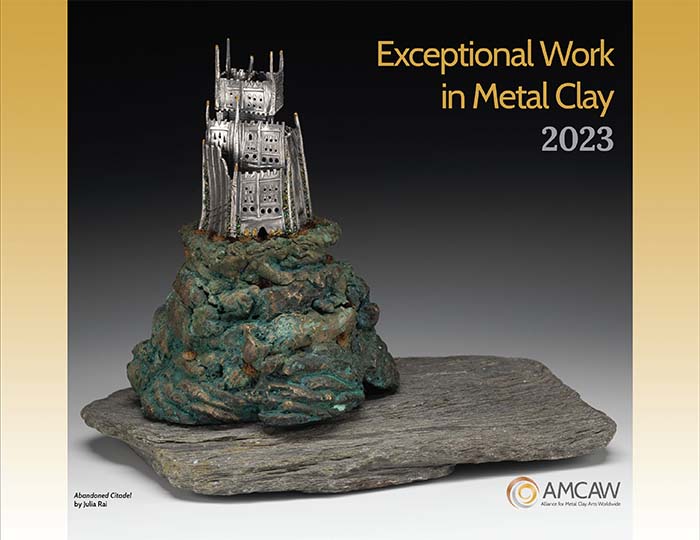 With this calendar on your wall, you will discover a new collection of artists each month with stunning photos alongside details about the pieces and the creators. Each month also includes a list of online events and submission deadlines of interest to metal clay artisans and instructors. This 12-month calendar runs from January to December 2023 with the addition of a year to view page for 2024.
29 talented artists from five countries around the world are featured in this calendar.
Artists in alphabetical order by surname (click here)
Alexander Arsentev RUSSIA
Annemarie Klappe Netherlands
Barbara Rivolta USA
Bretworth Apthorp USA
Celie Fago USA
Danielle Ferreira USA
Ellen Jean Cole USA
Holly Cromwell USA
Inna Soummer CANADA
Irina Vasilieva RUSSIA
Jennifer Kahn USA
Joy Wignall UK
Julia Rai UK
Kate Qualley Peterson USA
Kim Rumberger USA
Laura Roehl USA
Linda Kaye-Moses USA
LindaKay Whiticar-Darvill USA
Lorena Angulo USA
Loretta Hackman USA
Marianne Donohoe UK
Marie Gniazdowski USA
Pam East USA
Pam Feindel Canada
Paula McDowell USA
Terry Williams Brau USA
Tracey Spurgin  UK
Valerie Bealle USA
Wizz Stearne UK
The Exceptional Work in Metal Clay 2023 Calendar supports AMCAW's mission to encourage a flourishing international metal clay community by nurturing artistic and instructional excellence and providing resources to inspire, engage and support artists of all levels.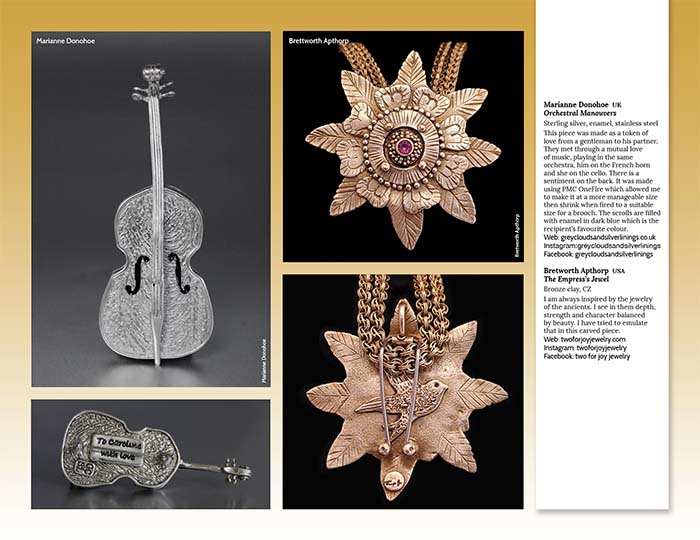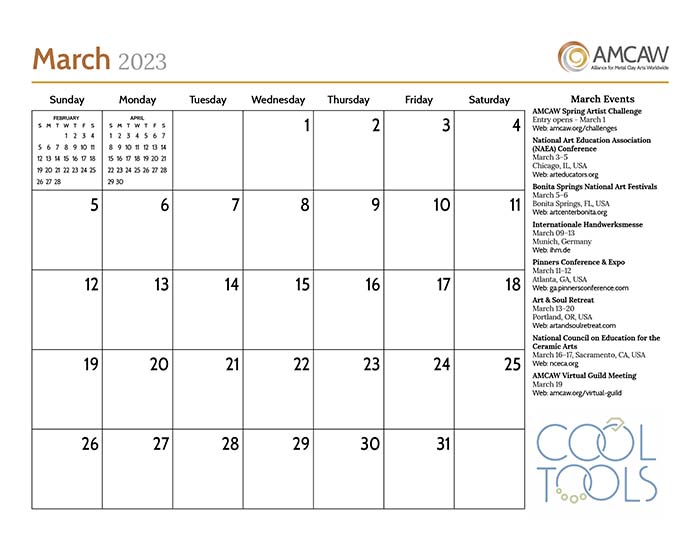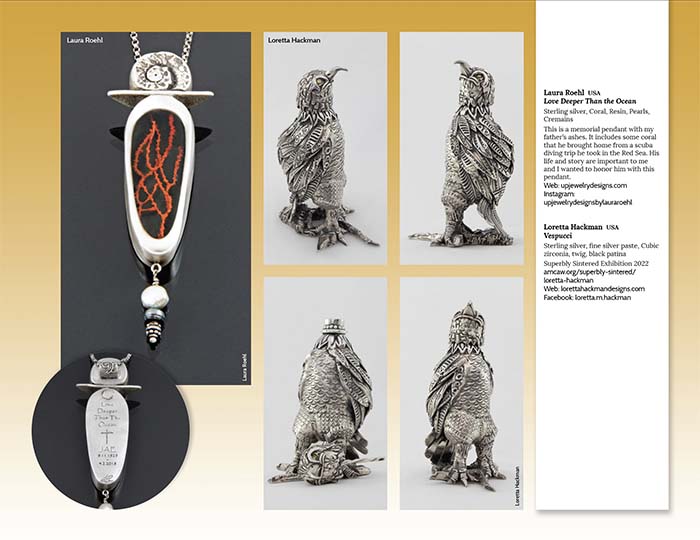 Please support the sponsors who helped make the calendar possible