Hidden Worlds Challenge
Spring 2020
The challenge has now closed and the winners are listed below. Congratulations to all the winners and thank you to everyone who entered.
Voting in the People's Choice Award is now open. Click on the button below to go to the voting page.
The categories are:
Beginner
Intermediate
Advanced
Each category will have a winner and Certificate of Merit awards. There will also be a People's Choice Award.
People's Choice Award
The People's Choice Award is a public vote on all pieces that are awarded a Certificate of Merit. The piece with the most votes wins. This vote takes place after the category winners are chosen.
Jury's comments
You'll be able to log in to Artcall after the People's Choice winner is announced to privately view the jurors' comments about the piece you submitted.
Entering an artist challenge is a key way to grow as an artist, and seeing the jurors comments is often invaluable in taking that next step forward.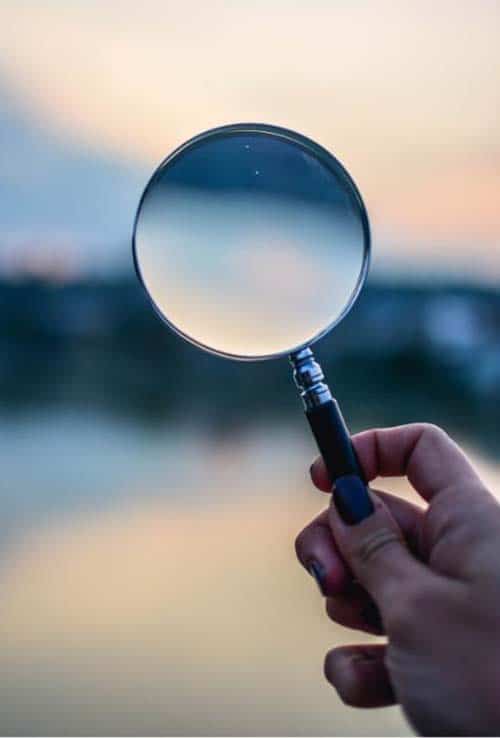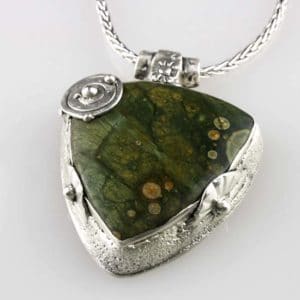 WINNER Beginner
Denise Hershey, USA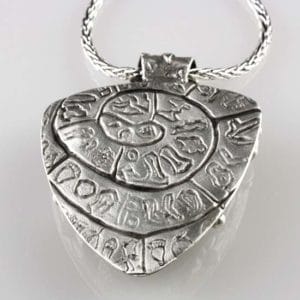 Cosmic Universe in Rhyolite – Pendant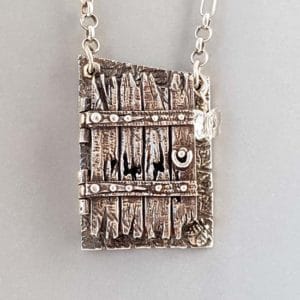 WINNER Intermediate
Joy Wignall, UK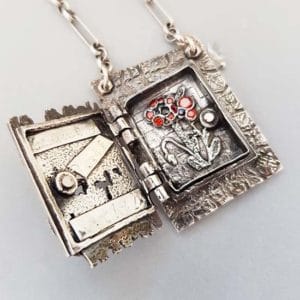 Beauty Lies Within – Pendant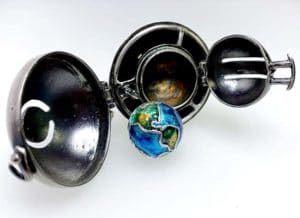 WINNER Advanced
Gabrielle Landolt, USA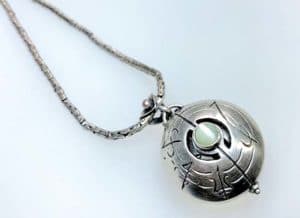 Hide the Precious – Locket
Beginners – Denise Hershey
Juror comments:
The Rhyolite stone was a good choice and looks carried right out of a Klimt painting. The cosmic and orbiting bits swirl on both the front and back of this pendant. The way the elements roll over the edges of the stone make it feel quite secure and wholly part of the design. A substantial and rough yet organic design is consistently carried throughout the piece.
Unique and imaginative design. Nicely done bezel with overlay accents.
Fun rolled bail, looks to be attached well to the piece. Stone fits relatively well in the bezel. I see some open space between the bezel wire and the base of the pieced that should have been filled with metal clay to close the gaps. Overall this is a wonderful early piece. Setting stones is challenging, keep up the great effort!
Photo credit: Artist's own
Intermediate – Joy Wignall
Juror comments:
Strong overall design. A close up shot of the interior would make the inscription easier to discern. Excellent and clean example of hinging.
The story reads well with this rough yet flowery hinged piece. The angular shape of the roughly textured door with its rough edged front gives little clue as to what's inside. The abundance of daintily placed gems looks both difficult to accomplish in such a small space and surprising. There's also an intriguing tiny charm that hangs to the side. Altogether a charming piece.
Well constructed piece. Wood texture is very realistic. Three layered front adds a great depth of field. Hinge is well done. You open the door and are surprised by the fun color flower motif and stone background. Great job!
Photo credit: Artist's own
Advanced – Gabrielle Landolt 
Juror comments:
Beautiful construction and hinging. Nice execution of making a tiny, enameled globe.
Well constructed inside and out. A world within a work. Interior color well done. With a perfect little world contained within. Exterior is well finished; bezel fits stone and 2-piece bail provides movement for the piece. Well done!
I might be worried that I'd lose the tiny world within this piece. But that's probably the point. The enameling gives the otherwise ponderous piece a colorful touch. The hinged coverings are impressive and add to the feeling that there is something precious inside. The symbols inscribed on the front seem metaphysical and medieval. The enameled world itself looks small and fragile. The piece holds together on many levels.
Photo credit: Artist's own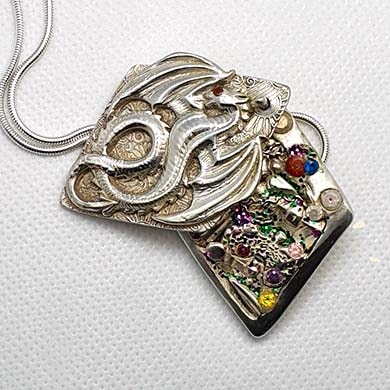 Dragon's Hoard, pendant
Sharon Cavendish, UK
Juror comments:
Good choice of dragon mold, it is fun and whimsical; a tricky mold to remove the clay from without breaking tail or wings. Nice surprise that the back pivots and there's a treasure.
Nice use of mixed media. The hinging shows great ambition for a beginner. The theme is exhibited well. Nice use of layered, multi-dimensional effects.
This piece makes me think I should have watched Game of Thrones.  It has a layered ancient otherworldly, somewhat Celtic feel that works well and is well balanced. The texturing on the background of the front is very appealing. What an abundance of treasures within. While not all are revealed in the photo, we can see that they're colorful and embedded in deep textures. I wonder about the endurance of glitter, however. Fascinating and nicely done.
Photo credit: Artist's own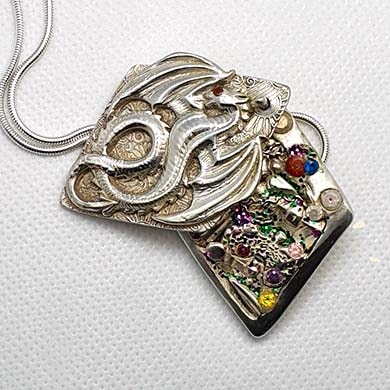 Sharon Cavendish, Dragon's Hoard
Kim Rumberger, Kick the Corona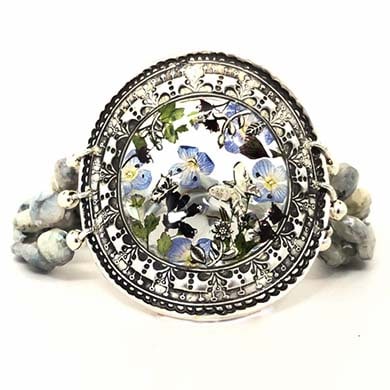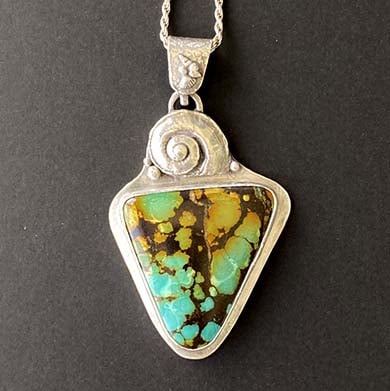 Kathleen Konyn, Mermaid Adornment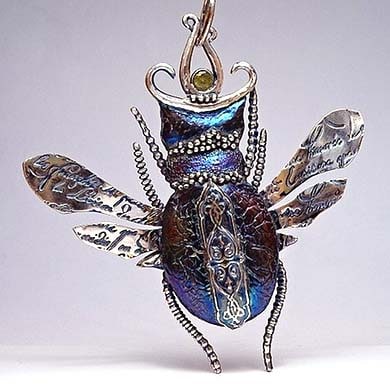 Celine Gaspard, The Wise Scarabook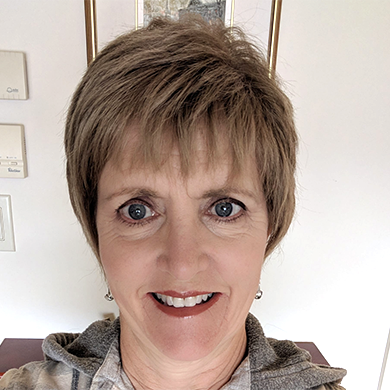 Pam Feindel
Pam is a Senior Art Clay Instructor and the hard working Chair of the Sinter℠ Conference committee.
Read more about Pam here…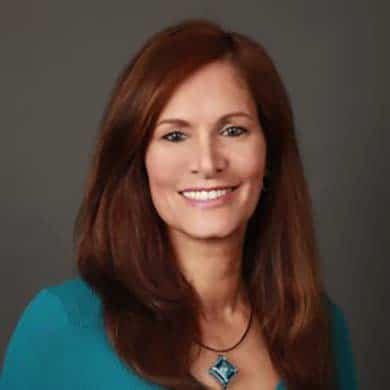 Lisa Pavelka
Lisa is an award winning artist, designer and author with a successful range of products to her name.
Read more about Lisa here…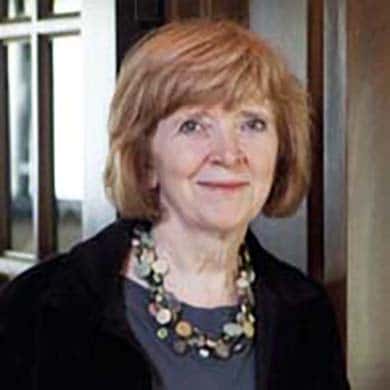 Cynthia Tinapple
Cynthia is an artist, and writer who created Polymer Clay Daily in 2005 and still runs it today.
Read more about Cynthia here…
Artist Information
Please read the rules below carefully before creating your piece; we've also provided guidelines to help you select your category and prepare your entry.
Entries will be judged on the following criteria:
Design innovation and originality
Successful incorporation of materials
Quality of workmanship
Cost
There is no cost to enter the 2020 Hidden Worlds Challenge, you simply need to be a current member of AMCAW. All submissions will be checked against our member database before entry into the Challenge. Click here for more information about membership.
Key Dates
February 3, 2020 – Submission for entries opens
April 5, 2020 – Submission closes for all entries
May 1, 2020 – Winners of the skill level categories announced
May 1, 2020 – General public voting opens for the People's Choice award
May 31, 2020 – Voting closes for the People's Choice award
June 5, 2020 – Winner of the People's Choice award announced
Photography Guide
Below are a range of images to help show what we will accept and what we will not. All of these photos were shot using a mobile phone camera and natural daylight only. 
See Submission Guidelines below for more detail.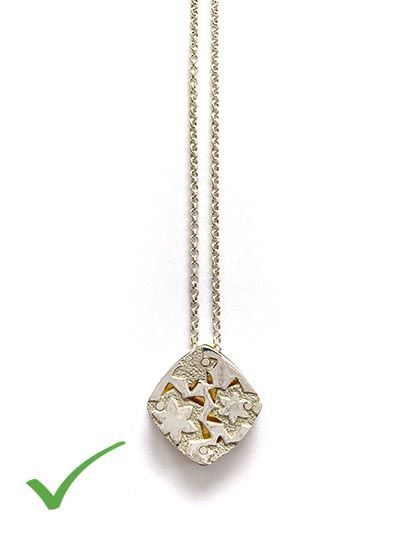 Piece shown clearly on white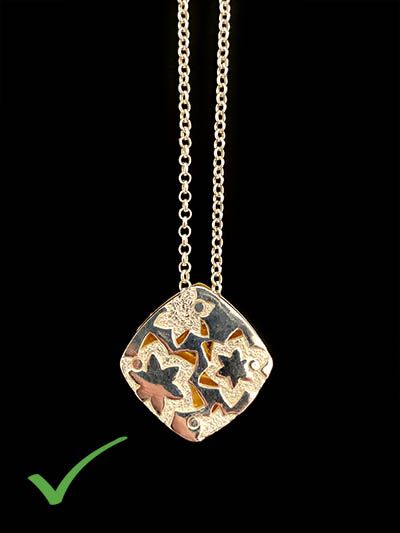 Piece shown clearly on black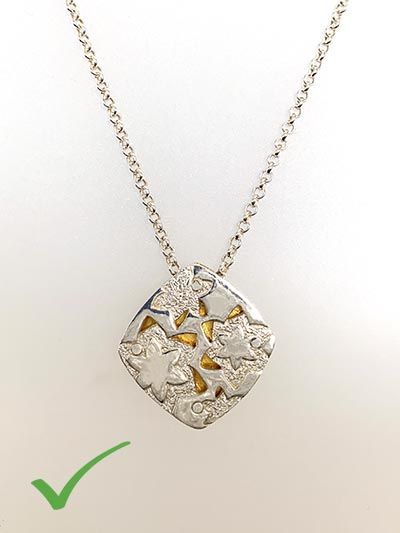 Piece shown clearly on background with slight shadow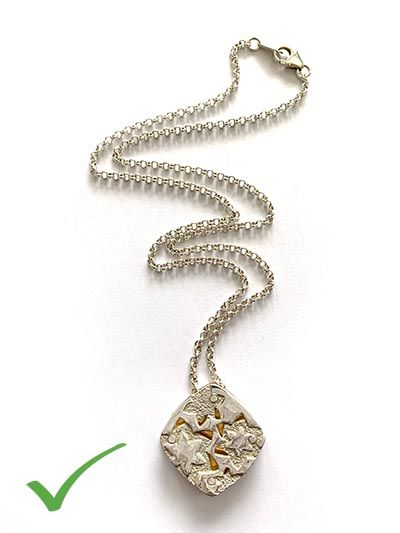 Piece shown clearly with whole chain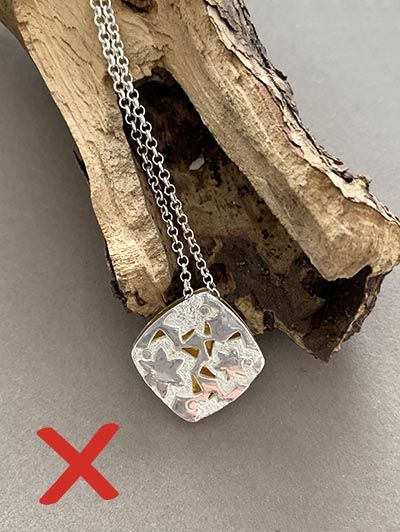 Props detract from the piece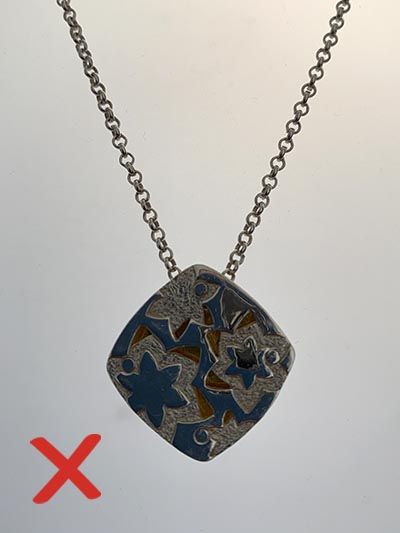 Too dark – piece can not be seen clearly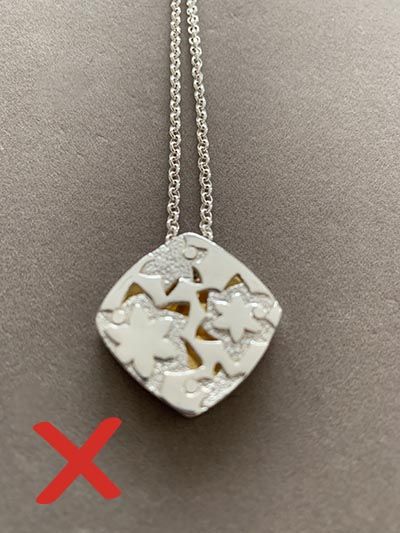 Out of focus – piece is blurry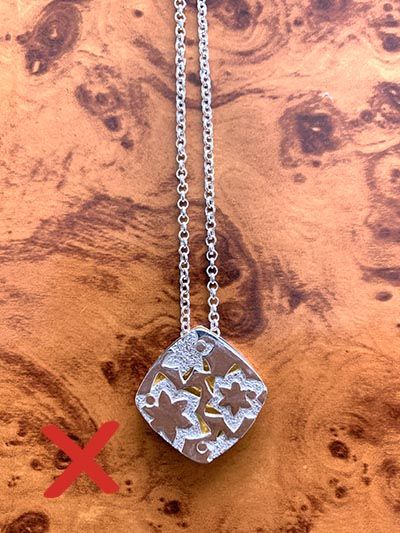 Submission Guidelines
How to Submit your Entry 
Submit one photograph of your piece following the rules for submitting photographs.

 

Fill in the form that accompanies your photograph.

 

Accept the terms and the privacy requirements.

 
Rules on Submitting Photographs 
The only thing the jury will see when they are making their deliberations is the photograph of your submission. It is vitally important that your photograph represents your work in the very best way possible. Here are the rules for submitting your photographs: 
Use a high-quality photograph with a plain, black, graduated or white, smooth, uncluttered background and no additional props (plants, rocks, ring stands, busts etc.)
Do not show jewelry on a model or hold the piece in your hand
Jewelry must be complete and ready to wear. ie. pendant shown on a chain
Details of the piece should be clearly visible in the image
The photograph must be in focus and well lit
Images should be 300-dpi, JPEG format and no larger than 4MB
Only two photographs of the same piece may be entered per person
The second photograph should show detail not seen in the first photograph
Do not list your name, company name or logo or any other information that may identify you in your photograph
Information about your submission 
Each submission must include the following information: 
The category.

 

The name of the piece.

 

What the piece is – necklace, earrings, hair clip, etc.

 

The dimensions of the piece.

 

Type of metal clay used – fine silver, sterling silver, 960/950, bronze, copper etc. Do not include the brand.

 

Other materials used – type of metal, stones, beads, other media etc.

Photographer credit if applicable.
Categories for Entry – Jewelry Only
Beginners
Intermediate
Advanced
Entries will be judged on the following criteria:- 
Design innovation and originality.

 

Successful incorporation of materials.

 

Quality of workmanship.

 
Key Dates 
February 2, 2020 – Submission for entries opens
April 5, 2020 – Submission closes for all entries
May 1, 2020 – Winners of the skill level categories announced
May 1, 2020 – General public voting opens for the People's Choice award
May 31, 2020 – Voting closes for the People's Choice award
June 5, 2020 – Winner of the People's Choice award announced
Juror's comments
After June 5, we will enable the juror's comments on Artcall so the individual can view the comments about their entry. This information will only be available to the person who entered the piece by logging into their Artcall account and viewing their submission.
Challenge FAQs and things to clarify
Q:Who can enter, and who can't?
A:Anyone can enter, except AMCAW board members, advisory board, and committee chairmen. You just need to become a member of AMCAW before entering and can join anytime right up to the entry deadline. Membership will be checked on the closing date to ensure the artist is still a current member. Entries for anyone with a lapsed membership will not be accepted.
Q:I can't afford a professional photographer. How can I get a good image of my piece?
A:There are many free online tutorials about taking jewelry photographs; try Googling "taking jewelry photos" to find one. One key thing is lighting; it's not all about the camera you're using. Good images are possible with the newer phones, but you do need to use good lighting to get a clear picture and remember to save the image at the largest possible size.
Q:I can't upload my image, it's telling me the size is wrong. How do I resize my image?
A:There are a number of free image resizing programs online which can help. Try Googling "resize photos" or try one of these free sites: resizeimage.net, pixlr.com, or paint.net. If your computer uses Windows 10, your Paint application is also a good resource. Tip: It's best to upload your photo a few days before the deadline so you can submit another photo if the first one isn't sized correctly or is in the wrong format.
Q: I don't understand the image size requirements. What is 1000px?
A: Px means pixels; your photo should be between 1000 pixels and 4000 pixels in size. Most photo resizing applications allow you to adjust the pixel size, as well as save it in a .jpeg format.
Q: Help! I think I'm a member of AMCAW but none of my emails or passwords are being recognized online.
A: Just send an email to hello@amcaw.org and we will help you.
Q: Can I enter now and join AMCAW later?
A: You must log in using your AMCAW username and password to gain access to the challenge entry portal, so membership is required at the time of entry. In addition, all entries will be verified for membership on the challenge closing date.
Q: I always wait until the last minute! Can I enter on the last day?
A: Yes, but if anything is wrong with your entry, such as the photo, you won't have time to resubmit it. Don't risk it! We know time is always tight for artists, so go ahead and start the entry process with your basic information at your earliest convenience; your info will wait safely in the system until you're ready to upload your photo.
Q: What happens if my piece is rejected for some reason – can I resubmit?
A: Yes.  If anything doesn't meet the guidelines, you will be sent an email saying your entry has not been accepted, giving you details of why (for example, photo isn't clear enough). Make sure the email you use to submit your piece(s) is one you monitor regularly as that is the only way we will contact you. Your piece will not be presented to the jury until you address the issue. You can correct and resubmit the piece but keep in mind that your resubmitted entry must be received by the deadline. You will not be able to change your submission image once the deadline has passed and in that case your piece will not be included in the jury process.
Q: The theme of this challenge is not for me. Will there be other challenges in the future?
A: Yes, we intend to have at least two challenges a year. We are also planning a number of other opportunities for members of AMCAW to get their work published – raising your profile not just in the metal clay community, but also in the wider metal working world.
Challenge rules
This competition is only open to members of

AMCAW. All submissions will be checked against our member database on the date the Challenge closes, April 5, 2020 (midnight Pacific time), before entry into the Challenge.

Submissions from non-members or members whose membership has lapsed will not be accepted or acknowledged. 

There are three categories of entry defined by the skill level the maker has in working with metal clay. Members should submit their work in the category they feel most accurately represents their experience with metal clay. The jury reserves the right to reclassify the category of an entry.

Please read the submission and photograph guidelines carefully and ensure you follow them. Submissions which do not follow the guidelines will not be accepted and you will be informed that your entry is not in an acceptable format. You may resubmit the entry using the correct format before the deadline, so it's to your advantage to enter the Challenge early.
Members

can submit up to three entries, but

each entry must be submitted separately and must follow the submission guidelines.

The Artcall system does not allow you to enter anything after the deadline. This includes anything that is rejected and requires resubmission.

All entries must be the work of the AMCAW member submitting it, and must be a unique and original design.
All entries must use metal clay in part or in full. Mixed media work is acceptable, but the entry should use metal clay as a significant element in the design.
Entries should not have won an award in any other competition prior to January 2020.

Entries can be jewelry or bodily adornment only

.

 

The jury will be looking for

design innovation and originality, successful incorporation of materials and quality of workmanship.
Photographs should be high resolution, between 1,000 and 4,000 pixels, in .jpeg format, and no larger than 4 MB.
The jury will evaluate each photographic entry anonymously – in other words, without knowing the name of the member who submitted it. Do not show your name, company name or logo or any other information that may identify you in your photograph.
When you enter a piece in this challenge, you agree to AMCAW using the image of your piece in publicity, sharing your name and image with our sponsors – who may use it in their publicity – sharing it with other members of AMCAW and the general public. AMCAW reserves the right to use the image on their website, in their advertising and on social media. By entering this challenge, you are agreeing to these conditions.
Current employees of AMCAW, members of the AMCAW board and the Advisory Panel, committee Chairs and Vice-Chairs and their immediate family members may not participate.
Winners in all categories are not eligible for the People's Choice Award.
All shipping, import tax, duty and handling charges for prizes sent will be paid by AMCAW. Duty, tax, etc., may need to be paid by the recipient (depending on your local tax and import rules) but AMCAW will reimburse you upon receiving official receipts for payment.
The decision of the jury is final.
Winners will be notified by email.