Annual report for 2019
from Paula McDowell, President
As we enter 2020, I want to thank each of you for making 2019 an amazing first full year for AMCAW. As we entered the year, we were a fledgling organization still trying to put committees together. We quickly grew to more than 500 members from across the world. Even more incredibly, one out of every ten of our members became a part of the team developing and running AMCAW. As we closed 2019, our organization was entirely volunteer-run.
We had hoped to make inroads against our core goals, and thanks to our volunteer leadership team and your support, we made an excellent start.
Artistic excellence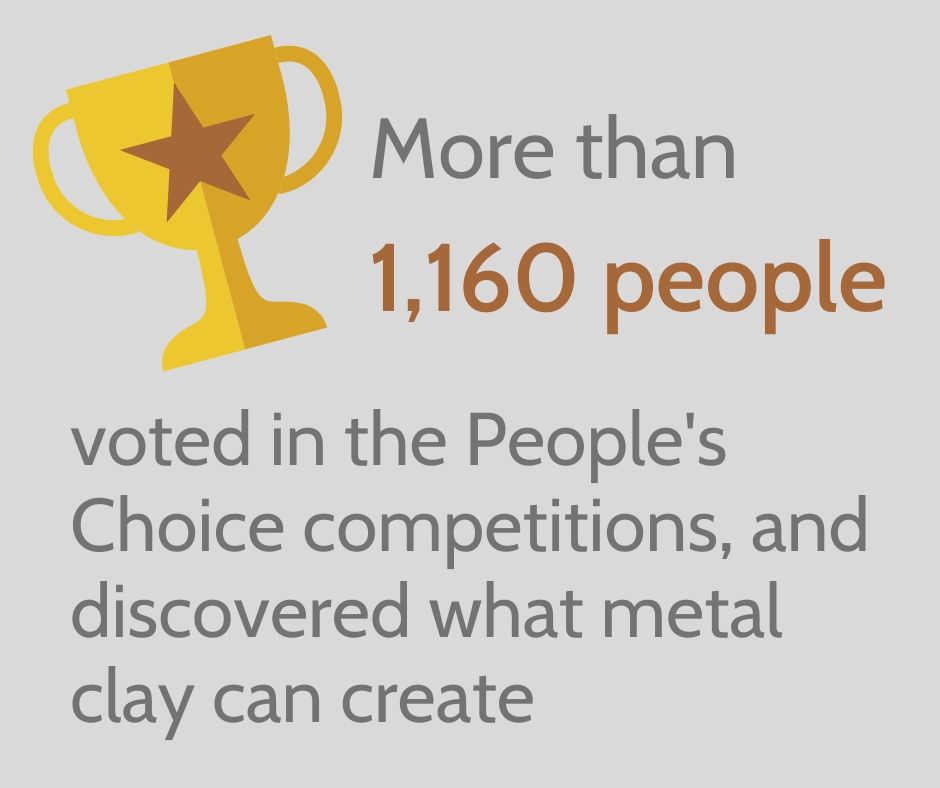 Our Curating Committee launched not one, but two, international artist challenges during our first year: the Flash & Fire Challenge, and the Sea & Sky Challenge. Over 140 individual pieces were entered in these member-only challenges. More than 1,160 people voted in the People's Choice Challenges, discovering for themselves the amazing work which can be created in metal clay.
AMCAW also curated and printed the 2020 Calendar of Exceptional Work in Metal Clay, bringing back the tradition of high-quality publications focusing on metal clay. It features 31 artists from 8 countries.
Bringing the global metal clay community together
Social media is one of the strongest ways to connect metal clay artists across the world. Today we have online followers from 51 countries, and to date our Facebook posts have been translated into 33 languages, from Arabic to Urdu. The city with our single highest concentration of followers is Bucharest, Romania.
Promote metal clay
Part of our mission is to advance the prestige of metal clay and promote it as a medium. To help educate the new generation of jewelry artists, the Outreach Committee was at the Glass Craft Expo, Bead and Button, and SNAG last year with samples that people could see, touch, and experience. In particular, young artists were intrigued.
Showing the general public the versatility and creativity of work created by metal clay helps to both eliminate misconceptions and create more fans, so we frequently feature pictures online. Last year, our social media posts reached 140,300 people.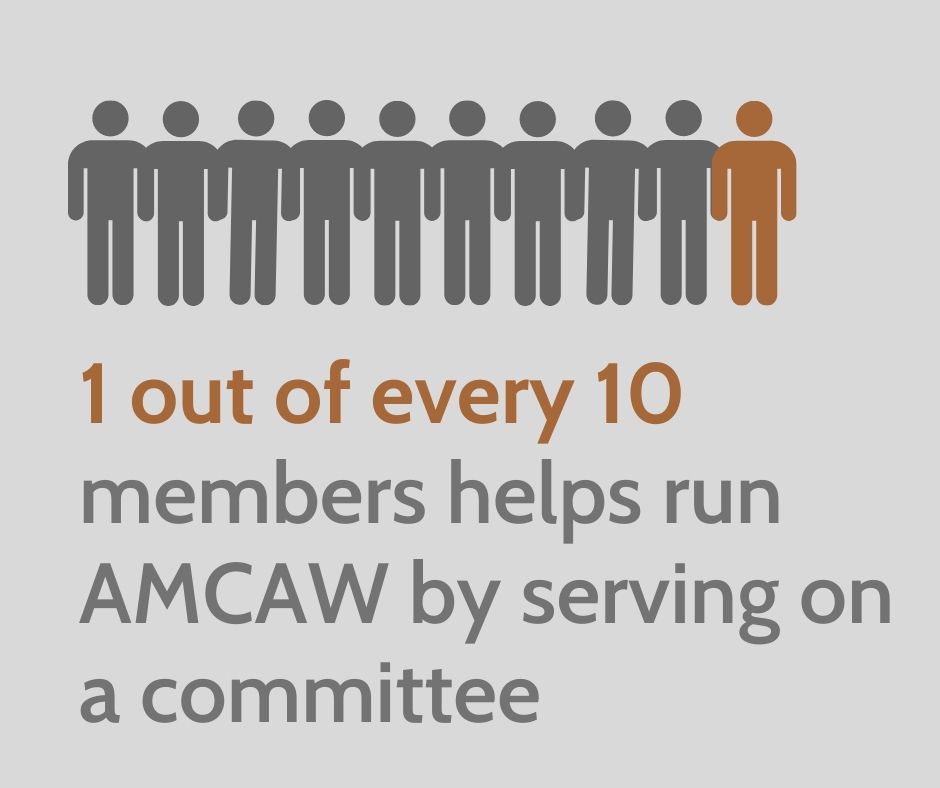 Behind the scenes
A lot of unseen work is required to get a new organization established. The Web & Tech team built a robust website from scratch, which now includes a members-only section with special content, and over 100 webpages featuring more than 450 images. Our site, amcaw.org, is already effective in telling the metal clay story globally, with visits from more than 4,900 unique visitors from 81 countries during 2019.
We were gratified to receive our 501(c)(3) non-profit designation in just one year, which opens the doors to explore funding opportunities. Our Fundraising Committee then listed AMCAW on the major non-profit listing sites to enable AMCAW to participate in the global generosity program, the Month of Giving.
Building resources for you
One of the member benefits we were most excited to introduce this year is the Virtual Guild, a free, quarterly live online presentation by a leading metal clay artist for members only. The first two artists presenting are Pam East from the US and Alex Kraft from Russia. Recordings of the Virtual Guild meetings will be available for members online, creating an ever-growing library for you.
We also created two ways you can list your classes online for potential students to find: the anytime class directory for online classes, and a class calendar for in-person classes. By year-end, 77 classes had been listed. Don't forget to take advantage of this member benefit!
SINTER℠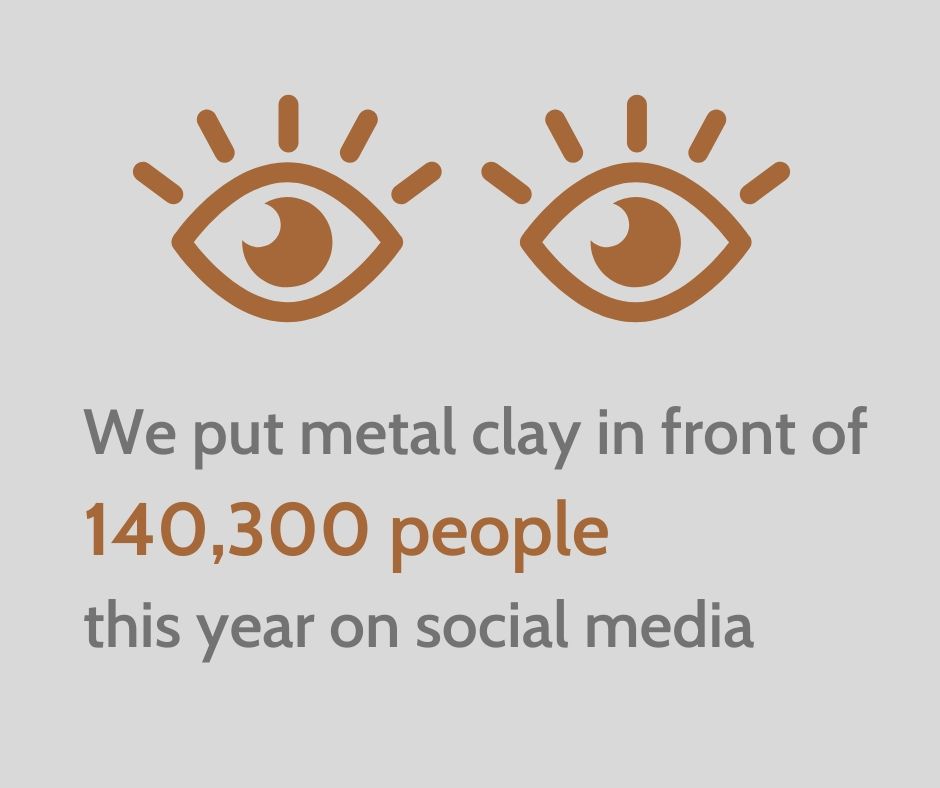 One of the most exciting accomplishments of the year was laying the groundwork for our first international metal clay conference, SINTER℠, to be held in May of next year. With 20 presentations and ten two-day workshops, SINTER℠ is sure to be the metal clay event of 2021! The Call for Instructors and Presenters is now open, and more information will be available mid-year.
Our heartfelt thanks go to all the volunteers who worked to make 2019 an outstanding first year, and to all of you for your enthusiastic support of AMCAW. We look forward to working with you this year.