Metal clay artist and qualified teacher Anna Campbell is in the middle of a 100-day project creating a piece of silver clay each day. She shares with us about the challenge, what she is making and the lessons she has learned.
What is the 100 days project?
The 100 days project was originally started in 2011 by graphic designer Emma Rogan. She had been inspired by reading about a class at Yale called '100 Days of Design,' and how committing to making something every day is often a big part of getting going creatively.
There are just two rules:
Repeat a simple task every day for the duration
Record each day's efforts
What is your 100-day project plan?
I was trying to work out what I could commit to making every day for 100 days because I normally travel quite a bit for work, so I needed something that I could do with minimal equipment. I also needed to consider the issue of cost when working with silver clay daily. In the end, I was inspired by artist Isla Munro's 2019 project, in which she moulded found textures and made imprints using Plasticine. As soon as I saw that, I thought about how I could create a piece each day that could then be assembled into jewellery at the end of the 100 days, rather than trying to make a complete finished piece every single day.
In every class I teach, I make three textured pieces for a bracelet (pictured). So, I decided to combine these ideas and create a textured silver circle every day for 100 days. I plan to assemble them into a neckpiece.
I like the idea of making a part of the finished piece every day, but I'm not sure yet what that's going to look like! I like to work physically with the pieces to see how it comes together. Right now I imagine it to be a mix between a necklace and a cape! I may make it into a set of jewellery with a neckpiece, bracelet and earrings. I also need to consider how to piece it together. But these are interesting puzzles for later. For now, I commit to making one silver piece with a different texture on it each day.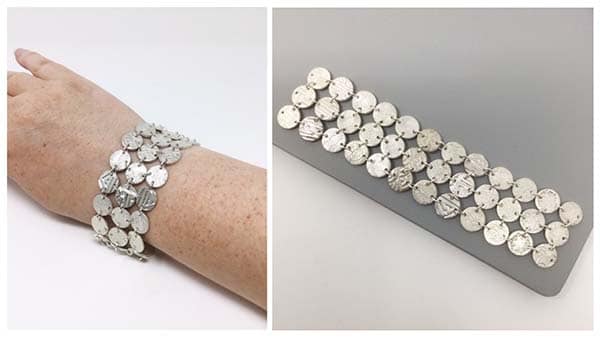 I have also further restricted myself by setting a theme for each week. Themes so far have included nature, in the kitchen, holes, paper, layers, moulds, bought textures, fabric and yarn, and biscuits. And there are more to come. I find a freedom in restrictions like this – too many choices can be inhibiting!
Why did you take on the challenge?
For me, a challenge gives me a focus and something to create every day. I've found that once I get started making every day I will then often work on something else as well. But even if I don't, I feel a sense of achievement. Plus I feel the pressure, in a good way, to not break my streak and to keep going!
What tips do you have for taking on a challenge?
Restrict yourself. One of the reasons I didn't get involved in the challenge in previous years was because it seemed too big. I thought about making a pair of earrings each day but it didn't feel manageable to me. Firing my pieces every day also didn't feel do-able. But when I thought of making one round piece every day and changing the texture it suddenly felt like something I could commit to.
Done is better than perfect. One of the issues of doing something every day is that it's easy to pressure yourself into doing and re-doing to get it perfect. I decided to use minimal equipment and time and make pieces that a beginner could make. I've been using metal clay for 10 years and I could do more intricate pieces every day but I knew frankly that I wouldn't be able to. I have other commitments so rather than not doing it at all I decided to just go for it and do something!
Set a time to work on it. I tend to make every day at around 6 pm when I've done my work for my day job for Jewellers Academy.
Tell people! I've told people that I'm doing the challenge to give myself added pressure so I don't want to skip it!
Where can we find out more about your progress on this challenge?
Every day I share my progress over on Instagram @annaccampbell
Each week I also write a blog post so you can check the progress there. https://www.jewelleryschoolscotland.co.uk/blog
Once the piece is finished, I will share it again on the AMCAW blog.
About Anna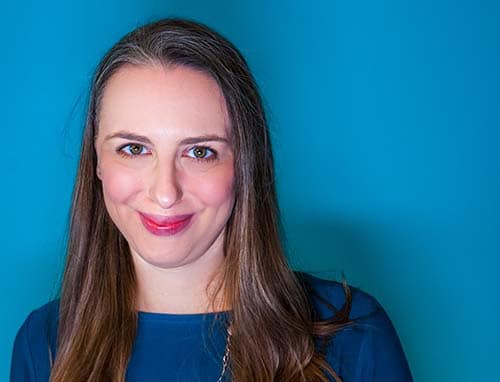 Anna Campbell is a metal clay artist and qualified teacher in Edinburgh, Scotland. Anna started her career as a lecturer in psychology. She started crafting as a hobby and was quickly hooked on jewellery making, particularly with silver clay. In 2014 she gave up her job in a university to work with jewellery full time. In 2017, she set up Jewellery School Scotland and she teaches jewellery workshops in Edinburgh as well as online for Jewellers Academy. She is the founder of the successful Ring a Month challenge on Instagram and Facebook, and more than 1000 rings have now been created by participants.
www.jewelleryschoolscotland.co.uk
Instagram @annaccampbell
Instagram @ringamonth