Lis-el Crowley Vision Award
Watch the 2021 Lis-el Crowley Vision Award Ceremony

Tim McCreight, 2021 Lis-el Crowley Vision Award Recipient
Our honoree, Tim McCreight is a designer, teacher, author and metalsmith. He received a B.A. from The College of Wooster and a Master of Fine Arts degree from Bowling Green State University. He taught full-time for 25 years, first in Massachusetts and then at the Maine College of Art, which took him to Maine in 1988.
Tim has taught hundreds of workshops throughout the US and in Canada, Japan, Mexico and the UK. He has written two dozen books, produced half a dozen videos, and created Apps for mobile devices.
In the early 1990's, Tim played a pivotal role in introducing metal clay to artists in North America. He was the founder and first director of the PMC Guild. In that role, he shepherded a series of exhibitions, publications, and five conferences, always with an eye toward supporting artists and growing the community of metal clay devotees.
Working with a team of esteemed metal clay artists, Tim launched the Masters Registry, a program designed to raise the standards of creativity, innovation, and technical excellence in the medium. Over its 15-year run, the Masters Registry helped to establish metal clay as an accepted art material at the professional level.
Be sure to watch the Lis-el Crowley Vision Award Ceremony video to see Julia Rai interview Tim, and learn more about this forefather of metal clay.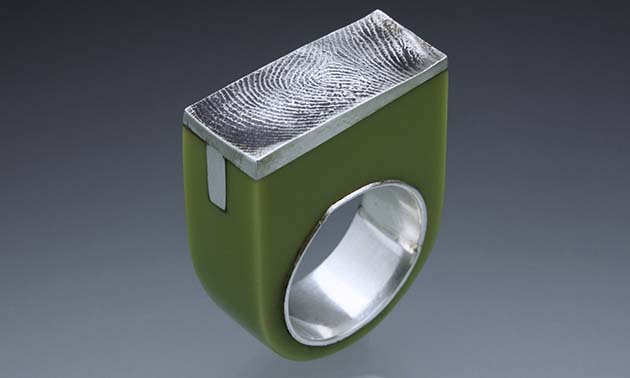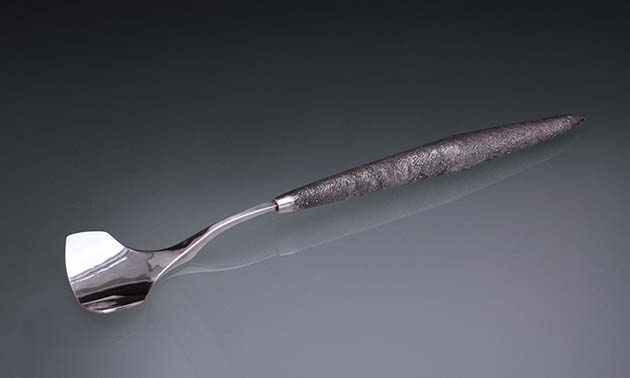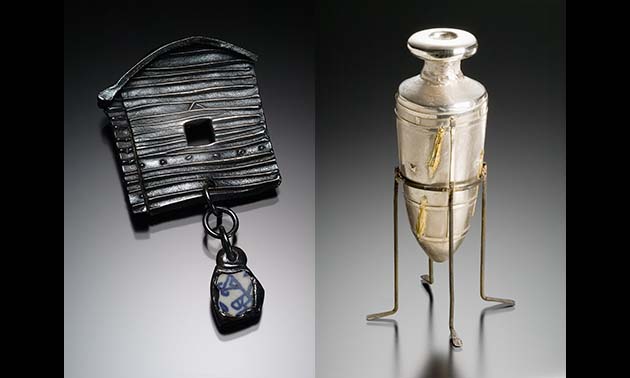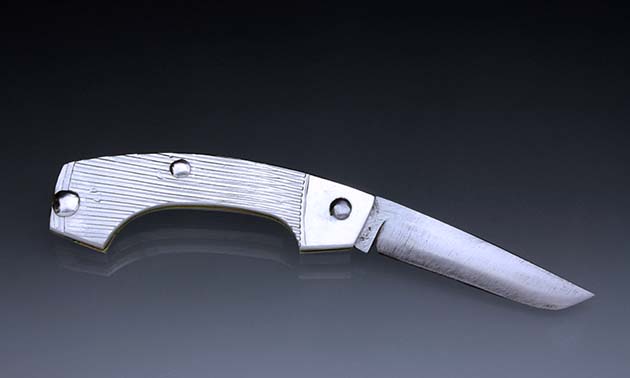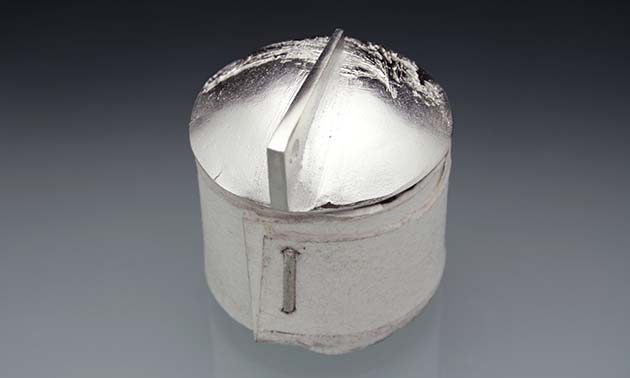 About the Award Sculpture
Everything about Lis-el Crowley was unique and captivating. The award sculpture created in her honor meets that same standard.
There are actually two sculptures. One will stay with AMCAW, to be displayed at future events, such as SINTER, The AMCAW Conference. Alongside the name of our first winner, the names of future winners will be added to this sculpture, so it becomes an evolving legacy to Lis-el's impact.
The other sculpture has been emblazoned with Tim McCreight's name and has been delivered to him. We're hoping the award will be proudly displayed in Tim's studio or home.
Both sculptures were created by Robert Dancik, a multi-media artist, instructor, inventor of Faux Bone, and all-around playful collaborator. Robert was also a close friend of Lis-el, a member of her Connecticut Metal Clay Guild, and a joyful addition to the Metal Clay Mojo conferences.
The two sculptures are similar, yet unique. The AMCAW sculpture is a tabletop piece measuring 14″ x 14″ x 13″. The winner's sculpture takes the design of the tabletop version and reinterprets it as a low-relief wall adornment measuring 12″ x 12″ x 3″. Each sculpture fold-formed copper with a torch-fired heat patina. Gold leaf was applied inside each spiral. This swirling component is riveted to a base crafted from Honduras mahogany and aluminum.
The name plates were designed and created by Barbara Rivolta, using metal clay slabs etched by a Silhouette. We felt it was important to bring in a metal clay component, and this solution allowed us to also incorporate some subtle nouveau design elements that are reminiscent of Lis-el's work.
The swirling spiral designs are infused with meaning. Lis-el was the driving force behind including a spiral swirl component in the AMCAW logo. She noted that there was a spiral component in the PMC Guild logo, which further connect AMCAW to the history of metal clay and this community. Lis-el was a student of symbols. She saw deep meaning in the never-ending structure of a spiral, which need not have a beginning nor an end.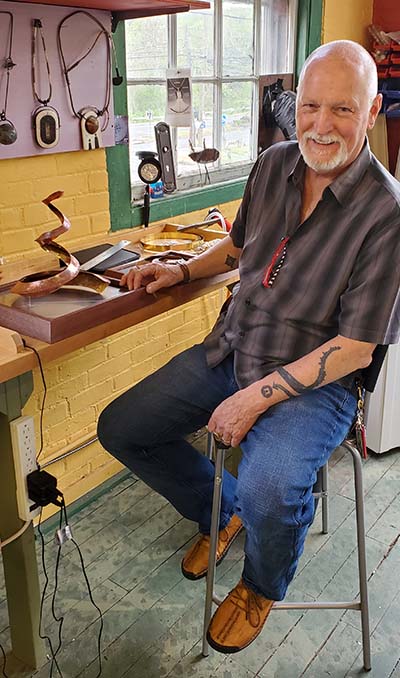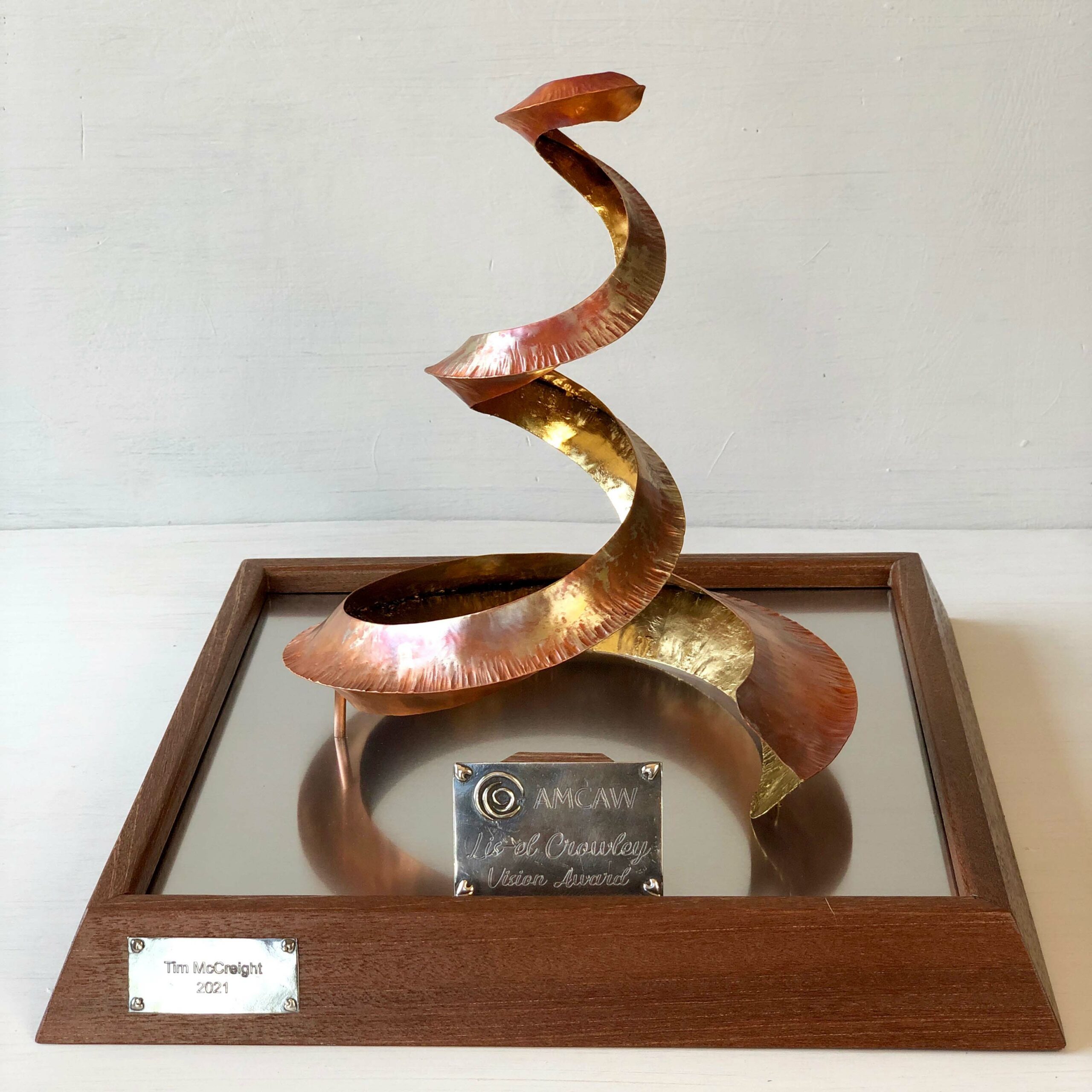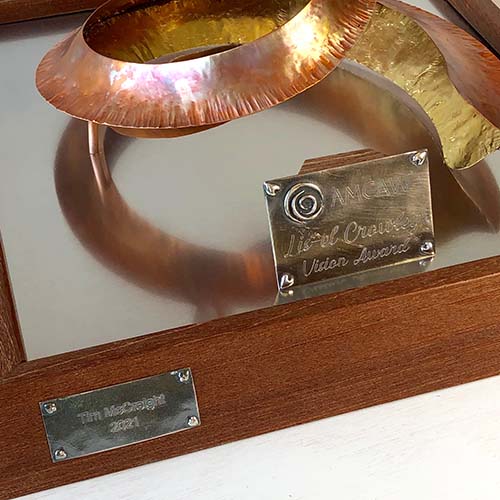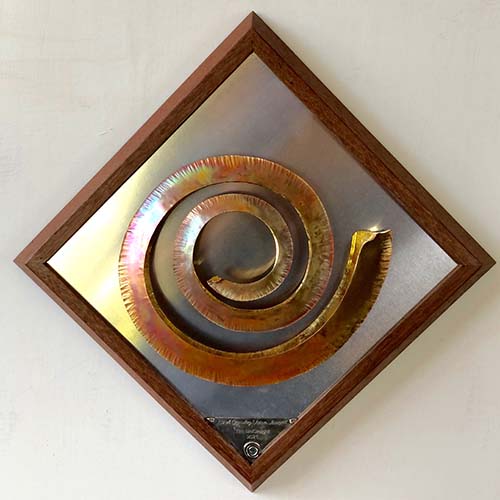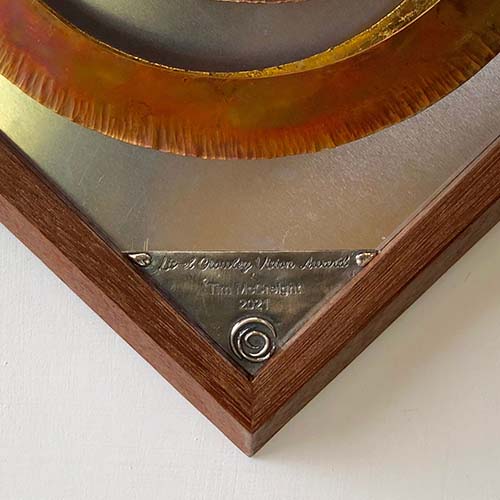 About the Lis-el Crowley Vision Award
While we mourn the loss of AMCAW's co-founder and our dear friend, Lis-el Crowley, it is a great privilege to create this award in her honor. Lis-el was well known for her generosity of spirit and her enthusiasm for the advancement of metal clay artistry. She was a champion and supporter of the metal clay community, and she actively promoted metal clay to artists in a variety of media. You can learn more about Lis-el
here
and
here
.
We asked members of this community to nominate individuals who meet the award's criteria of:
Generosity of spirit within the metal clay community
Support for the advancement of metal clay artistry
Support for the metal clay community
Promotion of metal clay outside the metal clay community
To complete this process, we appointed a selection panel of five individuals who knew Lis-el well to rank the nominations individually. Then the group met to discuss the rankings and make a final decision.
Many thanks to the members of the Tribute Committee, the LCVA selection panel, and everyone who nominated a deserving member of our metal clay community. You all played an important role in honoring Lis-el.
Along with the honor and recognition of winning the Lis-el Crowley Vision Award, the recipient will be offered one gratis registration to SINTER, The AMCAW Conference, taking place in May of 2022. He will also receive the LCVA sculpture, which was hand-crafted by our own Robert Dancik.