Challenge Winners Gallery
Hidden Worlds Challenge
Spring 2020
The challenge has now closed and the winners are listed below. Congratulations to all the winners and thank you to everyone who entered.
Voting in the People's Choice Award is now open. Click on the button below to go to the voting page.
The categories are:
Beginner
Intermediate
Advanced
Each category will have a winner and Certificate of Merit awards. There will also be a People's Choice Award.
People's Choice Award
The People's Choice Award is a public vote on all pieces that are awarded a Certificate of Merit. The piece with the most votes wins. This vote takes place after the category winners are chosen.
Jury's comments
You'll be able to log in to Artcall after the People's Choice winner is announced to privately view the jurors' comments about the piece you submitted.
Entering an artist challenge is a key way to grow as an artist, and seeing the jurors comments is often invaluable in taking that next step forward.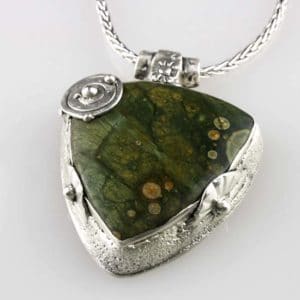 WINNER Beginner
Denise Hershey, USA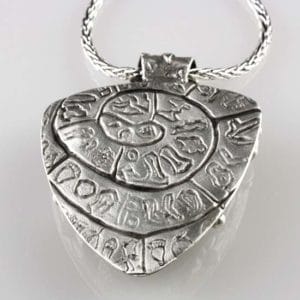 Cosmic Universe in Rhyolite – Pendant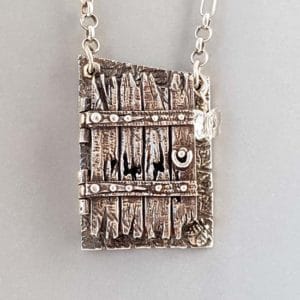 WINNER Intermediate
Joy Wignall, UK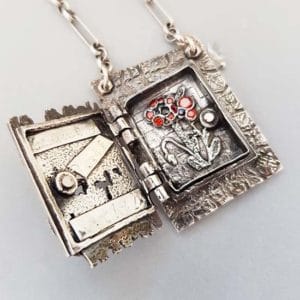 Beauty Lies Within – Pendant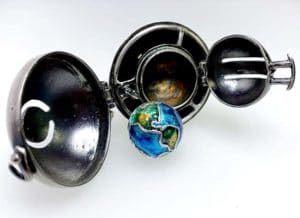 WINNER Advanced
Gabrielle Landolt, USA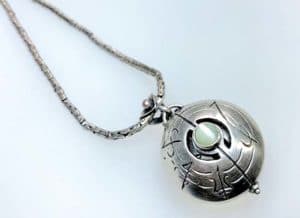 Hide the Precious – Locket
Beginners – Denise Hershey
Juror comments:
The Rhyolite stone was a good choice and looks carried right out of a Klimt painting. The cosmic and orbiting bits swirl on both the front and back of this pendant. The way the elements roll over the edges of the stone make it feel quite secure and wholly part of the design. A substantial and rough yet organic design is consistently carried throughout the piece.
Unique and imaginative design. Nicely done bezel with overlay accents.
Fun rolled bail, looks to be attached well to the piece. Stone fits relatively well in the bezel. I see some open space between the bezel wire and the base of the pieced that should have been filled with metal clay to close the gaps. Overall this is a wonderful early piece. Setting stones is challenging, keep up the great effort!
Photo credit: Artist's own
Intermediate – Joy Wignall
Juror comments:
Strong overall design. A close up shot of the interior would make the inscription easier to discern. Excellent and clean example of hinging.
The story reads well with this rough yet flowery hinged piece. The angular shape of the roughly textured door with its rough edged front gives little clue as to what's inside. The abundance of daintily placed gems looks both difficult to accomplish in such a small space and surprising. There's also an intriguing tiny charm that hangs to the side. Altogether a charming piece.
Well constructed piece. Wood texture is very realistic. Three layered front adds a great depth of field. Hinge is well done. You open the door and are surprised by the fun color flower motif and stone background. Great job!
Photo credit: Artist's own
Advanced – Gabrielle Landolt 
Juror comments:
Beautiful construction and hinging. Nice execution of making a tiny, enameled globe.
Well constructed inside and out. A world within a work. Interior color well done. With a perfect little world contained within. Exterior is well finished; bezel fits stone and 2-piece bail provides movement for the piece. Well done!
I might be worried that I'd lose the tiny world within this piece. But that's probably the point. The enameling gives the otherwise ponderous piece a colorful touch. The hinged coverings are impressive and add to the feeling that there is something precious inside. The symbols inscribed on the front seem metaphysical and medieval. The enameled world itself looks small and fragile. The piece holds together on many levels.
Photo credit: Artist's own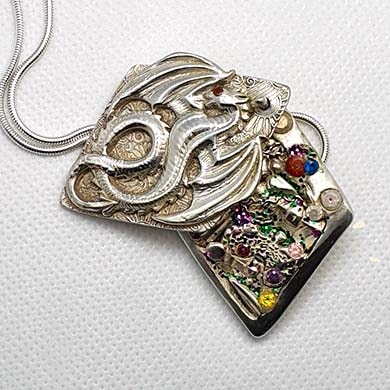 Dragon's Hoard, pendant
Sharon Cavendish, UK
Juror comments:
Good choice of dragon mold, it is fun and whimsical; a tricky mold to remove the clay from without breaking tail or wings. Nice surprise that the back pivots and there's a treasure.
Nice use of mixed media. The hinging shows great ambition for a beginner. The theme is exhibited well. Nice use of layered, multi-dimensional effects.
This piece makes me think I should have watched Game of Thrones.  It has a layered ancient otherworldly, somewhat Celtic feel that works well and is well balanced. The texturing on the background of the front is very appealing. What an abundance of treasures within. While not all are revealed in the photo, we can see that they're colorful and embedded in deep textures. I wonder about the endurance of glitter, however. Fascinating and nicely done.
Photo credit: Artist's own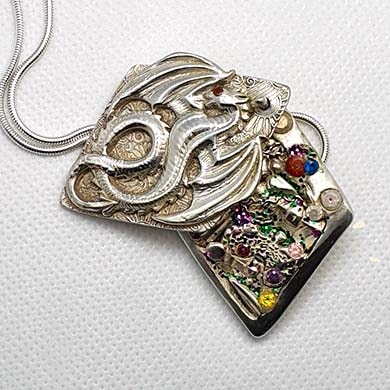 Sharon Cavendish, Dragon's Hoard
Kim Rumberger, Kick the Corona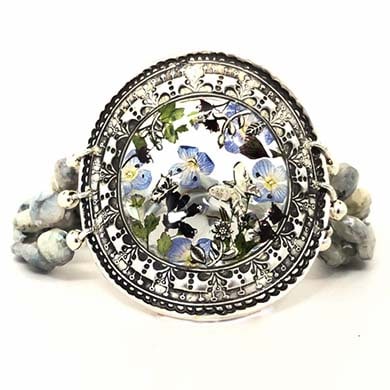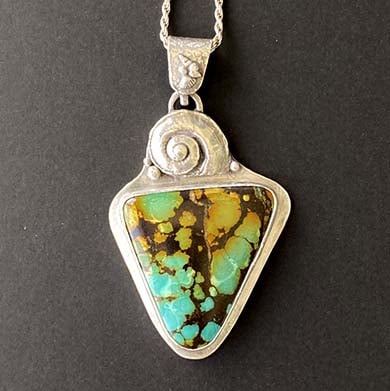 Kathleen Konyn, Mermaid Adornment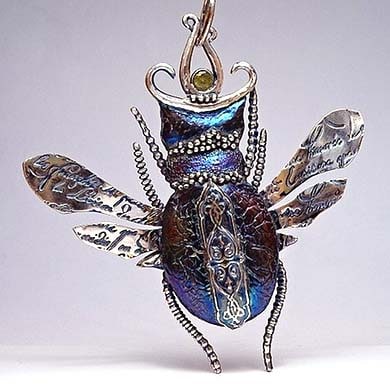 Celine Gaspard, The Wise Scarabook
Sea & Sky Challenge
Fall 2019
This challenge was to create an original piece using, or inspired by the sea or the sky.
This was a juried competition with prizes awarded in the following experience level categories:
Jewelry
Non Jewelry
Jurors – Corina Gheorghe, Randi Harper and Sherri Haab
Each category had a winner and Certificate of Merit awards.
People's Choice Award
This award is chosen by the public from the Certificate of Merit awards.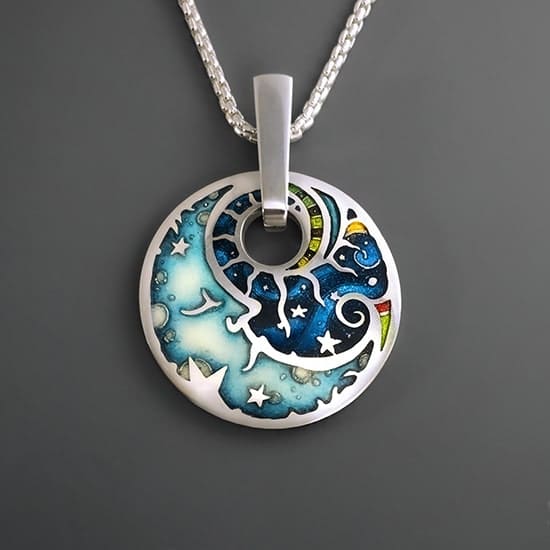 WINNER Jewelry
Liz Sabol, USA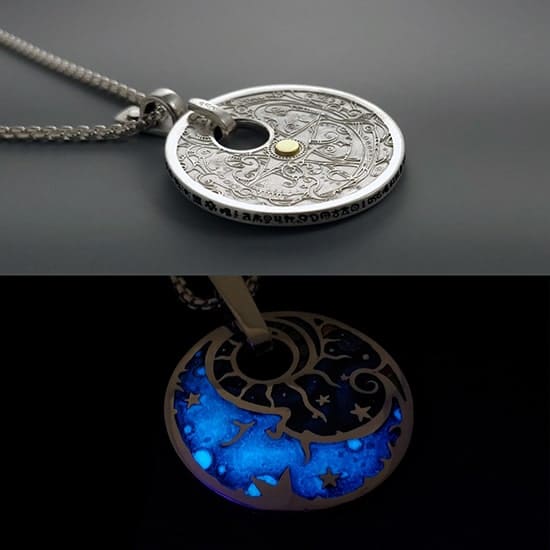 Man in the Moon pendant
With glow in the dark resin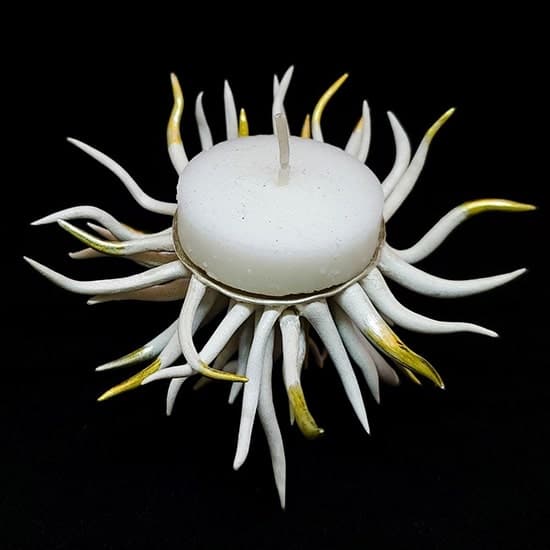 WINNER Non Jewelry
Bretworth Apthorp, USA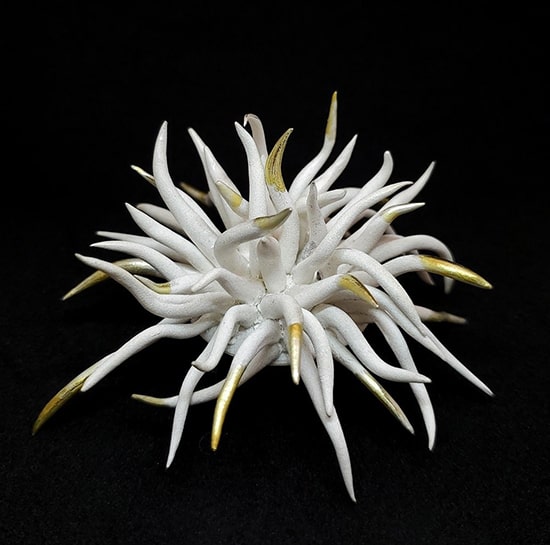 Dancing Anemone candle holder
Juror comments:
Nice design, balance, visual flow & execution. Great use of materials. Back complements the front & invites the viewer to look again ( and learn the story …)  Meets all criteria for challenge. Original design with clever special effect (moon glow). Impeccable workmanship and attention to detail. Pleasing composition. Great use and control of color. Good use of line, pattern and space. Front, back and sides all complement each other with unified theme.
Photo credit: Artist's own
Juror comments:
Good use of repetition using sculpted shapes to create rhythm and movement. Contrast created with use of smooth gold on rough silver.  Nice concept & use of materials! Well balanced & uplifting! 
Photo credit: Artist's own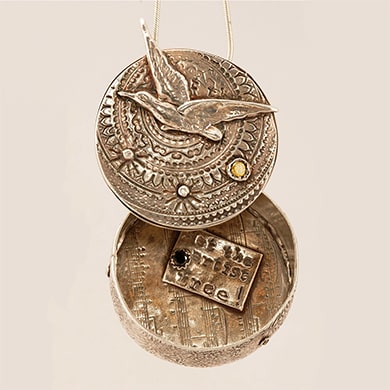 People's Choice Award
Kim Rumberger

, USA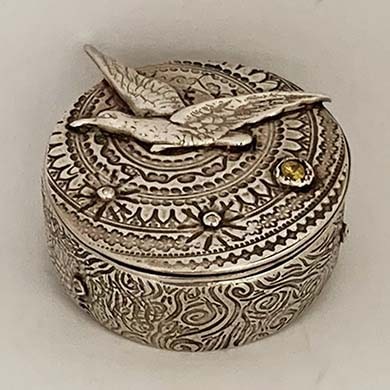 Freedom of Expression
The lid is a detachable medallion which can also be worn as a pendant.
Juror comments:
Excellent composition and placement of elements. Contrast is created using size, texture, and patina. Craftsmanship is neat and precise. Incorporation of stones creates focal point. All parts of piece work together with purpose and intention.
Photo credit: Artist's own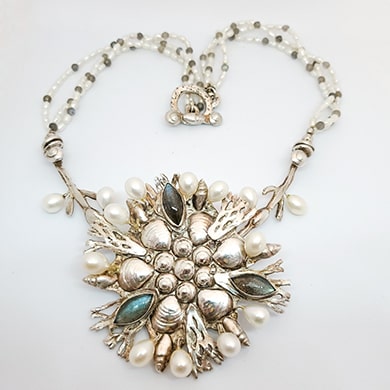 Bretworth Apthorp, Margate Necklace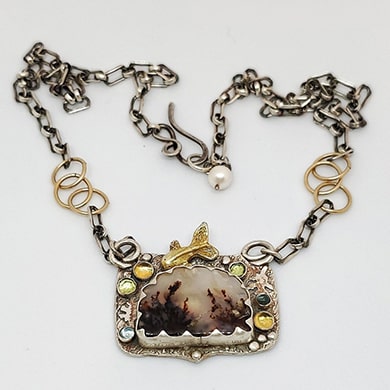 Bretworth Apthorp, Seaweed Splendour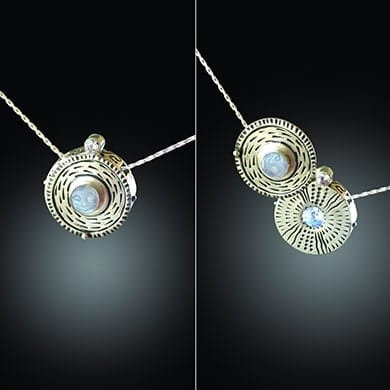 Evelyn Dombkowski, By the Light of the Moon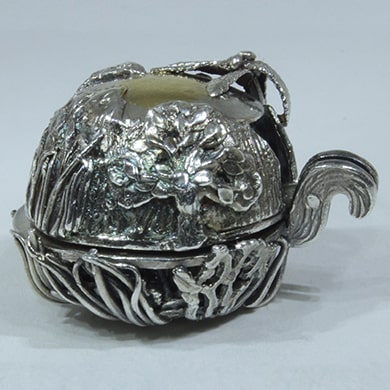 Marianne Donohoe, It's Everywhere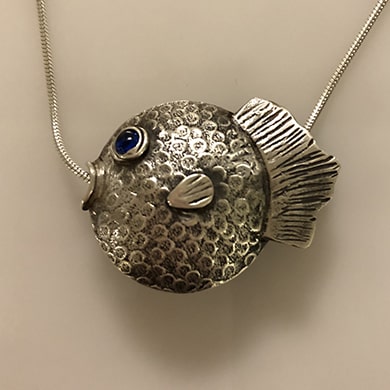 Susan Hushin, This is Bob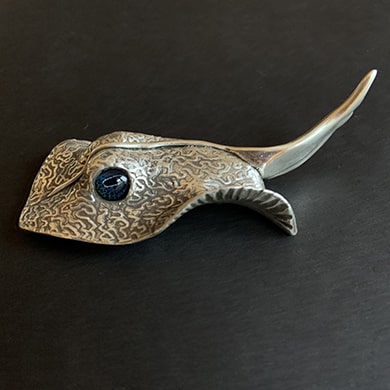 Carol-Ann Michaelson, Silver Stingray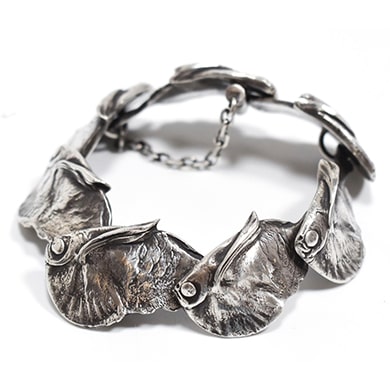 Laura Moore, So Many Fishes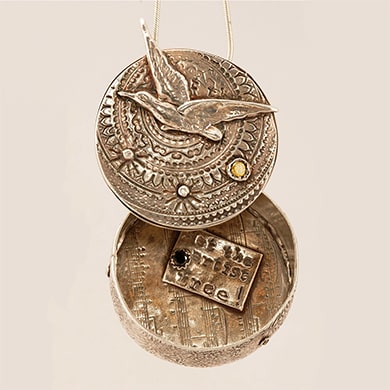 Kim Rumberger, Freedom of Expression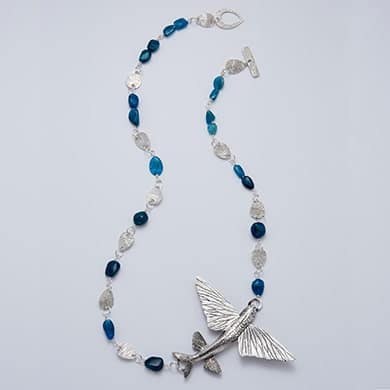 Ana Townsend, Sea and Sky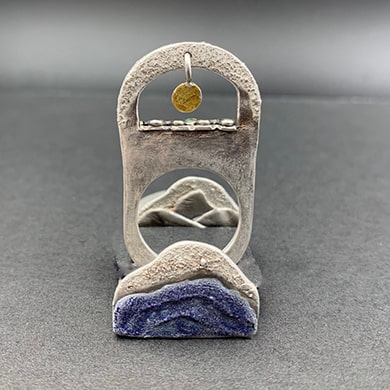 Stephanie Zier, This Land is Your Land
 Flash and Fire Challenge
Spring 2019
Artists of all skill levels were invited to participate in AMCAW's first worldwide jewelry competition, the Flash & Fire Challenge! in the spring of 2019.
The challenge was to create an original piece of jewelry using, or inspired by, one or more of the metal clay techniques in the AMCAW Flash and Fire Tutorial Collection available to all members; then photograph your work and submit your photo and entry online. 
This was a juried competition with prizes awarded in the following experience level categories:
New to Metal Clay – actively working with metal clay for under six months.
Beginners/Intermediate Level Artist – actively working with metal clay for six months to two years.
Advanced Metal Clay Artist – actively working with metal clay for over two years. This category includes instructors.
Jurors – Robert Dancik, Brittany Golden and Keith Lo-Bue
WINNER New to Metal Clay
Kim Stadelman, USA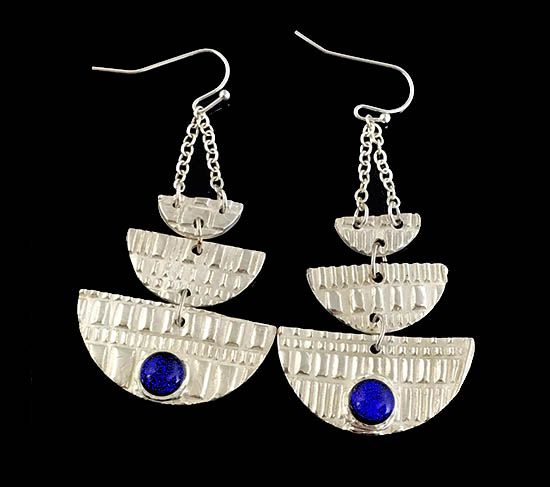 Egyptian Blue – Fine silver earrings inspired by Lis-el Crowley's fused Dichroic glass cabs
Juror comments:
Good technical ability and good design.
Photo credit: Charlotte Edwards
WINNER Beginners/Intermediate
Danielle Ferreira, USA
InCognito – Fine silver locket inspired by Sian Hamilton's Floral Delight
Juror comments:
Well designed and executed. Love that the design was carried into the inside of the locket. Great construction and fun design – nice work! Very well done – I like the attention to detail even in the background of the inside of the locket.
Photo credit: Artist's own
WINNER Advanced
Celine Gaspard, France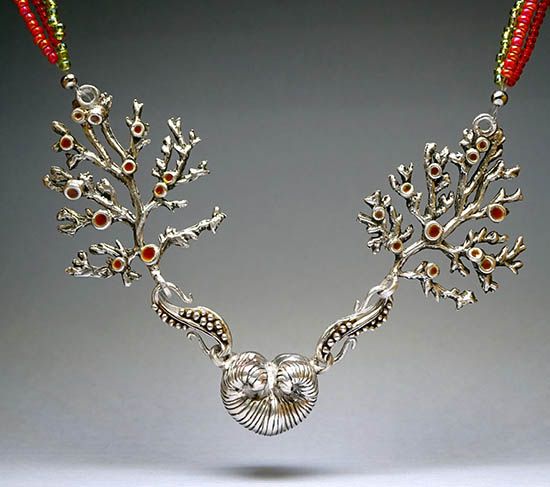 Underwater Lush – Sterling silver (950/960 formulas) necklace inspired by Gordon Uyehara's Ammonite Pendant
Juror comments:
Terrific piece, fabulous and weird, calls up bronchial branches and coral outcroppings. An adventurous design. Well done!
Photo credit: Artist's own
Juror Statement from Robert Dancik
While viewing and again in reviewing all the fabulous work submitted for this competition several thoughts kept occurring to me.
One was that in what is a fairly nascent field (metal clay adornment) the level of expertise at all levels was quite impressive.
Another was that all the artists submitting work were obviously well versed in the elements of art and principles of composition – the basics of any artistic endeavor. This is a key factor as all the technical ability in the world is for naught if a piece of work is not well composed and well designed.
A third realization was almost more of a surprise to me in seeing just how far some of the entrants were able to "push" the material to fashion pieces that are both inspired and inspiring in their form, function and design. Especially in the 2 categories for the artists working in the material for less than 2 years. The talent these artists exhibited with such limited experience means that the metal clay field has tremendous potential and I look forward to seeing just where it leads in the future.
As a juror, I feel it necessary to make a comment here on the "non-making" side of the entries – namely the photography of the work. As a juror, I had only the image submitted to judge the work by. The prospectus for the competition was quite clear in the considerations the artists needed to keep in mind for the images they submitted. It was most unfortunate that a number of entries that seemed to have potential were very difficult to assess due to a poor photograph. Considerations such as the distance from the piece, the background and lighting are always important and allow anyone viewing the image a more accurate and true means of assessment.
Lastly, I thank AMCAW for the opportunity to be part of this initial foray into events featuring the talents and abilities of metal clay artists around the world without consideration of the type of material, organizational affiliations or any other constraints. I trust there shall be many more such events and I look forward to seeing them all.
Juror Statement from Brittany Golden
It was an honor to be a part of the first AMCAW design challenge!  The entries were engaging, and the talent was fantastic!  The time spent on the jewelry was apparent as well as the craftsmanship. I hope the artists learned from the process and can take away key points to improve their work and continue their creative journey.
People's Choice Award
Laura Roehl, USA
Butterfly Dance – fine silver, inspired by Ir-resist-able Patina by Lora Hart.
People's Choice Award
This award was a public vote. Voting was open to everyone, and the winner was the person with the most votes.
Photo credit: Artist's own