AMCAW Tutorial Collections
An Exclusive Benefit for AMCAW Members
As tutorials are a great way to learn a new technique and advance your metal clay skills, AMCAW has offered free tutorials to our members from our inception. We now offer a growing number of tutorial collections for all levels covering a huge range of techniques. These collections will continue to grow with more themed collections planned for the future.
In addition to downloadable step-by-step PDFs, these tutorials are also available online, some of which have videos illustrating many steps.
AMCAW wishes to thank all the generous artists who donated these terrific tutorials to help artists everywhere become inspired, learn, and explore the possibilities of metal clay!
Collections
You're invited to view videos of the contributing artists below as they share their project, why they chose it, and what you can expect to learn from their tutorial.
Click on the tutorial name or artist name to go to the tutorial page or click on the Collection button to view the whole collection together and download pdfs (you will need to log in to access the tutorial/collection pages).
BOXES AND LOCKETS
TUTORIAL COLLECTION
MIXED MEDIA
TUTORIAL COLLECTION
INSTRUCTOR SHOWCASE
TUTORIAL COLLECTION
CREATURES & CRITTERS
TUTORIAL COLLECTION
20-GRAM
TUTORIAL COLLECTION
FLASH & FIRE
TUTORIAL COLLECTION
Boxes & Lockets Collection
New to the collection March 2023
Memory Keeper Locket
Tracey Spurgin
Captivating Scents
Annemarie Klappe
Look-At-Me Lentil
Loretta Hackman
Upright Tooth Fairy Box
Mónica Weber-Butler
Bird Box Pendant
Lisa Johnson
New to the collection February 2023
Raku and Silver Beads
Barbara Rivolta
Stylish Clasp
Ana Townsend
Oyster Watercolour Pendant
Emma Gordon
Hydrangea Necklace
Irina Vasilieva
Incorporating Cyanotypes and Ephemera
into Metal Clay
Patrik Kusek
Miniature blown glass and
fine silver urn with sterling silver base
Caroline Bray
The Outlander Pendant
May Bartrum
Kumihimo Braid
May Bartrum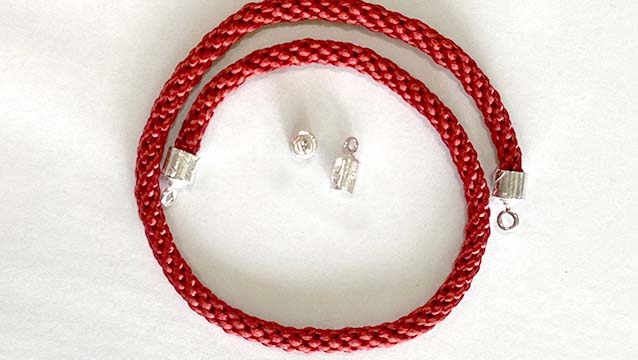 Chinese Puzzle Game
Fiona Ingram
Lace and Fineness Choker
Mónica Weber-Butler
Summer Walks Trinket Bowl
Lori Ridgway
Instructor Showcase Collection
All Wrapped Up
Pam Feindel
Ebb and Flow Ring
Grainne Reynolds
Glass and Silver Metal Clay Two Ways
Ed and Martha Biggar
Star Earrings
Paola Mattioli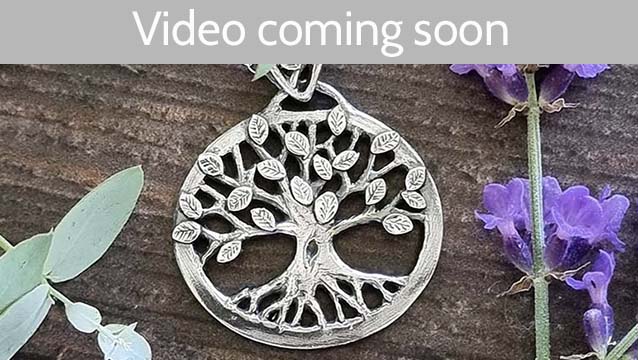 The Old Beech Tree
Helen Foster-Turner
Compass Rose Pendant
Kim Rumberger
Enameling on Metal Clay
Pam East
A Walk in the Woods
Helen Drye
Lantern Earrings
Tracey Spurgin
Moroccan Nights
Ana Townsend
Sculpture and Carving Techniques
Corina Gheorghe
Two Stones for the Price of One
Jennifer Knollenberg
Creatures and Critters Collection
Dragonfly: From Hate to Love Syringe
Iliana Carrillo
How to Make a Mini Fish
Michael J. Marx
Butterfly Brooch
Julia Rai
Dandelion and a Mouse
Iwona Tamborska
Butterfly Pendant
Julia Rai
Seahorse Dreams
Brett Apthorp
Sculpted Bottle Stoppers
Annemarie Klappe
Little Bee
Grainne Reynolds
Colony Pendant
Barbara Becker Simon
Sweet Sounds of the Pan Pipes
Marianne Donohoe
Play with Clay
Noortje Meijerink
INSTRUCTOR SHOWCASE
TUTORIAL COLLECTION
CREATURES & CRITTERS
TUTORIAL COLLECTION
20-GRAM
TUTORIAL COLLECTION
FLASH & FIRE
TUTORIAL COLLECTION
Hollow Teardrop Swivel Pendant
Donna Penoyer
Lotus Blossom Pendant
Clément Marquaire
Reversible Heart Pendant
Cindy Silas
Piecing It All Together
Lyle Rayfield
Double Pendant
Paola Mattioli
Fired, Fused and Fun
Stephanie Chavez
Cocktail Ring
Tracey Spurgin
Sparkling Garden Screw Top Box
Julia Rai
Rosedrop Pendant
Vickie Hallmark
King of the Ocean
Sandra Quell
Metal Clay Catch of the Day
Karen Trexler
A Deceptively Simple Design
Helga van Leipsig
What If You Fly?
Annemarie Klappe
Circle of Stories
Anna Campbell
My Little Book of Runes
Ana Townsend
Honey Bee Pendant
Alex Kraft
Windows Pendant and Earring Set
Liz Sabol
Byzantine Style Dangling Earrings
Meropi Toumbas
MIXED MEDIA
TUTORIAL COLLECTION
INSTRUCTOR SHOWCASE
TUTORIAL COLLECTION
CREATURES & CRITTERS
TUTORIAL COLLECTION
20-GRAM
TUTORIAL COLLECTION
FLASH & FIRE
TUTORIAL COLLECTION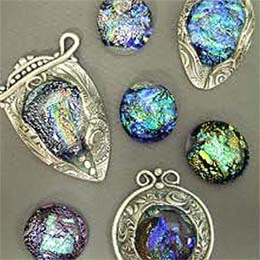 Fused Dichroic Glass Cabochons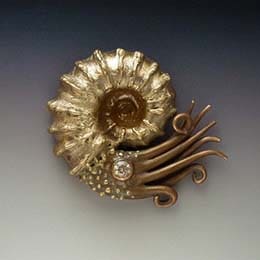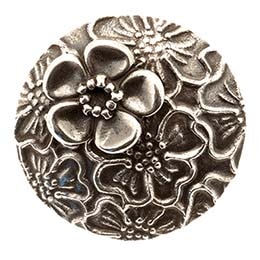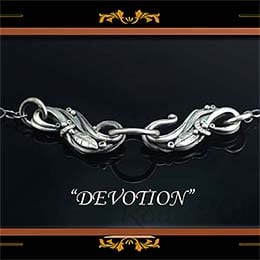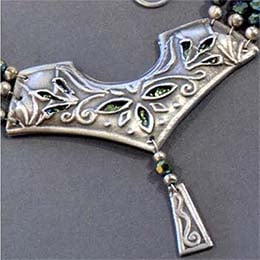 Scratchfoam and Dichroic Glass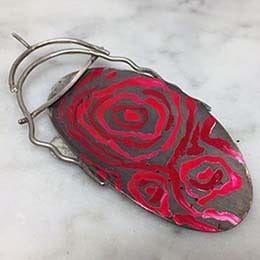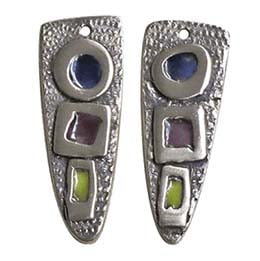 Enamel on Base Metal Clay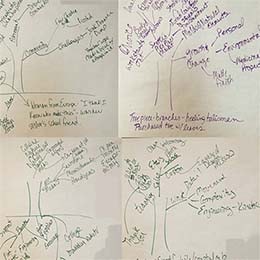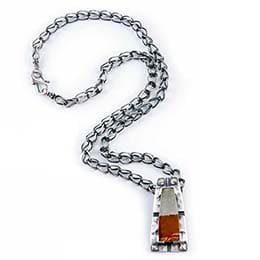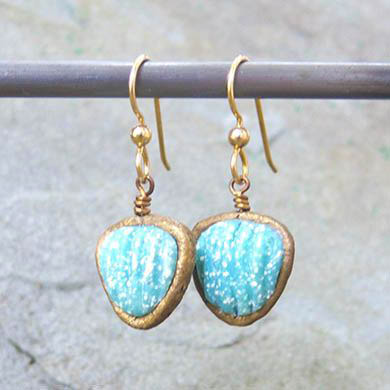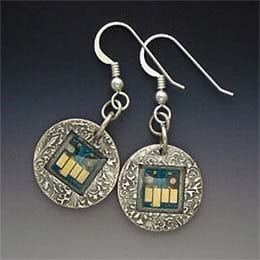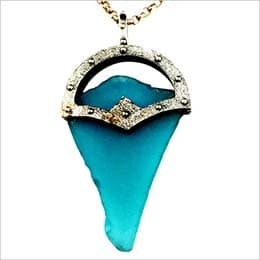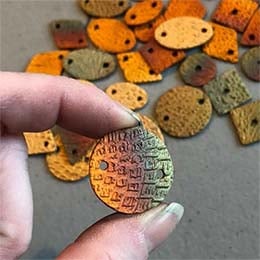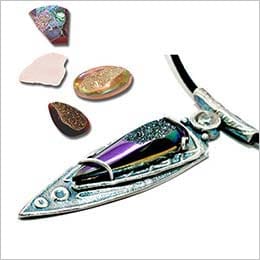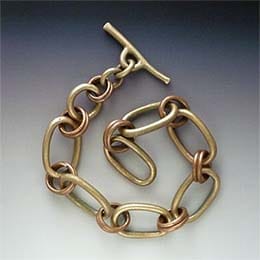 INSTRUCTOR SHOWCASE
TUTORIAL COLLECTION
CREATURES & CRITTERS
TUTORIAL COLLECTION
20-GRAM
TUTORIAL COLLECTION
FLASH & FIRE
TUTORIAL COLLECTION