AMCAW Tutorial Collections
An Exclusive Benefit for AMCAW Members
As tutorials are a great way to learn a new technique and advance your metal clay skills, AMCAW has offered free tutorials to our members from our inception. We now offer a growing number of tutorial collections for all levels covering a huge range of techniques. These collections will continue to grow with more themed collections planned for the future.
In addition to downloadable step-by-step PDFs, these tutorials are also available online, some of which have videos illustrating many steps.
AMCAW wishes to thank all the generous artists who donated these terrific tutorials to help artists everywhere become inspired, learn, and explore the possibilities of metal clay!
You will need to log in to access the tutorials and collection pages (buttons at the bottom of this page, click here to go straight to collections).
How to use the filterable gallery
With so many tutorials to see we've given you a range of filters to get to your desired tutorial quicker.
Tick any of the boxes on the filter menu to see tutorials assigned that combination of tags.
Please note that the filters work together.
DO NOT TAG MULTIPLE COLLECTIONS.
If you tick to see multiple collections the grid will be empty. No tutorial is in more than one collection. 
Why is the grid empty after I select the options I want to see? If you tick a bunch of options and the grid is empty it means that no tutorial has all of those tags.
The best way to use the filters is to select a few options. ie. Advanced, Necklace, Silver Clay or browse using a single tag or two.
If you are viewing on a computer, hover your mouse over the image to see the title and name of the artist. Click on the photo to go to the tutorial page.
If you are viewing on mobile or tablet, tap on the images to see the title and artist. Tap again to go to the tutorial.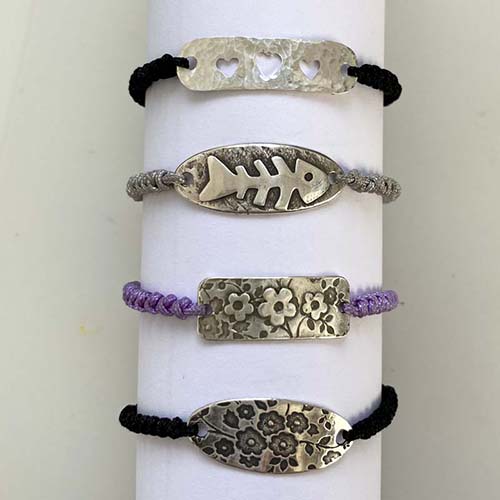 Boho Bracelet
By Mónica Weber-Butler
Back To Basics Collection
Please note: When you are using the mobile dropdown menus, they don't close automatically. After selecting what you want to see, click on the dropdown title to close the menu and view the results.