The AMCAW Virtual Guild is a benefit available only to AMCAW members.  Once per quarter, join a live online meeting where you can learn new skills from top-notch members of the metal clay community.
Our goal is to move beyond teaching techniques to create a space where artists of all levels can contribute their knowledge and enthusiasm, learning from each other and supporting and interacting for the benefit of the entire community. All Virtual Guild Meetings are recorded to make it easy for our members to listen at a later time when the live meeting is not convenient.
Our next meeting is March 18
, 2023
Meeting Schedule
March 18, 2023
Presenter – Holly Gage
Topic – Cultured Opals, Synthetic and Lab-grown Gems
May 20, 2023
July 15, 2023
September 16, 2023
November 18, 2023
Educating Customers About Cultured Opals, Synthetic and Lab-grown Gems in Your Jewelry by Holly Gage

Many of us use lab-grown gems and Opals in our work, but we are not sure how to talk about the value of using those with customers. This topic discusses the differences between natural gems, cultured, and synthetic gems, the pros of using sustainable, conflict-free gemstones, and the conscious choices we make in the materials we choose for our jewelry.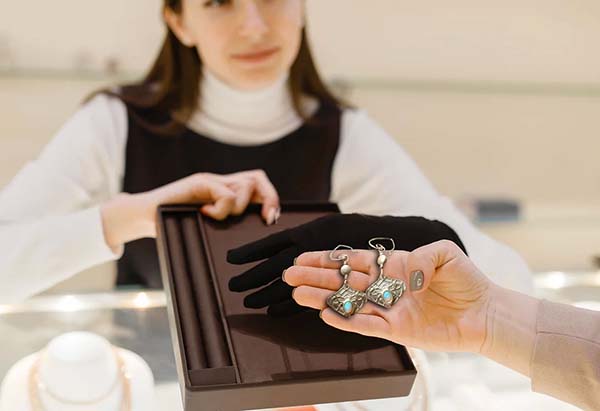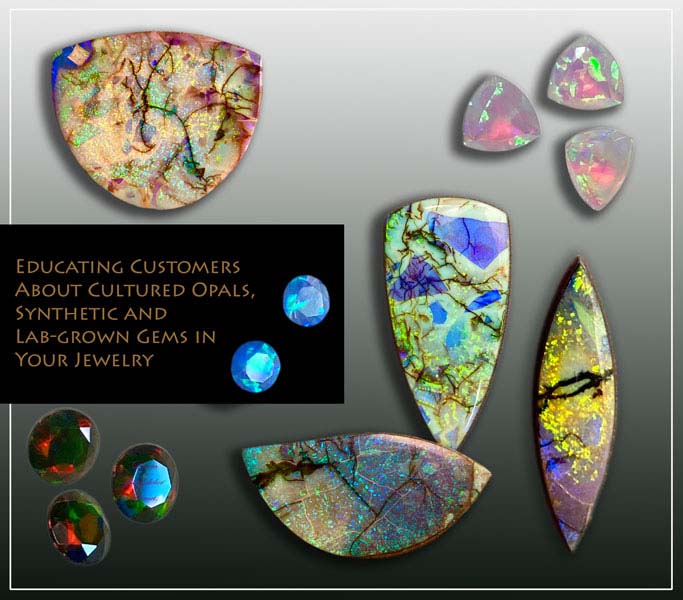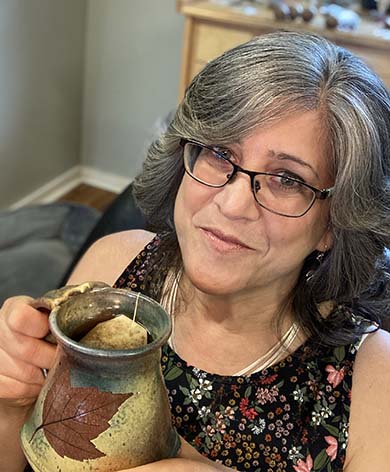 About Holly Gage

Holly Gage of Gage Designs is a 2015 Saul Bell Design winner recognized for distinction in jewelry design. She creates contemporary jewelry and teaches her unique techniques with a gentle blend of design instruction and technical proficiency. Holly brings her innovation, creativity, and gift of helping others find their artistic voice through classes, mentoring programs, and master workshops. Classes are available live Online, throughout the US, and abroad. She is a full-time jewelry artist, Certified Metal Clay Instructor, author, and conference speaker. In addition, Holly holds a BS in Fine Art and Education. Her jewelry and articles on techniques and design can be found in over 75 regional and national publications including the Best of America Jewelry Artists; Named 3rd in Handmade Business: Top 12 Makers, Movers, and Shakers; Metal Clay Today; Art Jewelry and Lapidary Journal Jewelry Artist; Making Jewellery: among others. You can find more information about Holly's jewelry, classes, and awards, along with numerous Metal Clay tips, tutorials, and blog on her web site at HollyGage.com
Virtual Guild Video Library
To see an overview of the previous meetings visit our video library. This is a public page.
To go straight to the members page of video recordings please click the watch recordings button below. You will need to be logged into your account to access these recordings.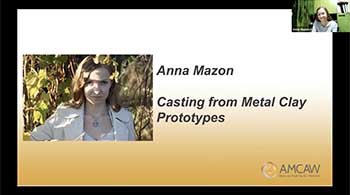 Anna Mazoń – Casting from Metal Clay Prototypes
Virtual Guild meeting Jan 21, 2023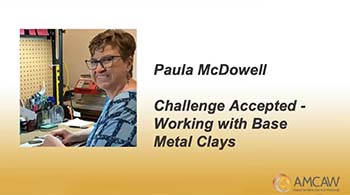 Paula McDowell – Working with Base Metal Clays
Virtual Guild meeting November 19, 2022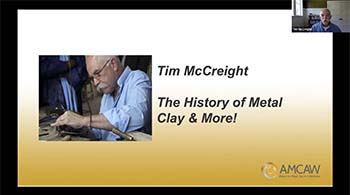 Tim McCreight – The History of Metal Clay & More!
Virtual Guild meeting Sept 17, 2022
How It Works?
Each Virtual Guild meeting includes three sections:
Presentation by a top-notch metal clay instructor
Q & A session for viewers to ask questions of the instructor
The meetings are held in a webinar format. The presenting instructor is live online and will use on-screen photos and videos to teach concepts and techniques that are of interest to metal clay artists.
We know you will have great questions! That's why time is set aside in each meeting for Q & A with the instructor. Participants use the built-in Q&A and chat boxes to ask questions and engage in discussions.
Join us live for the Virtual Guild meeting or watch the recording afterwards.
Your choice!
Technical Details
Click the Register Now button to sign up for the next Virtual Guild meeting. If the Register Now button is not showing then registration is not currently open.
You are registering for one meeting only and will need to register again if you wish to attend another meeting in the future.
You will receive an email confirming your registration, which will include instructions and a link to join the meeting. You will also receive reminder emails prior to the meeting.
A recording of the meeting will be available on this page to AMCAW members.
The Virtual Guild meeting will take place on the Zoom webinar platform. For more information visit the Zoom attendee help page.
VIRTUAL GUILD FAQs
Do I have to be an AMCAW member to participate in the Virtual Guild?
How do I register for a meeting?
Scroll up and click on the "Register Now" button, or
just click here
. You will be prompted to login using your AMCAW username and password before gaining access to the registration page.
How often are the Virtual Guild meetings?
Quarterly
What happens after I register for a Virtual Guild meeting?
You will receive an email with a link to join us on Zoom webinar. After you register, you will also get reminder emails 1 week prior to the meeting and the day before the meeting.
Do I have to register for each Virtual Guild meeting?
Yes. You will need to revisit the registration page to register for each meeting.
Do I need to download software on my computer before the meeting?
When you click the link to join your first Zoom webinar, you will be prompted to download the Zoom software. You can also prepare ahead of time by
downloading the software here
. When you join meetings in the future, the app will automatically open when you click on the meeting link.
Can I join from my phone or tablet?
Yes. If you click the link to join the webinar from your phone or tablet, you will be prompted to download the Zoom app to that device. You can also prepare ahead of time by
visiting this page
, which includes links for Android and Apple mobile devices. When you join meetings in the future, the app will automatically open when you click on the link.
Can I join if I don't have a device with the ability to play video?
You can join by phone for audio. The confirmation email you will receive after registering for the meeting includes both a link to join the meeting through your device and phone numbers to call for audio.
Can I join if I don't have a speaker on the device I am using for the meeting?
Yes, you can join by phone to hear audio. In the email confirmation of your registration, phone numbers to hear audio are included. It is different for every meeting so you will have to register for each meeting.
How far in advance do I need to register for the meetings?
You can register right up until the meeting starts, but please register sooner to be sure you don't run into any technical glitches.
What if I miss a meeting?
Don't worry. Recordings of past meetings will be available via the
Virtual Guild page
on the AMCAW website. You'll need your AMCAW username and password to access the recordings.
About Guilds
Since the middle ages people with common interests have been coming together to form guilds. The craft and merchant guilds of that time were an important part of the fabric of society, maintaining standards and protecting the interests of the members. Though the merchant guilds have faded away there are still guilds of artisans and craftspeople. Today these groups serve to help us share knowledge and create companionship with others who are passionate about the same thing. 
Apply To Present At A Future Meeting
If you are a member of the metal clay community with something interesting to share, then this high-profile opportunity might be perfect for you!