The AMCAW Virtual Guild is a benefit available only to AMCAW members.  Once per quarter, join a live online meeting where you can learn new skills from top-notch members of the metal clay community.
Our goal is to move beyond teaching techniques to create a space where artists of all levels can contribute their knowledge and enthusiasm, learning from each other and supporting and interacting for the benefit of the entire community. All Virtual Guild Meetings are recorded to make it easy for our members to listen at a later time when the live meeting is not convenient.
Our next meeting is July 16
, 2022
Meeting Schedule
July 16, 2022 (11-1 EST, 4pm UTC)
Corina Gheorghe: TBC
September 17, 2022 (11-1 EST, 4pm UTC)
Tim McCreight: TBC
November 19, 2022 (11-1 EST, 4pm UTC)
Paula McDowell, Topic: Working with Base Metal Clay
Photo Polymer Plates
by Terri Hickey

Enhancing and Personalizing your Metal Clay Designs using Photo Polymer Plates.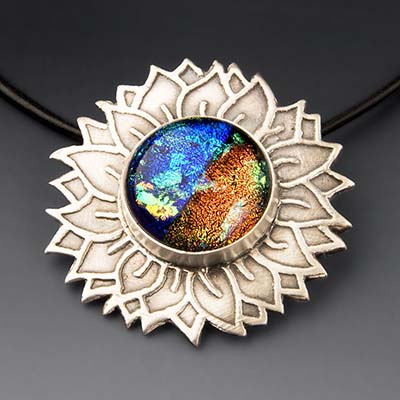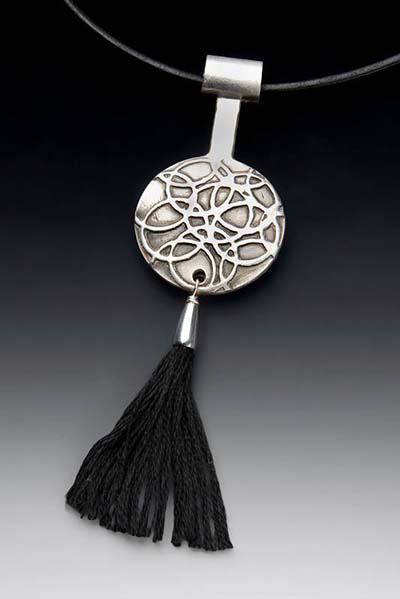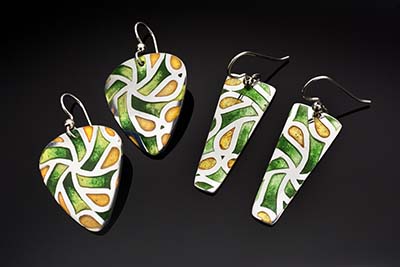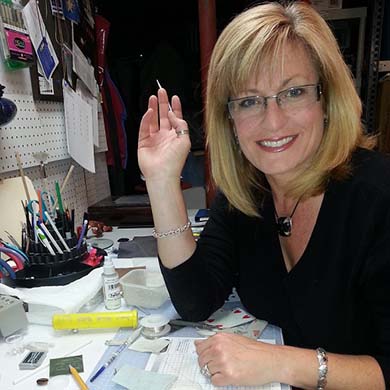 About Terri Hickey

Terri is a Cleveland based jewelry artist, working in fine silver metal clay and glass enamel. She attended the University of Illinois earning a degree in Fashion Merchandising and Design. She worked for several years developing and manufacturing clothing lines for such companies as Spiegel Catalog and Edison Brothers Stores. After a move to Cleveland with her husband she took some time at home with her three children. In 2009, wanting to expand her artist endeavors, she began taking classes in Metal Clay at the Valley Art Center in Chagrin Falls, Ohio. She fell in love with metal clay and received her PMC certification through Rio Grande in 2012. Her love of color and fascination with glass soon led her to start exploring enamels. Feeling like she had found her jewelry niche, she reached out and arranged to study with some of the enamel industries most prominent jewelry artists. The inspiration behind her jewelry comes from an appreciation of sophisticated clean lines, with minimal frill and maximum impact; streamlined, but never boring. 
Terri participates in art shows in Ohio and Chicago and surrounding areas. Her work can be found in numerous Galleries in Ohio and New York. She has been a guest artist on the Cleveland area TV show, "Artists at Work" and was the featured artist in the February 2019 issue of Ohio Magazine. Terri teaches Metal Clay and Enamel classes, Viking Knit and Chain Maille at several Cleveland area venues.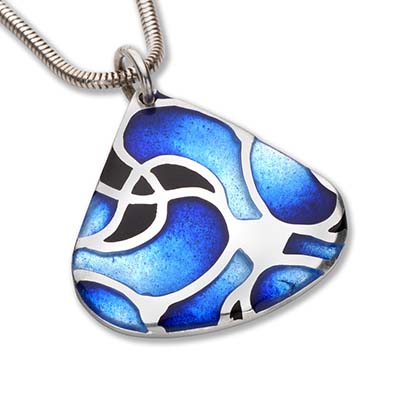 Virtual Guild Video Library
To see an overview of the previous meetings visit our video library. This is a public page.
To go straight to the members page of video recordings please click the watch recordings button below. You will need to be logged into your account to access these recordings.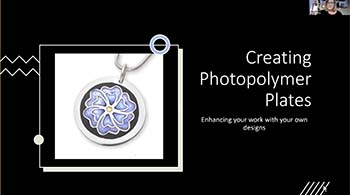 Terri Hickey – Photo Polymer Plates
Virtual Guild meeting March 19, 2022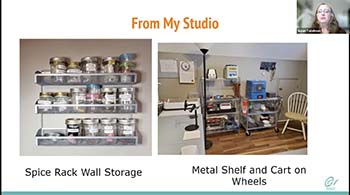 Susan Tobelman – Organizing the Artisan's Space
Virtual Guild meeting January 15, 2022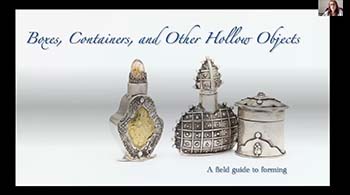 Lora Hart – Boxes, Containers and other Hollow Forms A Field Guild to Forming
Virtual Guild meeting November 20, 2021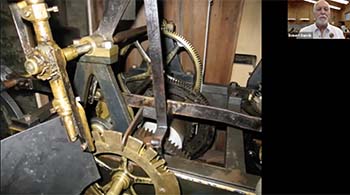 Robert Dancik –
There's Water in the Well – I Just Can't Find My Bucket
Virtual Guild meeting September 18, 2021
How It Works?
Each Virtual Guild meeting includes three sections:
Presentation by a top-notch metal clay instructor
Q & A session for viewers to ask questions of the instructor
The meetings are held in a webinar format. The presenting instructor is live online and will use on-screen photos and videos to teach concepts and techniques that are of interest to metal clay artists.
We know you will have great questions! That's why time is set aside in each meeting for Q & A with the instructor. Participants use the built-in Q&A and chat boxes to ask questions and engage in discussions.
Join us live for the Virtual Guild meeting or watch the recording afterwards.
Your choice!
Technical Details
Click the Register Now button to sign up for the next Virtual Guild meeting. If the Register Now button is not showing then registration is not currently open.
You are registering for one meeting only and will need to register again if you wish to attend another meeting in the future.
You will receive an email confirming your registration, which will include instructions and a link to join the meeting. You will also receive reminder emails prior to the meeting.
A recording of the meeting will be available on this page to AMCAW members.
The Virtual Guild meeting will take place on the Zoom webinar platform. For more information visit the Zoom attendee help page.
VIRTUAL GUILD FAQs
Do I have to be an AMCAW member to participate in the Virtual Guild?
How do I register for a meeting?
Scroll up and click on the "Register Now" button, or
just click here
. You will be prompted to login using your AMCAW username and password before gaining access to the registration page.
How often are the Virtual Guild meetings?
Quarterly
What happens after I register for a Virtual Guild meeting?
You will receive an email with a link to join us on Zoom webinar. After you register, you will also get reminder emails 1 week prior to the meeting and the day before the meeting.
Do I have to register for each Virtual Guild meeting?
Yes. You will need to revisit the registration page to register for each meeting.
Do I need to download software on my computer before the meeting?
When you click the link to join your first Zoom webinar, you will be prompted to download the Zoom software. You can also prepare ahead of time by
downloading the software here
. When you join meetings in the future, the app will automatically open when you click on the meeting link.
Can I join from my phone or tablet?
Yes. If you click the link to join the webinar from your phone or tablet, you will be prompted to download the Zoom app to that device. You can also prepare ahead of time by
visiting this page
, which includes links for Android and Apple mobile devices. When you join meetings in the future, the app will automatically open when you click on the link.
Can I join if I don't have a device with the ability to play video?
You can join by phone for audio. The confirmation email you will receive after registering for the meeting includes both a link to join the meeting through your device and phone numbers to call for audio.
Can I join if I don't have a speaker on the device I am using for the meeting?
Yes, you can join by phone to hear audio. In the email confirmation of your registration, phone numbers to hear audio are included. It is different for every meeting so you will have to register for each meeting.
How far in advance do I need to register for the meetings?
You can register right up until the meeting starts, but please register sooner to be sure you don't run into any technical glitches.
What if I miss a meeting?
Don't worry. Recordings of past meetings will be available via the
Virtual Guild page
on the AMCAW website. You'll need your AMCAW username and password to access the recordings.
About Guilds
Since the middle ages people with common interests have been coming together to form guilds. The craft and merchant guilds of that time were an important part of the fabric of society, maintaining standards and protecting the interests of the members. Though the merchant guilds have faded away there are still guilds of artisans and craftspeople. Today these groups serve to help us share knowledge and create companionship with others who are passionate about the same thing. 
Apply To Present At A Future Meeting
If you are a member of the metal clay community with something interesting to share, then this high-profile opportunity might be perfect for you!