About Lis-el Crowley
And the Vision Award
Lis-el Crowley was the visionary artist whose belief in the importance of learning and creating in community fueled the founding of AMCAW. She passed away on September 11, 2020 after a brave battle with cancer. Scroll down to learn more about Lis-el.
This tragic loss of AMCAW's co-founder prompted the creation of the Lis-el Crowley Vision Award to honor her legacy as a teacher, artist, community builder, and friend. This award recognizes individuals who have made a significant impact in our metal clay world.
Near the start of each year, we seek nominations for the award from all members of the metal clay community. We ask them to consider who among their peers embodies the values and actions we observed in Lis-el, including:
A spirit of generosity within the metal clay community
Support for the advancement of metal clay artistry
Support for the metal clay community
Promotion of metal clay outside the metal clay community
An anonymous selection panel, which changes each year, reviews the nominations and selects the individual they think best fits these criteria.
The honoree is announced each May. The 2022 Lis-el Vision Award recipient, Terry Kovalcik, was announced at the inaugural SINTER conference, while the 2021 honoree, Tim McCreight was recognized via a virtual ceremony.
The metal clay community is quite special and there are many deserving candidates. We will continue to recognize honorees via the Lis-el Crowley Vision Award each year.
A Tribute to Lis-el Crowley
As another way to honor Lis-el's spirit, we asked members of the metal clay community to share their photos and stories of Lis-el with us, so we may share them with you. We hope this page gives you a sense of Lis-el's energy and the impact she made on the people and communities she cared most about.
Outtakes from Lis-el's Cool Tools video shoots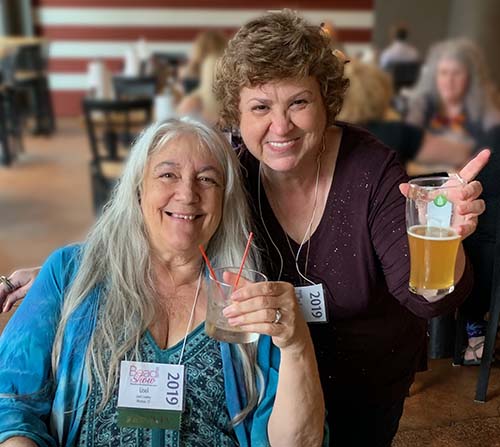 Paula and Lis-el at Bead and Button 2019
In June of 2019, I traveled to Milwaukee to attend the Bead & Button show on behalf of AMCAW and spent 6 days with Lis-el. While I never had the pleasure of taking a class from Lis-el, I did get to assist her one day. Her knowledge and generosity were evident.
When the show floor opened, Lis-el and I represented AMCAW at a resource table just outside the hall. Everyone had to pass by our table, and we talked to people who had never heard of metal clay; others were newbies, nay-sayers, & old friends. It was such a joy to be with Lis-el during that time. We got to know each other better on a personal level and hatched a whole new set of ideas for AMCAW.
Lis-el had such a large heart and generous spirit. She provided comfort to a stranger who had just lost a child, helping to find a way to honor that child's memory. She gave money to the homeless man on the street because we had just had a fabulous meal, and she didn't want to see anyone go hungry.
I will forever be grateful for her friendship and encouragement to teach at MOJO and Bead & Button. Lis-el, MOJO and Bead & Button may be gone, but I am so much richer for having known her.

Lisel Crowley, 3 silver rings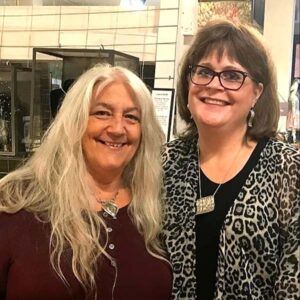 The world lost an amazingly creative and generous soul, someone who made such an impact on me and many metal clay artists around the world. I was so thankful she lived nearby and I could be a part of her guild. She taught me a lot, and I could always count on her being honest with me. 
She was a trailblazer, down to earth, funny, a master of creativity, and she cared deeply and passionately… about her family, friends, students, and the metal clay community. She had big dreams, and followed them with all her heart! She achieved more in her lifetime than most of us only dream of. The world was a better place with her, and her legacy will live on.
The first thing that comes to mind in regards to a story about Lis-el is a moment when I was wearing a ring that she had made and given me, and she said, "Rhonda, I love your ring." I said "thanks, you made it!" She looked at it and said, "Well no wonder it's such a pretty ring if I'm the one who made it!"
Anyone who knows Lis-el knows that this is just so her – confident, funny and a joy to be around. She touched my life in many ways – emotionally and spiritually. I always looked forward to spending time with her; she has such a beautiful soul. I find comfort in knowing that her soul and memory lives on.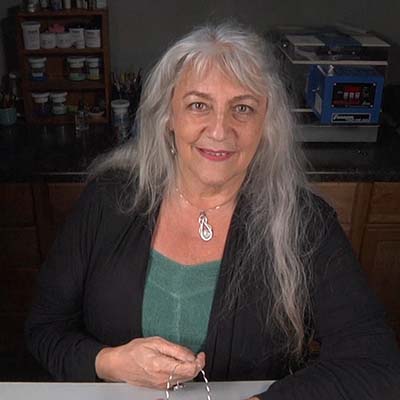 Lis-el shooting videos for Cool Tools, 2017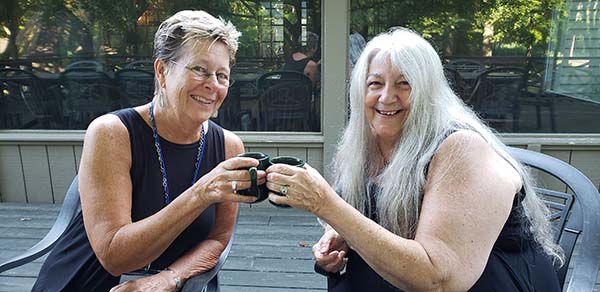 Respect…Friend…Love. My friend you will sorely be missed. You have left this plane far too soon. The incredible influence you had on so many and on so many levels is immeasurable. Capturing your essence with words is impossible. You have been one of the most gifted and positive people I have had the pleasure of knowing. Your positivity surrounded you and those who came within your realm with a tangible warmth that I will continue to hold next to me as I continue my path. Your dedication and generosity with all of your gifts has and will continue to pave the way for other creators. I love you and I miss your physical presence…Blessed be. ❤️

The Guild (MAGIC) came together as a small group of artists eager to learn. Lis-el began meeting regularly with them and over the years they grew to incorporate Mojo conferences, retreats, workshops and gallery events.
Lis-el continually developed new ideas and techniques along the way. Our Guild, shaped by Lis-el's unique talents and generous spirit will miss our 'queen' and friend. We are proud to continue her legacy. She will remain in our hearts and as an enduring source of inspiration.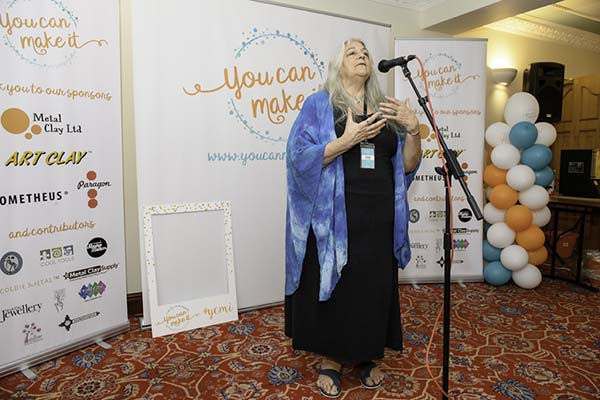 Lis-el talking about her vision for AMCAW, YCMI 2018, photo: Metal Clay Ltd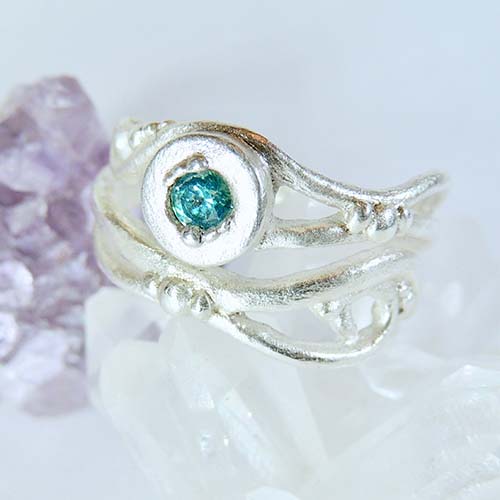 My tributes to the wonderful Lis-el is this 'Queen for a Day' themed ring and my Cathedral Pendant I made during her YCMI masterclass earlier this year. Lis-el was a fabulous tutor, artist, and to me, one of the Queens of Metal Clay.
My Cathedral Pendant was created during Lis-el's YCMI Masterclass. Sadly she was unable to attend, but the class went ahead with Grainne Reynolds at the helm and we were asked to share the finished pendants with Lis-el so she could see what we made. I did so via Instagram, tagging Lis-el so she would see it, and I was thrilled when she left a comment on the piece and was so touched by her kind words.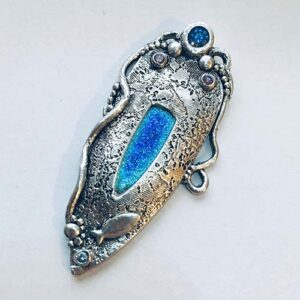 When I first started with this medium I watched many tutorials from various tutors, all full of great tips and projects, but Lis-el's stood out most for me and showed how something that looked very intricate could be achieved quite easily, even as a beginner, and her videos were the ones I kept coming back to and learned the most from.
After hearing of her passing I wanted to try to create something to pay tribute to her generous spirit. There was always one particular tutorial of Lis-el's that I always wanted to try, and after seeing the theme (Queen For A Day) I decided to do it.
I had no plan for a final design, I just followed along with the video, and let the design come by itself, as Lis-el often did. In the end, this was the result and I couldn't be more happy with it.
While I was making it, in the style of Lis-el and under her virtual tutelage, I felt like I was working as she would and was therefore a 'Queen for a Day'.
RIP Lis-el and thank you.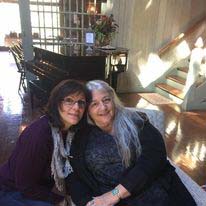 Lis-el of course was my guru of all things art. And while I was lucky to have such an amazing teacher, she was so much more. We became very close and I was lucky enough to call her my dear friend.
A sweet memory I have of Lis-el is once, when she was at our home, my two young granddaughters were there as well. They thought she was magical……was she a princess, wizard, witch? Of course we did have those wonderful wands that we made, but I think it was her flowing dress and flowing hair. Actually, it was probably her very aura that drew them in. You immediately feel her loving energy. She certainly was magical to me.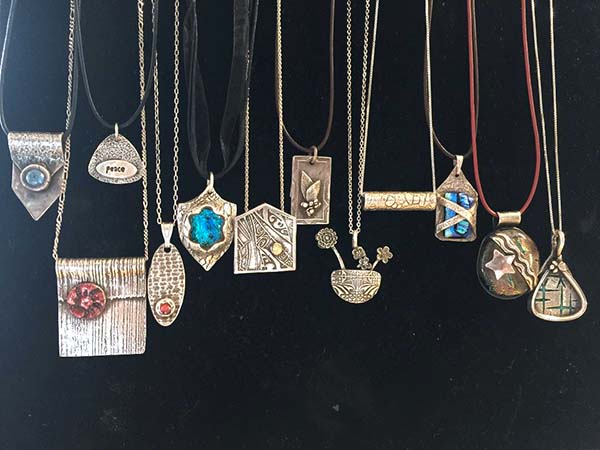 I will always cherish the memories I have – Lis-el was clearly one-of-a kind. Her spirituality and creativity have nourished my life and I am forever thankful. As with many who knew her, we will lovingly create in her honor.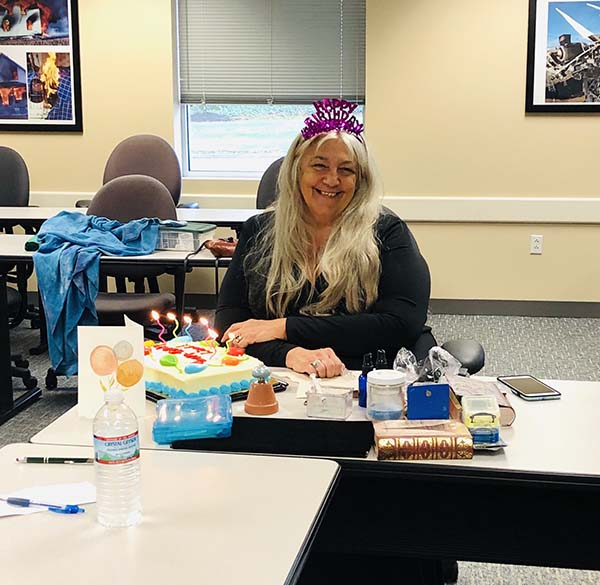 Metal Clay Artisans Guild of CT (MAGIC) meeting in October 2019 celebrating Lisel's birthday
Lis-el will be missed greatly. She had a larger-than-life personality that could light up a room. Her artistic and creative talent were only outshined by her kindness, sense of humor, big heart, and love of family.
I will never forget my first class with her, first guild meeting, or first mini-Mojo conference. Every time, she welcomed me with open arms. She made sure that there was always room for one more–in class, in meetings, and in her heart. She shared her tremendous talents freely and loved to poke fun at herself and enjoy a late night Dark & Stormy with friends.
I'm sad that she was taken so soon, but feel fortunate to have been able to get to know her, love her, and call her my friend. Her bright spirit will never dim.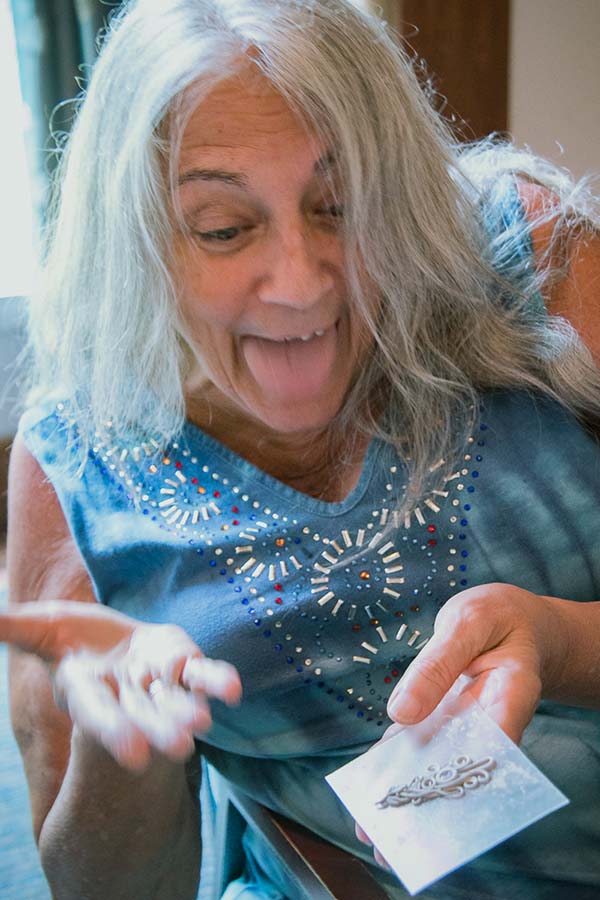 Lis-el loved to have fun, photo: Corrin Kovalcik
Lis-el and I used to meet for lunch at one or another little place here in CT.  She would order her "salad" with rather particular ingredients and accompaniments.  She would compose her plate with the greens of lettuce, the red wedges of tomatoes, perhaps a nice diagonal of a scallion running across the top.  She would drizzle the dressing over the top and take a look at her composition before starting to eat.  I might have my usual grilled cheese sandwich – always comparing my rather mundane looking repast with hers.
Our conversation would go on for a long time after our eating was done and wend its way through relationships, food, gallery spaces, teaching, travel, and oh yes – metal clay.  As we would approach the end of our time together I remember thinking "Now this is a woman who realllllly enjoys life and all it has to offer" from a simple salad to the intricacies of beginning a worldwide organization.
There is a space in my heart that shall remain empty without her in my life.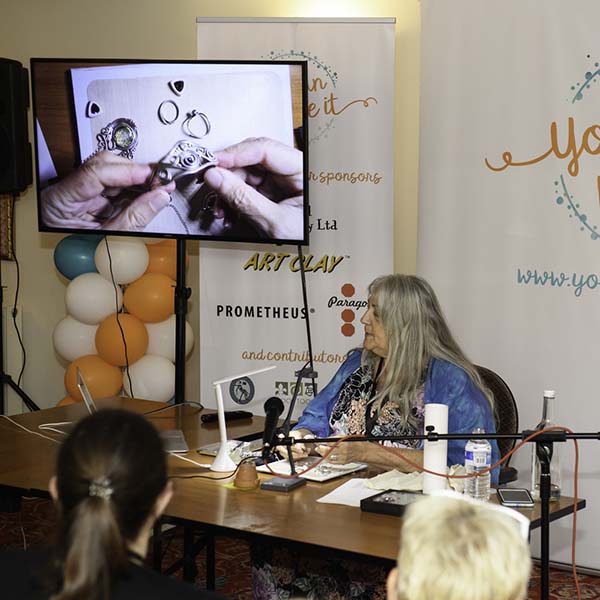 Lis-el teaching at YCMI 2018, Photo: Metal Clay Ltd
Lis-el came to my studio a few times to shoot video classes. I knew I was always in for a treat. Her enthusiasm and passion for all things creative was contagious to say the least.
The day would go by quickly and I always learned tons. The best time was when we shot outdoors making colorful glass plates using alcohol inks. It was like two kids having a wonderful and creative playdate.

Hugs and kisses forever Ms. Lis-el.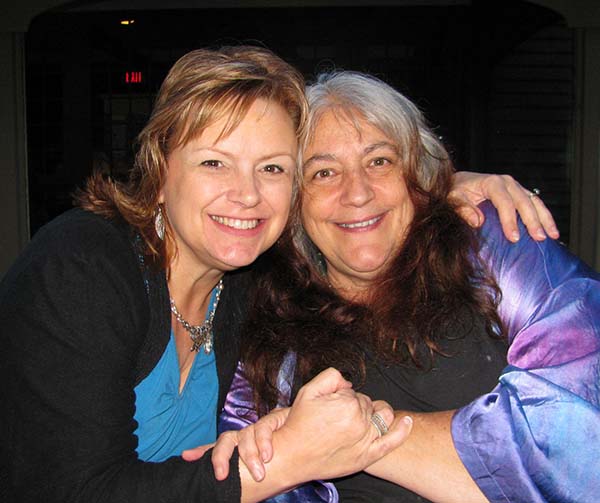 I first met Lis-el at the last PMC Guild Conference in 2012. She spoke about the importance of building community, and she told me she was planning her own regional conference in CT. I had the good fortune to participate in four Metal Clay Mojo events.
Over the years of friendship with Lis-el, I learned that she was kind and loving. She was fierce and optimistic. She was creative and inspiring. She was bawdy and hilarious. She was hard-working and committed to her causes. Lis-el saw the best in people, and made a massive impact on them. It was amazing to watch her hold court. We are all better for having been a part of her world.
Lis-el was the beating heart and soul of AMCAW. She inspired us to create this together. When we struggled and got stuck in the weeds of all the problems, she raised us up and pointed us back to the mission every time. She and Paula became part of my family. We magnified and complemented each other's energy and talents. The trust and love we shared is a gift I will always treasure.
AMCAW's corps of 50+ volunteers will go on to fulfill the mission, and Lis-el will be watching from the great beyond. Rest in power, dear friend.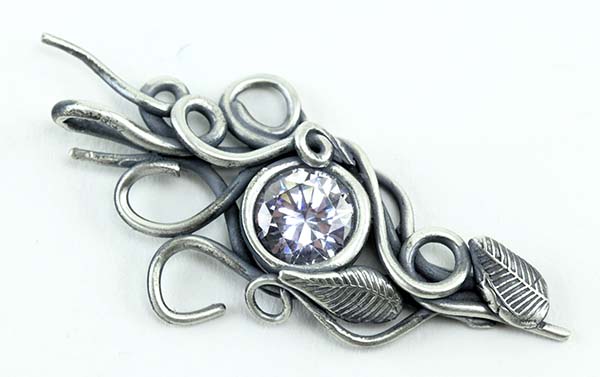 I originally contacted Lis-el about taking the Art Clay Certification Course with her. At the time, I did not have the $750 for the course as I was on Disability and not taking in much income. Lis-el told me about the Metal Clay Artisan Guild in CT. It was only an hour from me and I went to the next meeting and met her in person. She was very welcoming.
One meeting we were locked out of the building we usually met in as the person with the key could not make it that Sunday. Lis-el invited everyone to her house and we had the meeting there. She was a caring and loving person.
Since that time I watched many of her videos and made several pieces inspired by her designs.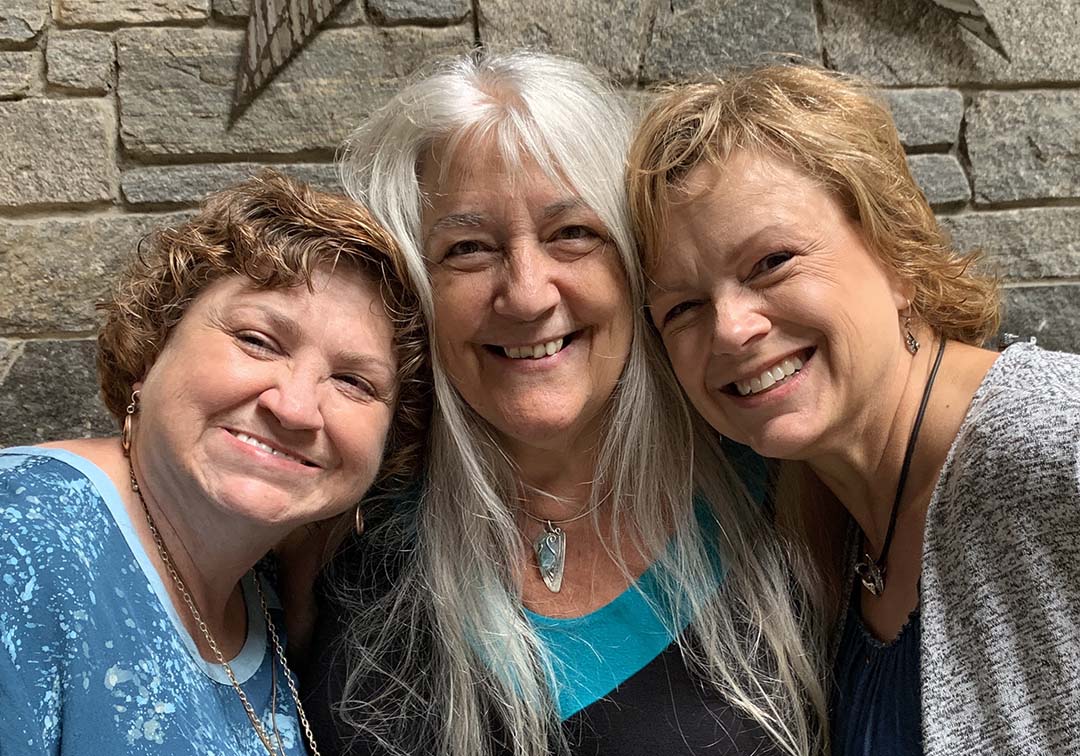 Paula, Lis-el and Wendy, 2019
I have been working in metal clay since 1999, and so of course I knew who Lis-el Crowley was, but we had only met briefly at the Metal Clay by the Bay in 2013. In the summer of 2017, Wendy McManus got me on a call with Lis-el. Soon thereafter, I found myself in Connecticut, face-to-face with the larger-than-life woman herself.
Wendy, Lis-el, Nan Josephson and I locked ourselves in that hotel suite and proceeded to hash through details of making AMCAW a reality. All four of us have big personalities, and strong opinions, but somehow we came together that weekend with intention, and came away with a plan for an organization that Lis-el and I had both dreamt about for a long time. We laughed a lot that weekend, and probably argued a bit too. We ate barbeque and pizza, sat on the floor at times, and put scribbled flipcharts up all over the room. At the end of that brief stay, I felt like I had forged a strong bond with Lis-el. I didn't always understand her, or agree with her, but she had a heart of gold.
Lis-el's heart is the power foundation of AMCAW. Her love of life and intention will live on in our organization.
Lis-el and her daughter Alexis, August 2019 at the last Mojo. Lis-el loved her so much. Alexis helped Lis-el with all the Mojo behind the scenes, and was her rock throughout her illness, photo: Laura Roehl
At YCMI in March 2018, Lis-el was teaching and presenting and it was so lovely to see her in person again. The last time I'd actually been in the same room as Lis-el was back in 2012 I think, at the last PMC Conference in the US.
I was teaching and presenting too and looking back, I wish I'd had more time with her during the weekend but these things are always so busy, even into the evening, so we didn't get much time to talk. She did corner me at lunch one day to talk about AMCAW and how I should get involved with it.
However, my abiding memory will be having Lis-el as a student in my class about making your own textures. Having known and admired her from the time I was a total metal clay newbie, it was such an honour to have her in my class. She showed us that going back to being a student and learning something new is important to everyone, even experienced metal clay teachers. Putting yourself in the place of a beginner again is a great reminder of how disorientating, exciting and maybe a little scary it can be. She totally embraced the newbie role in the class and visibly enjoyed the exploration and fun of learning something new. She was a great student!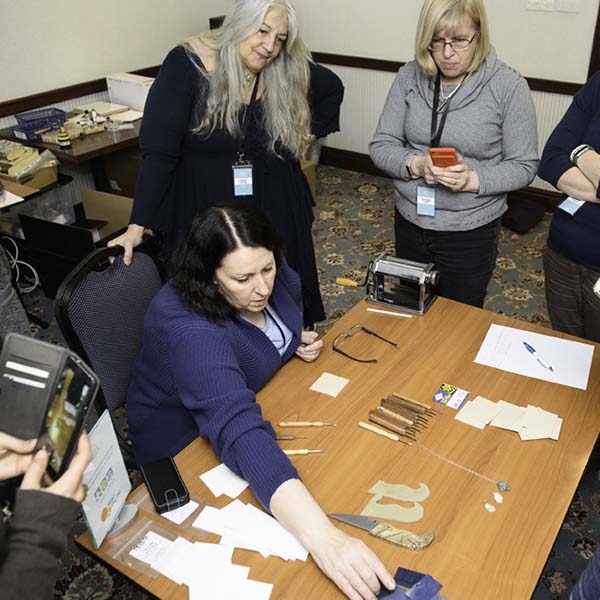 Photo: Metal Clay Ltd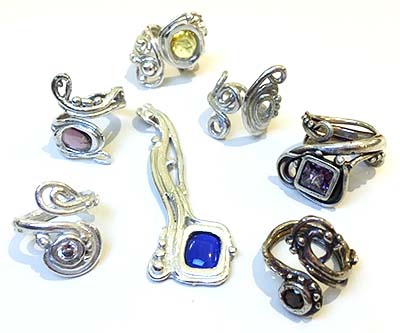 Lis-el inspired me in so many ways. Her many video tutorials taught me how to understand and succeed using metal clay. She was always happy to answer my questions. Her work and tutorials helped me teach others her techniques, such as the coiled rings shown in my photo, which were made by my students at the Cape Cod Museum of Art.
I had hoped to meet Lis-el at the 2017 Mojo, but sadly, my Dad was in Hospice care that week and passed away, so I could not attend. Out of her endless kindness, Lis-el put together a goody bag for me with samples and even class materials from Terry Kovalcik, and had it delivered to my studio by one of my students who was at the Mojo! I was blown away that she cared enough to make that effort.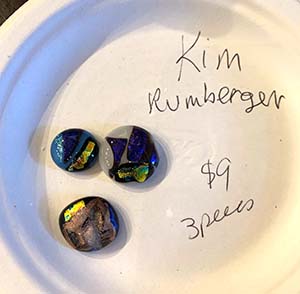 We finally met at the last Mojo in 2019. I always wanted to learn how to make dichroic glass gems, and she taught us!
The photo below is of a very special commissioned piece, which includes the first dichroic cab I made on my own in my studio.
What a wonderful spirit Lis-el was. We will all miss her very much, and we will never ever be able to forget her. Her talent and kindness will live on in what we all create.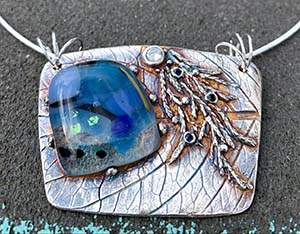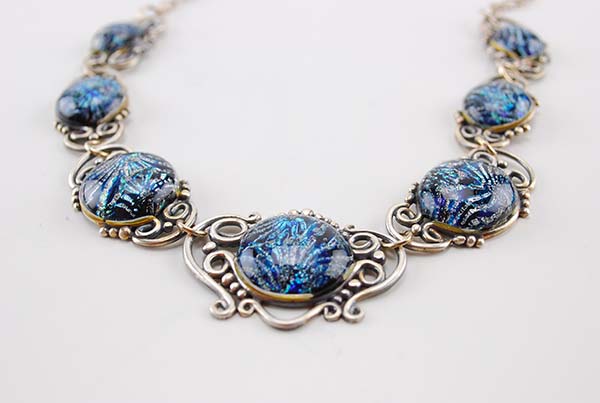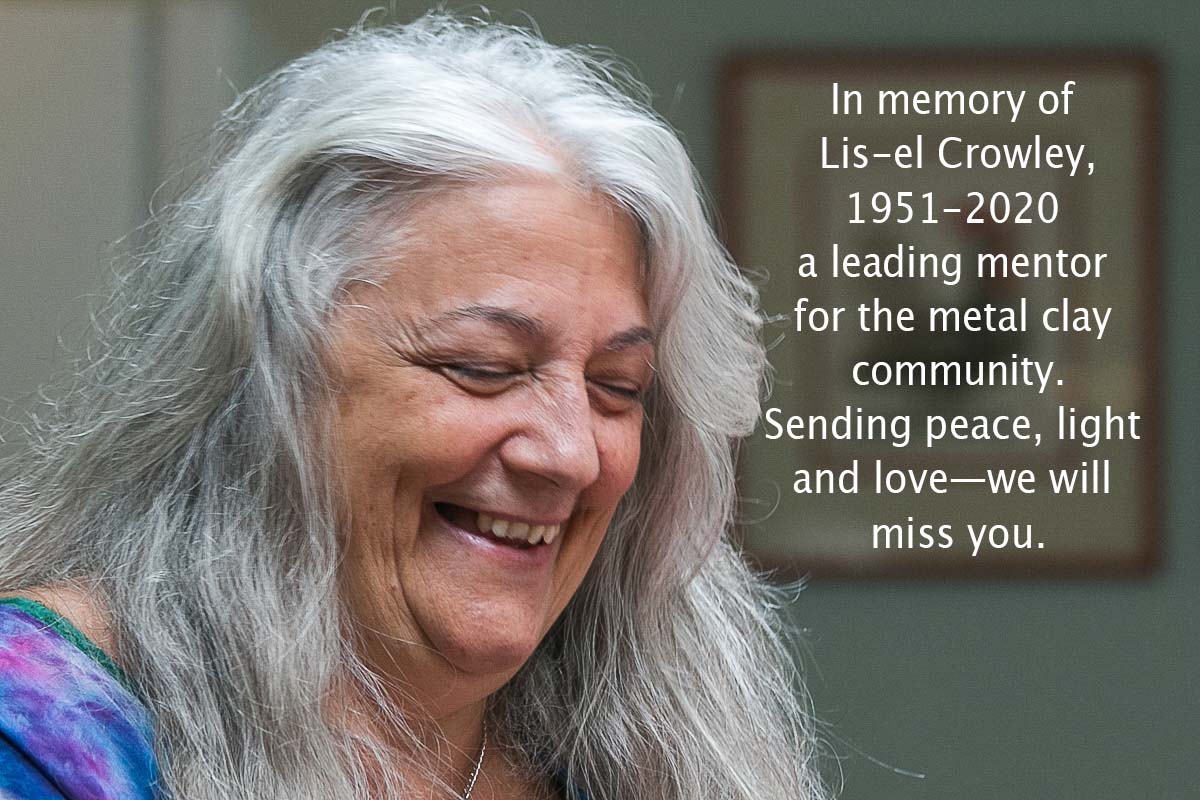 In Memoriam: Lis-el Crowley Co-Founder, AMCAW
We are deeply saddened at the passing of Lis-el Crowley, the visionary artist whose belief in the importance of learning in a community of artists fueled the founding of AMCAW.
Many of us came to know Lis-el initially from her popular metal clay videos. While she loved to create, she loved teaching even more. "As a teacher, I thrive on awakening the creative spark within people of all ages and backgrounds," she said in a recent artist statement.
"Creating and teaching are at the core of just about everything that I do," she added. "I find inspiration everywhere and enjoy the camaraderie and community that is built when people of like minds and spirits gather together."
She felt so strongly about the importance of learning within a community of artists that she created a local guild in Connecticut, the Metal Clay Artisan Guild. Next, she launched the Metal Clay Mojo Conference, which took place four times and drew a devoted audience to this fun and educational event.
Lis-el truly believed there should be no boundaries between metal clay artists. She envisioned an organization that would be international and brand-neutral, designed to unite, engage and inspire the entire metal clay community. Starting in late 2017, she joined forces with Paula McDowell and Wendy McManus to start AMCAW, the Alliance for Metal Clay Arts Worldwide.
"Lis-el was brilliant, funny, hard-working, caring, committed, and inspiring," said Wendy McManus. "She was the beating heart and soul of this effort to create AMCAW. Early on, there was so much to do and the challenges often seemed overwhelming. In those darkest moments, Lis-el made us laugh and kept us pointed toward the vision. She had a beautiful way of magnifying the energy and talents of others."
"Lis-el had a genuinely warm and loving personality and an amazing ability to connect with people. She looked for the best in people, and encouraged all of us to do the same," said Paula McDowell. "As an instructor and an organizer, Lis-el created a safe space for people to test their limits. She would offer a little push and a lot of support in the face of self-doubt. Lis-el helped set a vision and path for AMCAW, and her passing leaves a huge hole in our hearts."
In Lis-el's role as Vice President of AMCAW, she served on the Executive Board of the organization. She also served on the Conference Committee, helping to guide the development of SINTER, an international metal clay conference. She also served on the Education Committee, contributing to AMCAW's growing online Learning Center.
While Lis-el was an early leader in metal clay, she actually worked in multiple mediums, often combining them. A self-proclaimed creativity addict, Lis-el worked in ceramics, glass, metal, alcohol ink painting, and silk-dyeing. Upon discovering metal clay, it quickly became her favorite medium, and the one for which she was best known. She drew on her pottery background to sculpt and roll metal clay, with coils becoming a signature technique in her wonderfully flowing, organic creations.
She also loved working with dichroic glass, and often taught others the skill to create their own dichroic cabochons so they could create a unique work of art which was entirely their own.
Lis-el was a sought-after metal clay instructor, teaching across the country at many different venues. Her work was featured in multiple publications including The Crafts Report (now known as Handmade Business), Art Jewelry Magazine, and Easy Metal Clay. She was the owner of the Art & Soul Gallery/Studio in Windsor, Connecticut.
Those lucky enough to know Lis-el enjoyed her affirming outlook on life and the universe, her ability to inspire, and her sense of fun. Wherever metal clay artists gathered in the evenings during events, Lis-el was usually in the middle of the group, with her sense of humor and inclusiveness drawing out the best in everyone. Inspiration and camaraderie would be flowing, along with Lis-el's signature drink, the "Dark and Stormy". By the end of the evening, friendships would have been forged and inspiration would run rampant.
As Lis-el posted on her website: "As a Spiritual Being, I believe we are all here to make a positive impact on the planet and human consciousness. I strive daily to be that positive influence and to empower others to do the same."
Lis-el loved life, her family, her friends and the metal clay community. We are privileged to have known and worked with this wonderful spirit. Godspeed, Lis-el, and thank you for including us in your joyous life journey!