In her role as a director of AMCAW, Pam Feindel took on the herculean task of creating and launching our first international metal clay conference, SINTER℠. Fortunately, she brings strong management and organizational skills to the task from a 32-year career at a major Canadian bank, where she managed the bank's large processing center serving all of the Atlantic Canadian provinces before she retired about ten years ago. Her job there included managing a multi-million dollar budget, people, and large projects, as well as reporting to the bank's senior management in Toronto and Vancouver.
A year before she retired, Pam discovered metal clay by accident. Pam has always been interested in the arts, and has been creating in multiple mediums since she was a child. In 2009, Pam took a series of enameling classes with a friend, her first foray into any kind of jewelry making. While she really enjoyed the enameling process, she did not like to saw sheet metal. Shortly after the enameling workshops, Pam was searching for enameling books in a bookstore when she came across a book about metal clay.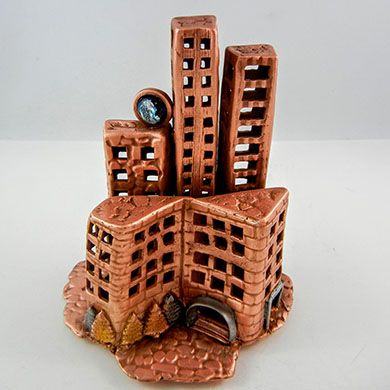 "What in the world is this?" she wondered. "If I could enamel on this, I wouldn't have to saw sheet metal." Pam didn't buy the book, but could not get it out of her head. Eventually she went back to the store, bought the book and then bought every book on metal clay that she could find. Then she found an instructor 500 miles from her home, and spent a week with the teacher learning how to create jewelry with metal clay. Pam was completely smitten with this new medium! Metal clay quickly became her favorite form of creating and then became her passion.
Pam became an Art Clay Instructor in 2010, a Senior Art Clay Instructor in 2012, and a Hadar Jacobson Instructor in 2014. She was juried into the Metal Arts Guild of Nova Scotia in 2010, and Craft Nova Scotia in 2011. Pam teaches at the Nova Scotia Centre for Craft and Design, Halifax Bead and Metal Clay, and from her two studios. She travels to teach at various venues and sells her work at numerous art shows and the Art Gallery of Nova Scotia.
Always something new to learn

"I allow myself to follow many paths with the art," says Pam, "never constrained by any particular metal, theme or topic." The continual learning involved with metal clay draws Pam to the medium. "No matter how much you know, there is still something new to try, and something more to learn," she says.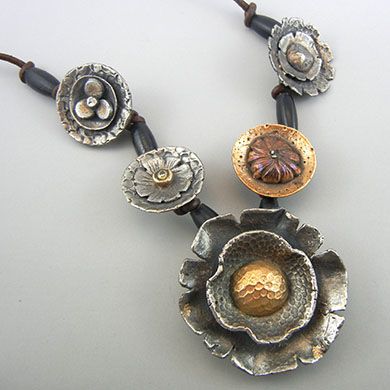 Pam enjoys the challenge of combining and firing multiple types of base metal clays together. In this necklace, Pam combined copper, steel and bronze metal clays. She shares a tip for easier base metal clean-up:  she uses a JoolTool. She saw it being demonstrated at a conference and now uses it for the majority of the major clean up on her fired pieces, as well as shaping and fitting cabs to those bezels that are just a smidgen too small.
Pam and her committee have had a busy year building AMCAW's upcoming conference, SINTER, which will be held in May, 2021. "We've worked to create a fun, affordable, and wildly creative learning experience for the metal clay artist," says Pam. The conference, which is currently accepting applications to teach or present, offers a three-day conference with a choice of 20 presentations. Five different two-day workshops will be offered before the conference, followed by an additional five two-day workshops available post-conference.
In addition to managing the organization and launch of SINTER, Pam is also serving as a juror for AMCAW's Hidden Worlds Artist Challenge.
Find Pam online at pamfeindeldesign.com