Meet Laura Sinclair-Smith
Winner, Beginner Category, Bling! Challenge
Congratulations to Laura Sinclair-Smith, winner of the Beginners Category in AMCAW's Bling! artist challenge! Her winning entry is a ring, Fire, inspired by a beautiful red marquise stone.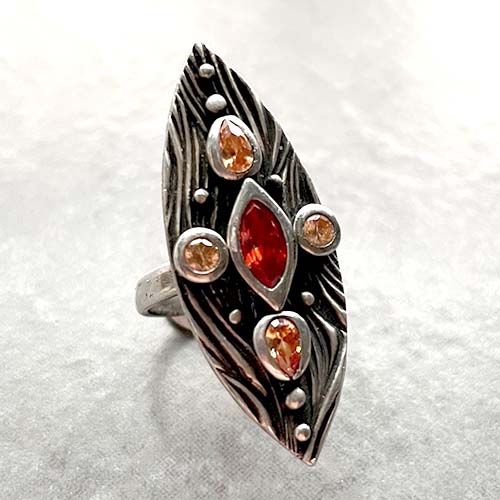 "I've always been rather mesmerized by fire," says Laura of her winning entry, "and I had recently bought a texture mat that reminded me very much of flames. I already had a lovely red marquise-cut CZ, and so an idea began to form from that. This is one of the few instances where I've actually largely stuck to my original design!"
"My love affair with silver metal clay started by complete accident in 2018. I was looking for a jewellery craft course to take, came across the Hamilton Jewellery website, and started to study with Sian. I'd never heard of metal clay before then, but I've certainly never looked back since. Early last year, I signed up for Silver Clay School with Emma Gordon, which has also further fueled my passion. It really helps to be connected with other enthusiastic artists."
Laura says she has done some limited beading, but has really only worked with silver clay. "That is set to change in September though, as I have signed up to get my diploma in silver jewellery with the Jewellers Academy. I'm very much looking forward to combining the two (metal clay and metalsmithing)."
"Metal clay is just so versatile," says Laura. "You can mould and sculpt it, and it takes beautiful textures. Making rings is my favourite thing to do at present, as there are so many style and design options. My current obsession is all things celestial, so I'm very much taking my inspiration from that. I also love natural elements and as spring is upon us, I'm starting to think about flora and fauna themed pieces again.
"I definitely like playing with alcohol inks and setting dichroic glass cabochons (which I will have to start setting much more of, as they are a bit addictive and I have a rather large stash…)!
"I consider the best piece I ever made to be a "Green Man" pendant for a commission last Christmas. The reason it stands out is because it was a real challenge. Although at first I procrastinated about starting it, then sweated blood over it, reconstituted it several times and discussed design at length with my friend, it eventually turned out much better than I ever imagined it would!"
Laura is from Gloucestershire, U.K. Find her online on Facebook and on Instagram