Industry update
By Carrie Story
Director of the Camp PMC Certification Program in the U.S.
The metal clay industry just received some information about one of our core products. I was informed last week that Mitsubishi Materials Trading Company (MMTC) will no longer be manufacturing PMCÒ brand products, which includes the PMC line of clays, PMC Aqua, and other branded items.
We have confirmed with Rio Grande, the U.S. distributor for PMC products, that MMTC will no longer be manufacturing the product after March 2023. It has not been publicly announced by MMTC, so there is always a chance that things could change. However, it is unlikely that MMTC will continue manufacturing after that date.
The good news is that metal clay will still be available from a number of suppliers. We already have numerous types of metals and formulas from which to choose, and this change may bring even more options to the marketplace. Let the experiments begin!
The metal clay market is continuing to grow. We are seeing new students, new users and wonderful new, young artists emerging each year. There are no signs that metal clay is going away any time soon. Rather, it is just the opposite.
While at first this may be disheartening, particularly to dedicated PMC users, our industry has survived much, much worse. We made it through COVID! I am already seeing the community rally together to move toward a creative and prosperous future. Everyone has ideas and thoughts about how to change and what to do to reduce the impact the removal of the line of clay might have on our community.
Even the Camp PMC Certification Program will be continuing. We are already working on a new format for the program and it is even better than before!
Don't worry, PMC aficionados! We are sharing this information with you as soon as possible so we can all begin exploring other products together – even new ones as they come to the market!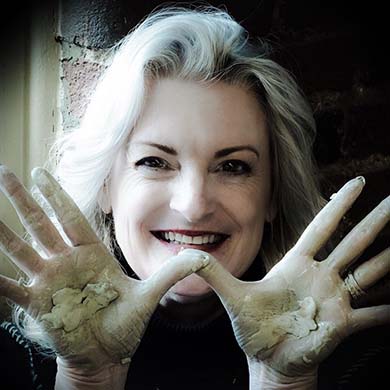 About Carrie
Carrie Story owns Clay Revolution, a metal clay-oriented business, and is the manufacturer of Five Star Metal Clays. She was one of the five finalists for Entrepreneur of the Year in 2019 for the creation of her Clay Revolution business. An artist and instructor, she is the course developer for Camp PMC where she is Principal Instructor. Carrie is on the advisory panel of AMCAW. You can find Carrie at clayrevolution.com or at divineornaments.net.