How will it hang?
Bails are often an afterthought. This is a shame as paying a little attention to the bail will make it a design feature and really help lift your design and elevate your pieces to a more professional standard.
There are several options to choose from and each comes in endless variations, so if you want to move on from a simple jump ring, there's lots of options. Each option has its own qualities and there is no right or wrong. Try several and choose the type of bail that suits your piece best.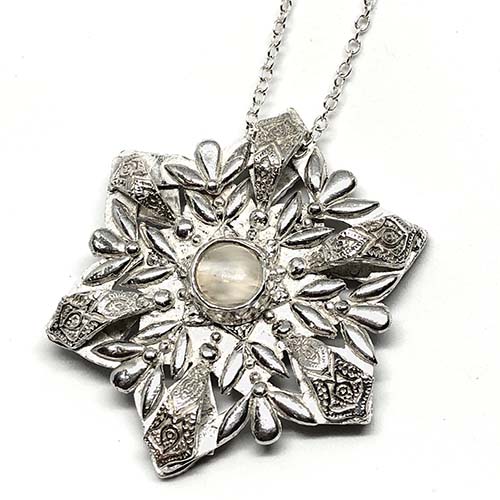 Annemarie Klappe, Six bail pendant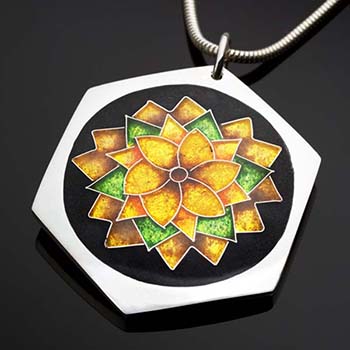 Terri Hickey, Sunny Mandala, drilled hole jump ring bail
Punch a hole
You can punch a big hole in your pendant in any shape you like and string some type of cord through it. This looks good on sturdy pieces which need a more substantial leather cord or ribbon. Just keep in mind the way you tie it; if you string a cord through your flat piece, it will turn all the time. Simply adding a twist will help or tying the cord in a different way. You can also choose to tie with a special knot.
Jump rings
You can drill a hole in your piece and attach a jump ring, if you consider the shrinkage of the hole and make sure the hole is not too close to the edge. This is often considered an easy option when you first start working with metal clay. Does that mean this is not professional though? The simple answer is no. Sometimes you don't want the bail to draw attention away from your piece. To add a bit of interest you may decide to add extra jump rings or use a different gauge and diameter to accommodate a bigger necklace.
Roll over bail
When you create a rollover bail, you have the advantage of strength. Pieces created without seams are stronger. The bail will be integrated and the variations are endless. You can use texture and choose to roll front to back or back to front. You can use a straw or a brush handle to roll your bail over while it dries. Consider the shrinkage and check the balance. When the bail is off center your pendant will hang off center. Add decorations to really make the bail a design feature.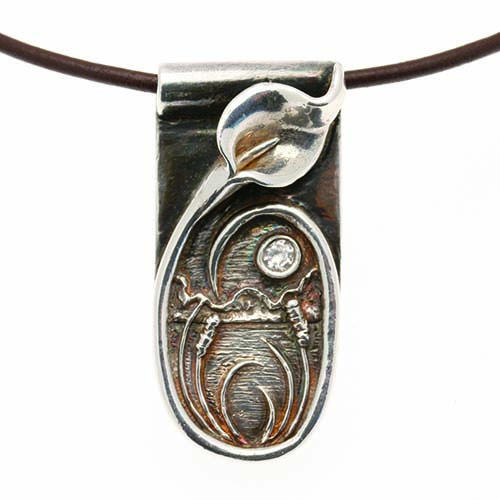 Sian Hamilton, Calla Lily Scene, roll over bail
Fixed bail
A fixed bail can add interest to your piece. Use a texture which complements the pendant. You can create this as a separate element from your piece and attach it when both pieces are dry. Attaching the bail when the pendant is dry ensures you won't damage the texture or decorations. Measure and draw a pencil line down the middle of your dried piece to mark the center so you ensure the pendant will hang straight. You can create several bail components in advance, ready to use when time is of the essence. This also helps you to try out pendant types if you're not sure which will suit your design.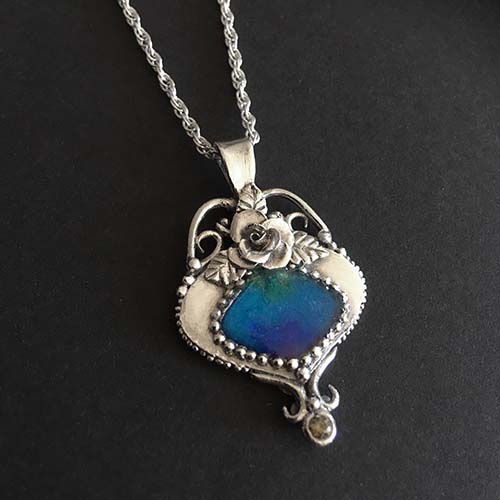 Annemarie Klappe, fixed bail
Fireable and non-fireable components
There are several types of readymade bails you can buy. They always give a good finish and give you a small loop which will not shrink. Some can be fired in place and others will require adding after firing. Check carefully before firing. When you place a fireable bail in the clay, remember that the clay will shrink and your embeddable will not. This means you will need to push it in to the correct level and the clay needs to be thick enough surrounding the embeddable.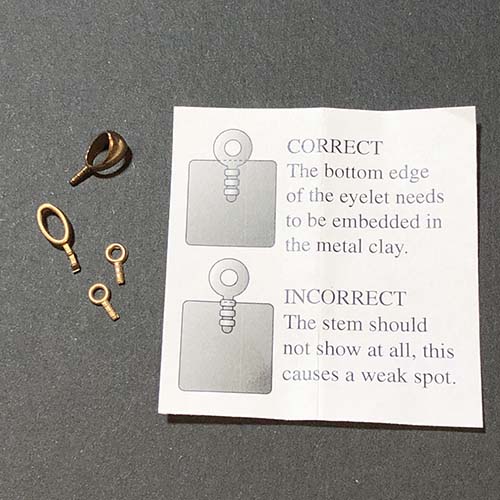 Commercial embeddable bails and eyelets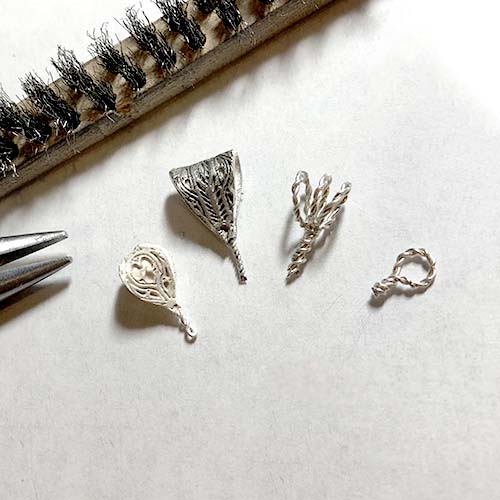 Homemade embeddable bails and eyelets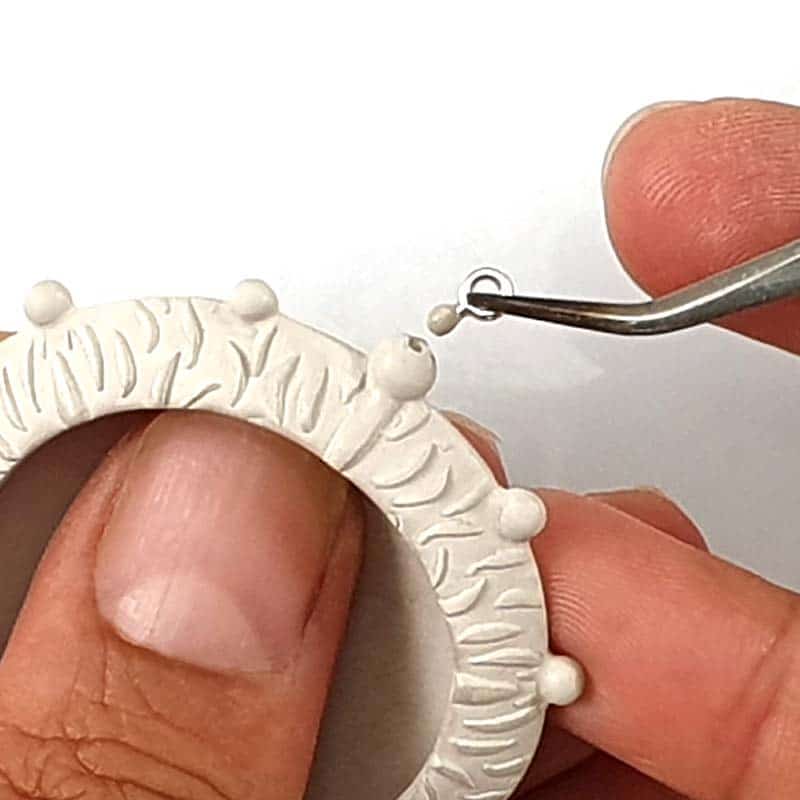 20-Gram Collection, Double Pendant by Paola Mattioli
Floating Bail
Adding movement by using a floating bail will add interest to your piece. Sometimes this type of bail is referred to as an articulated bail or swinging bail. You can fire the bail in place or create it separately and attach it after firing. Add embellishments to match your piece for a cohesive look.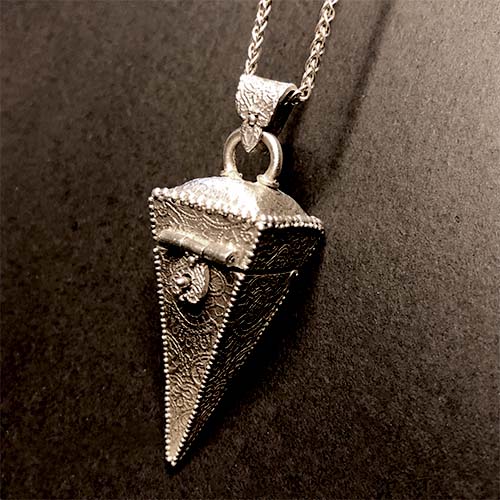 Annemarie Klappe, floating bail
Hidden bail
Attaching the bail to the back of the pendant will keep the attention on your piece. The bail will not distract from your design and it will literally lift the pendant in an angle.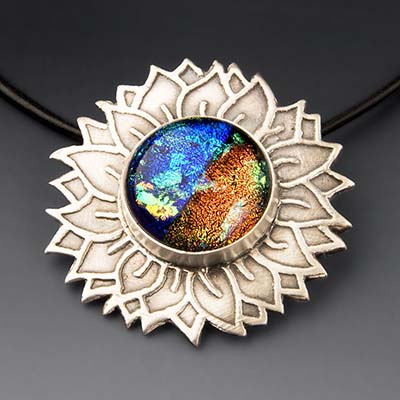 Terry Hickey, Sunflower pendant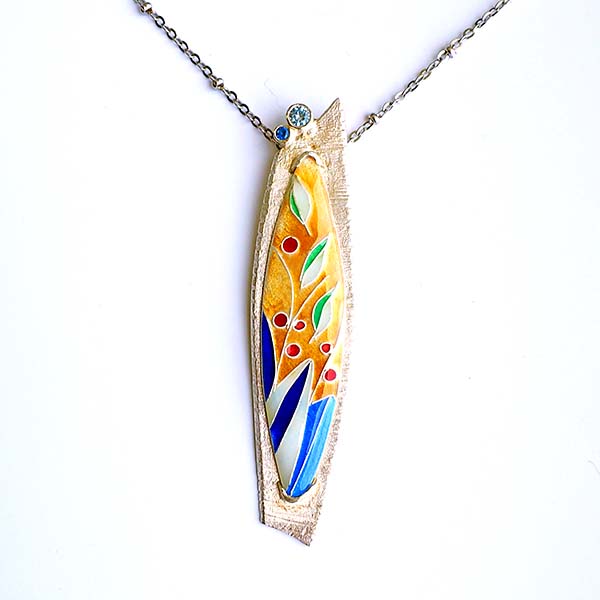 Corina Gheorghe, Cloisonne pendant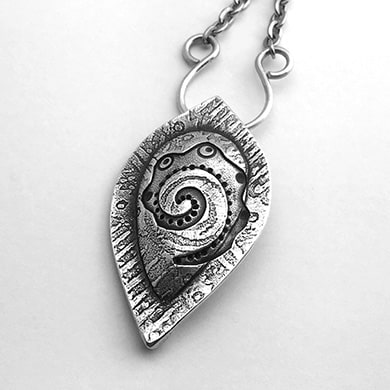 Donna Penoyer, Secret Whistle pendant
Hidden bail placement
Pay attention to placement of a hidden bail. It can make a huge difference to use two bails for some designs and the placement will determine how it hangs. When you fire this type of pendant it is important to think about support. It may be better to fire it face down or make an indentation in your fiberboard or kiln blanket.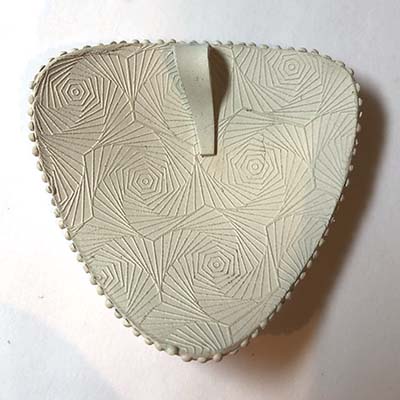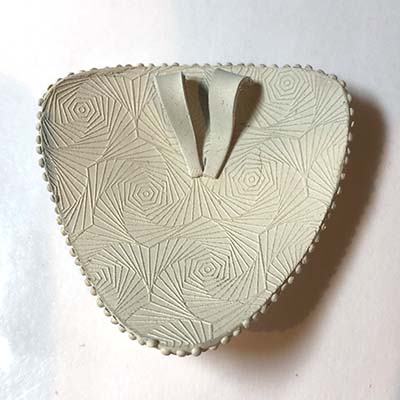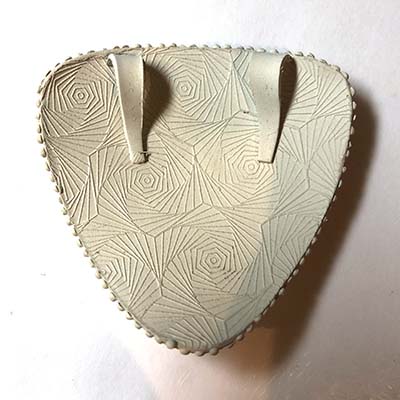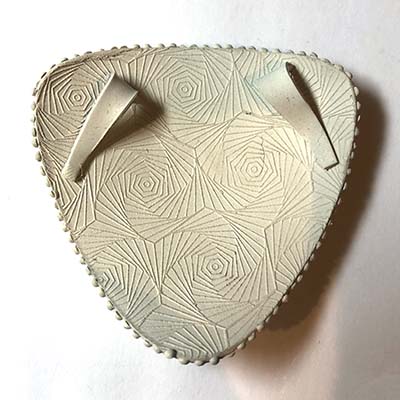 Learn more
Watch the recording of Julia Rai's virtual guild meeting in the members only area of the AMCAW website to learn more on how to create several types of bails.
Adding a bail elevates your work beyond the beginner's favorite jump ring and gives you so many more options. Go for it!