Colored Pencil on Metal Clay
Depending on your design intention, there are a variety of reasons to add color to your work as well as a variety of techniques and methods from which to choose. Although some very well-known artists use this medium to add color to their jewelry pieces, incorporating colored pencil into your metal clay designs is an option you may have overlooked until now. Using colored pencils is a simple way to create deliberate and colorful designs that can be precise, abstract, or something in between.
Colored Pencil on Metal Clay Examples: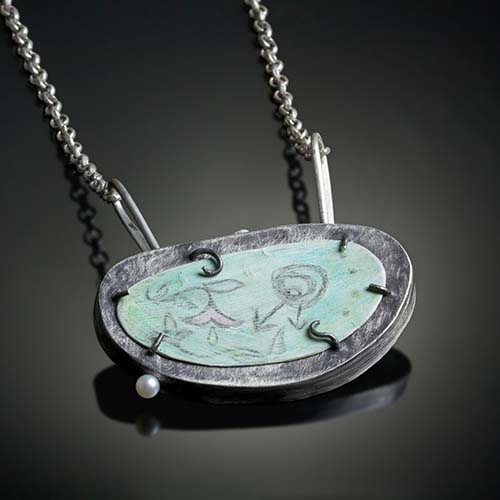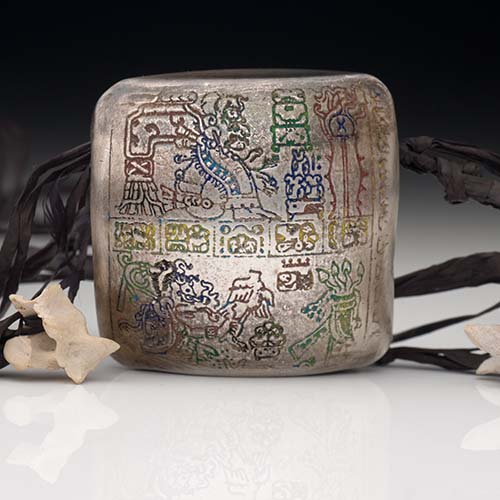 PrismaColor, Julia Rai, Photo: Paul Mounsey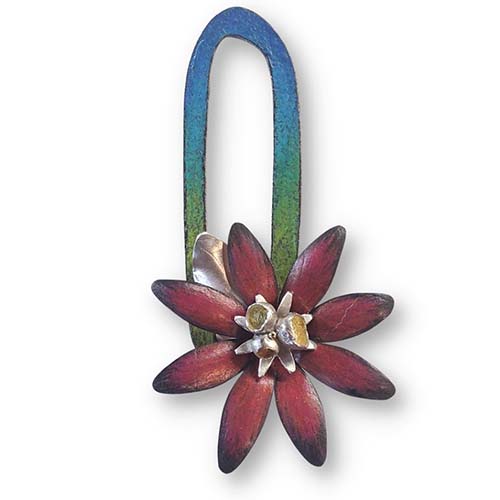 Colored pencil, Deb Karash
The Aesthetic
Colored pencil can be used with or without texture to add color, interest, and personality to metal clay pieces. Very beautiful and fluid color transitions can be achieved with the process of layering of wax-based pigments, from light to dark, and blending colors by burnishing to create shading, depth, and dimension to conform to your design intention. Colored pencils can be used to create graphical and textural colored imagery but can also be used to simulate precise and dramatic patina effects that can be preserved to be more stable than patinas passively created from chemical reactions.
Planning/Designing
It's helpful to plan an overall design and color palate by creating color blending prototypes on paper, also known as 'swatching.' Jewelry artists often incorporate a layered metal design, attached with cold connections such as rivets, prongs, or jump rings, not only to limit application of spray fixatives, but also to further enhance the dimensionality of the piece. Although a sealant is used once coloring is complete, this medium is best suited for pieces that receive the least wear and tear, such as earrings and pendants.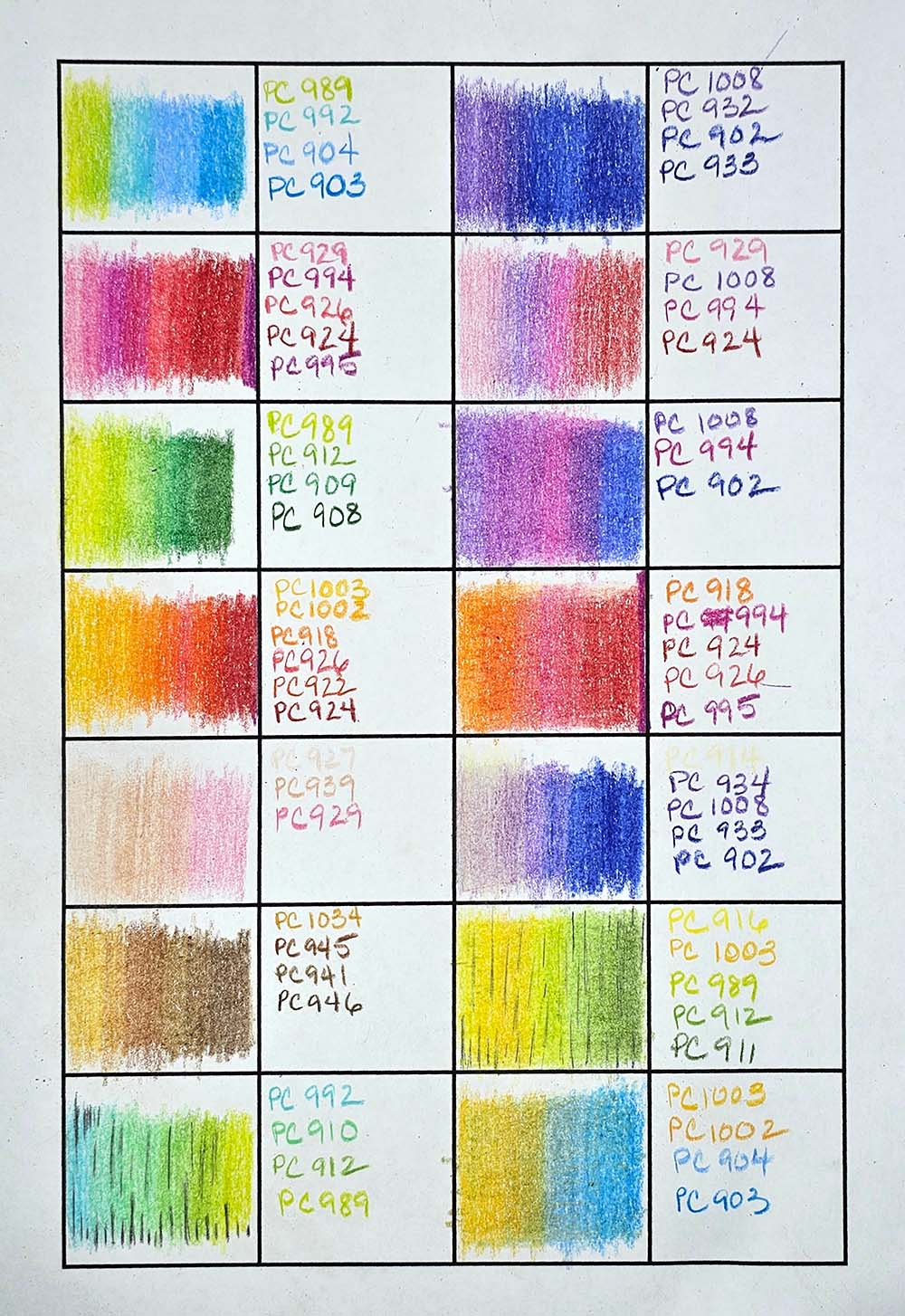 Supplies/Materials
While there are many types of colored pencils, the most common types are either oil or wax. It is the wax-based colored pencils that are used on metal. In particular, Prismacolor Premier colored pencils are a very popular choice because of the consistency of the wax for evenly blending colors. A thin layer of foundation is required on freshly sintered metal clay to prepare the metal before applying the wax pigments. Once the colored pencil has been applied, a sealant will be required to preserve it.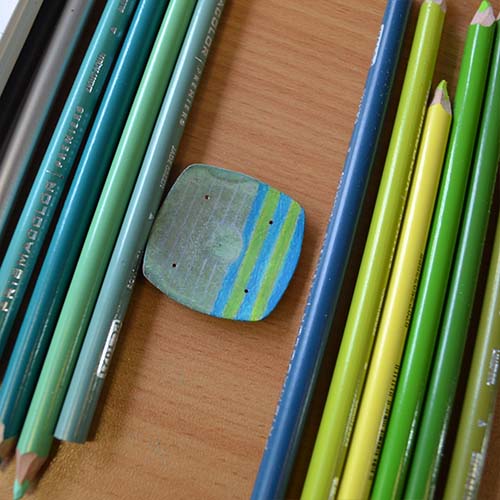 Metal Preparation
While copper is a very popular choice for using colored pencil, other metals can also be used. Sintered metal clay straight from the kiln, that has not been brushed, tumbled, or burnished, creates the best surface to begin. There are two common techniques for preparing the metal for colored pencil, one using Jax Green Patina or using gesso alone or some mixture of gesso, gel medium, and pumice. It is generally advisable to allow the patina or gesso to air dry for 48 hours to completely dry and properly cure, although research on this topic has yielded differing opinions on this.
Application Techniques
The application techniques are only limited by your imagination. The colored pencils, pigments, can be applied simply in a single layer of color or in some variation of the layer and burnish technique, commonly used with colored pencils on paper, which also works great on metal clay. Once the metal has been prepared, the color can be applied to textured metal, stenciled or stamped designs, as well as freehanded. The application process to create the illusion of depth and luminosity can include several layers of pigment separated by an acrylic fixative that creates a new foundation to begin the next layer of color.
One of the beautiful effects of using colored pencil is the fluid transition of color, which can be achieved simply by layering one color on top of another and blending with a colorless blending pencil or applying low heat to soften the wax into a melted homogenous hue. Some artists prefer to use odorless mineral spirits or isopropyl alcohol with a brush to blend the layered pigments.
Once the color application has been completed, the color is preserved with a clear spray acrylic sealant. Research on this reveals that ProtectaClear or Everbrite are widely popular, but various other options are available.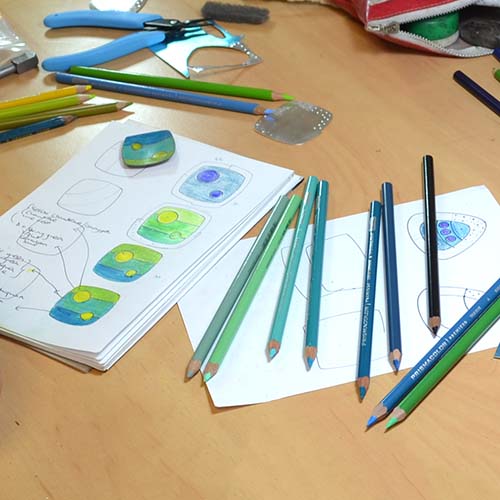 Photos: courtesy of CSACJ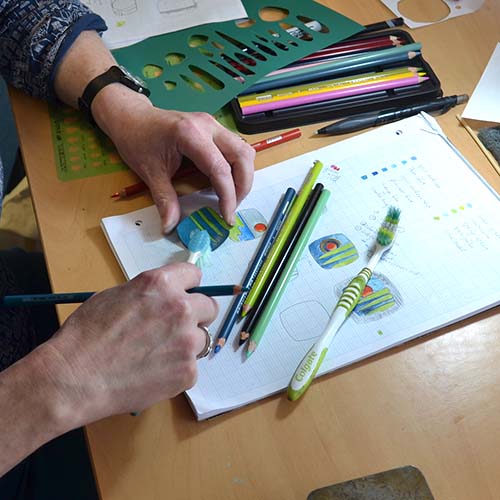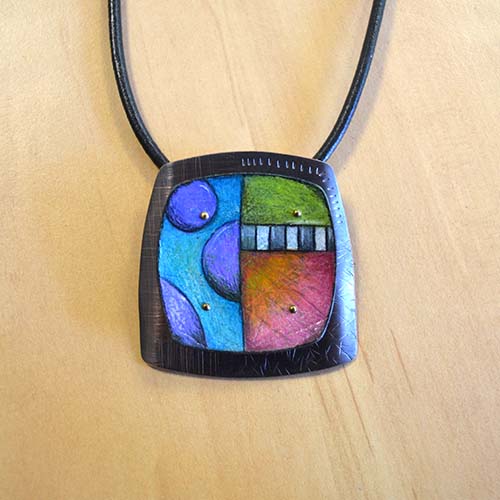 Deb Karash, class sample for CSACJ
Adding color to your work with colored pencil is a fairly simple way to add new flavor to your designs as well as maybe add some customization to production pieces. In researching the use of colored pencil on jewelry, few resources were found using metal clay specifically; however, with some testing, it was determined that the resources and references available for sheet metal was easily transferable to metal clay. A list of resources used in researching this article has been provided below.
Hopefully, this article has sparked your interest to consider colored pencil for adding color to your next metal clay project!
Adding color can be a very satisfying process and bring life to your metal clay!