Is Teaching Right for Me?
Although metal clay was introduced to the world in the 1990s and there are many educational books, blogs, virtual tutorials and classes available, qualified, informed and effective teachers are needed now more than ever. Novice metal clay users crave direct contact: a one-on-one experience where they can absorb as much detailed information as possible from the hands and heart of a knowledgeable instructor.
In addition to being a worthwhile financial opportunity, teaching metal clay can be a personally and artistically rewarding endeavor. As instructors develop ideas for classes and find ways to demonstrate and explain techniques to students, their own understanding and expertise will grow as well.
Please note: this article was written before COVID-19. The rules on social distancing in different countries may impact your teaching. Check out this blog post about The Art of Socially Distancing Classrooms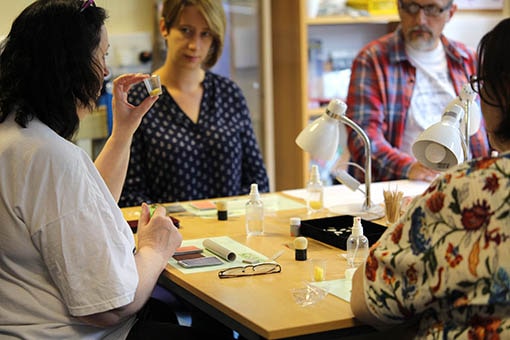 Julia Rai teaching a beginner's class at her studio in St. Austell, Cornwall, UK
What Teaching Requires
However, teaching is not for everyone. It requires more than the ability to be creative or having technical expertise with the material, although these qualities are very important. Teaching depends upon the instructor being able to clearly and succinctly communicate with people of varying backgrounds and learning styles. It demands the ability to efficiently demonstrate techniques in ways that students can comprehend and emulate, as well as patience and sensitivity when working with individual personalities in ways that will most benefit each student.
The willingness to set boundaries and maintain control of the classroom, while creating a welcoming atmosphere is also very important. Be open to listening to your students, acknowledging their innovations, and learning from them as they are learning from you.
Why Do You Want to Teach?
Understanding the reasons why you want to teach will be an important insight as you determine if it is right for you. If you only want to add to your income, teaching may not be the best task to take on.
The business of teaching isn't just completed during class. Much time is spent designing projects, developing handouts, and creating samples to show in class. In addition, teaching requires locating or creating venues, scheduling and promoting workshops, and providing tools, supplies & equipment for students to use during classes.
On the other hand, the best teachers in any medium are those who love sharing their passion and enjoy seeing their students excel. If this describes your motivation, think about the business aspects above. Consider how teaching might fit in with your family responsibilities, how much time you're able to devote to it per week, and how far you're willing to travel for a good teaching opportunity.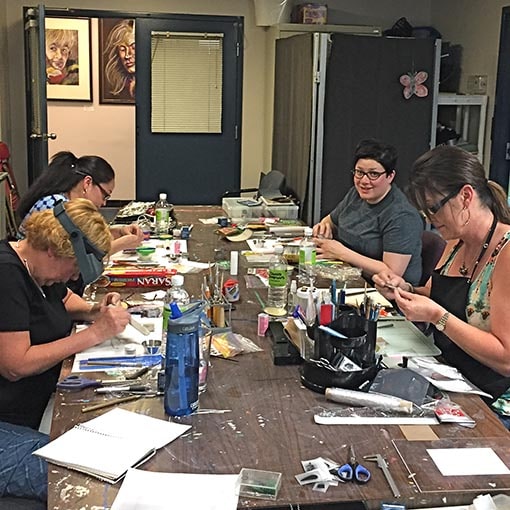 Students at a class with Lora Hart in her studio in Richmond, Virginia, USA
Finding Your Niche
The types of classes you want to teach should also be considered. Do you want to teach full day introductory classes? Or host short 'make and take' functions for those who just want a fun day of artistic creativity? Maybe you would prefer teaching in-depth, project-based classes to intermediate or advanced metal clay users. There is a need for all of it, and it is important to your success that you focus on that which will bring you the greatest joy.
Some prospective teachers imagine that it would be easy to hold a workshop in their own home studios, but there are many situations to contemplate when imagining using your home as a public space. Insurance is the first and foremost topic to consider. Will your homeowner's insurance cover accidents? Will you ask participants sign a liability release? Will pets present a problem, either to your students or to the pet when several people enter its territory? Is your home easily accessible with plenty of parking? Do you have understanding neighbors?
Are you willing to do the work to fill your classes? How much can you expend before you need to start seeing a return on your investment? Even if you're interested in limiting the class to 3-4 students, the answers to some or all these questions might be cause for concern. If you're a one-stop shop for metal clay education, one of the negatives is that you'll be responsible for absolutely everything to do with the business, but one of the bonuses is that all the fees stay with you!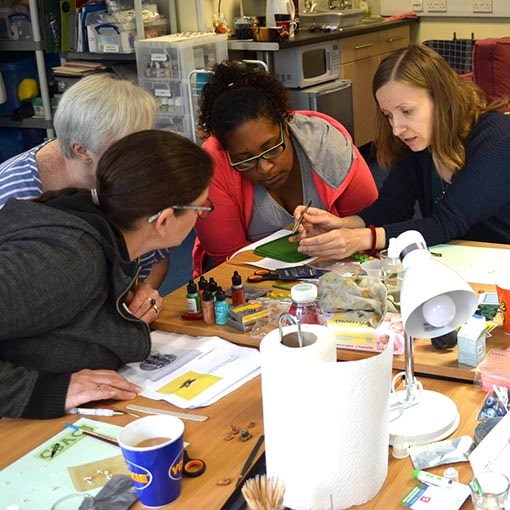 Anna Mazon teaching a Masterclass at CSACJ in Cornwall, UK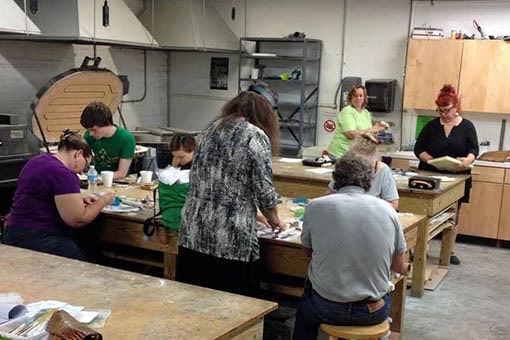 Lora Hart teaching in the glass studio at The Visual Arts Center in Richmond, Virginia, USA
Teaching at Other Venues
When you decide to let someone else host the class or workshop, they'll provide the venue, the insurance, and help put the word out to prospective participants. Typically, instructors supply course materials in the form of loaner kits and clay. Sometimes a kiln is required. A materials fee or lab fee can be added to the class fee and should be discussed in advance with the class host.  All financial details between the host and the instructor should be clear and in writing (this can include email).
Established metal clay venues and events will have their own terms for you to agree to. Some might include a contract, while others may make do with a handshake. A few locations to consider are local bead shops, periodic gem or jewelry shows in your area, community colleges, and adult education programs at universities or art and community centers. If you're willing to travel, you can apply to teach at large, convention-like events, art camps, at guilds in different states or countries, or propose a class to a venue in an area where you might like to vacation.
Making Your Decision
To decide if teaching is right for you, begin by assessing your level of expertise and what you feel you can effectively share with others. An important aspect of teaching is to share what you know well and enjoy doing. Students will pick up on your enthusiasm and knowledge and get excited about techniques and projects that you yourself are excited about or love to create.
Be sure to have fun sharing your passion, and be a better teacher than any teacher you ever had!