Incorporating beads into or alongside your metal clay creations is a great option that can add color, sparkle, dimension, motion, and meaning to your work. Whether you dangle them from earrings or pendants, wire them into a mind-blowing bracelet or necklace, or weave them directly into your metal clay piece, beads can take you places that no other material can quite manage.
So, what exactly is a bead? Almost any solid, sturdy material with a hole can qualify. If it can be strung on floss, leather, or wire and if you can include it in a piece of jewelry, it qualifies. Imagine a piece of river rock or seashell with a natural hole formed by tide and time. A wooden button. Teeny tiny Japanese Miyuki glass seed beads. Lapis Lazuli stones gracing a wire-linked friendship bracelet. Or an artistic and intricate flame-formed lampwork bead. They all qualify. And, of course, you can create beads from metal clay. Most bead stores offer classes in the beading techniques employed here. These include wire-wrapping, stringing, wire-weaving, and bead-weaving.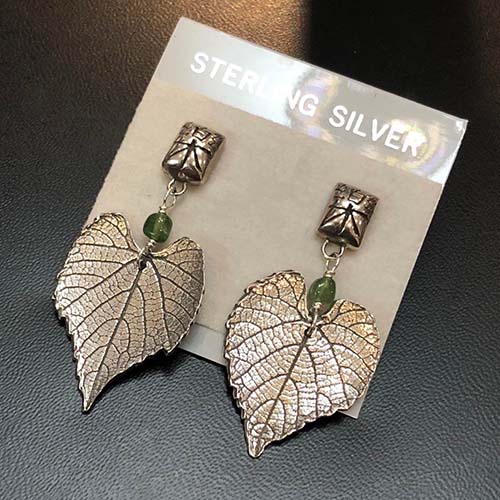 Stewart Zuckerbrod, photo: Loretta Hackman
1. Wire-Wrap a Dot of Color
Sometimes you just need a subtle touch of color to complete an earring. Here, Green Apatite accents attract the eye and add a touch of Nature to the silver clay leaf charms. The Green Apatite beads are wire-wrapped between the charm and earring post using sterling silver wire.
At other times, you absolutely NEED a bold splash of color! Sylvia's bracelet is a joyous celebration of silver, CZs, stones, and flame-formed lampwork beads.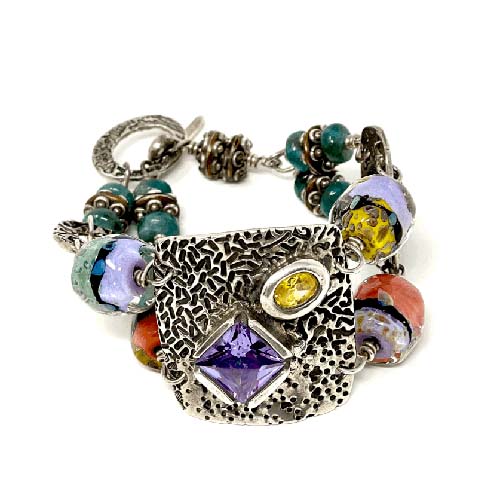 Sylvia Q. Sierra, photo: Artist's own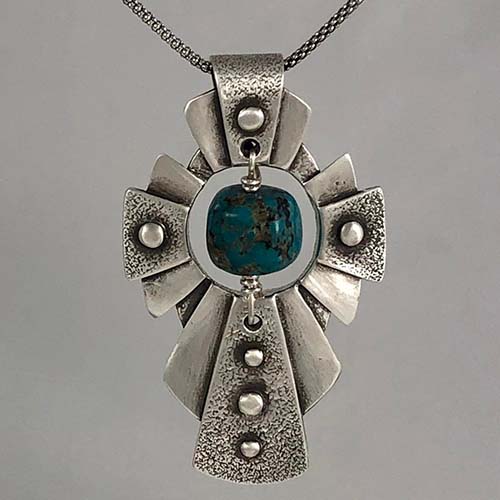 Loretta Hackman, photo: Artist's own
2. Wire-Wrap a Bold Focal Bead
This cross pendant was specifically designed with this Turquoise bead in mind as the focal element. Note how the versatile wire-wrapped bead method can inform your designs!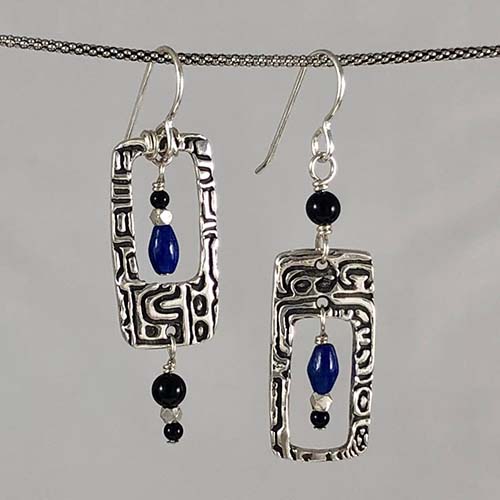 Loretta Hackman, photo: Artist's own
3. Wire-Wrap a Daring Dangle
Designing an asymmetric (but balanced) pair of earrings is a fun challenge. Here, the seemingly same silver clay charm elements are juxtaposed and playfully accented with Black Onyx, Lapis Lazuli, and sterling silver beads.
Look closely at the silver charm elements and note that their design is specific to the intended bead accents… holes are drilled before firing to accommodate the beads. The primary technique used here is creative wire-wrapping with sterling silver wire and head pins.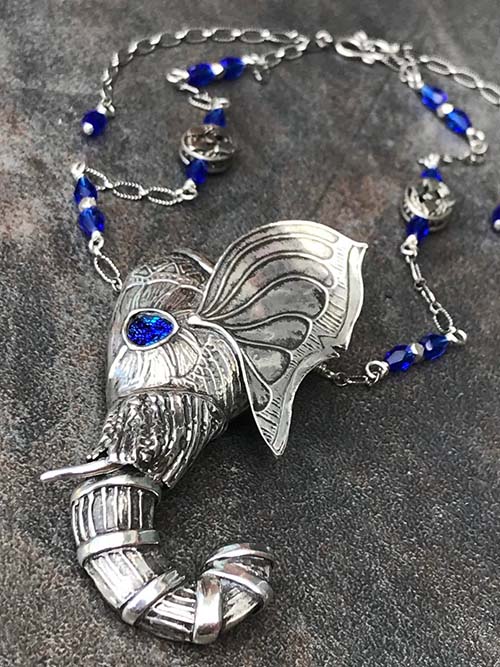 Loretta Hackman, photo: Artist's own
4. Wire-Wrap a Beaded Chain
This hollow-formed young blue-eyed elephant just needed a little bit of German crystal and Balinese sterling silver beads for company.
A rosary-style wire-wrapping technique connects segments of sterling silver chain between the beaded elements. This creates both physical and visual flow and balance throughout the necklace. Beaded head pins grace the ends of the adjustable chain.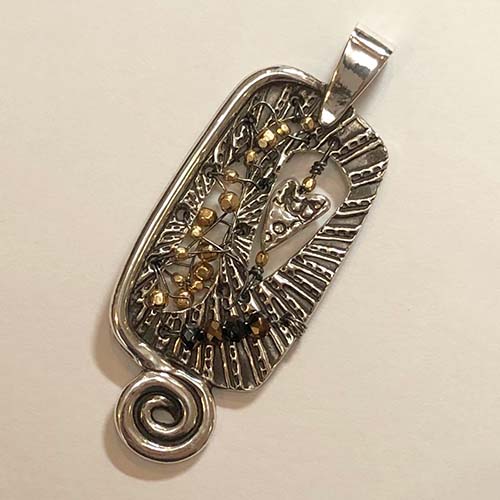 Kyndell Goff, Photo: Loretta Hackman
5. Wire-Weave a Wonder
Consider incorporating beads directly into your metal clay piece by using a wire-weaving technique. In this silver-and-gold piece, 14-karat gold-filled beads were added using blackened sterling silver wire after the piece was patinated and polished. Small holes were drilled along the edges of the open spaces before firing to allow for the addition of the beads. Even the heart accent is a metal clay bead!
The kite pendant was deliberately designed with thin metal clay panels interposed between the open spaces, providing an opportunity to weave Kyanite, Pink Tourmaline, and Pearl beads throughout the piece. Similarly, beads are woven between the openings created by the graceful coil.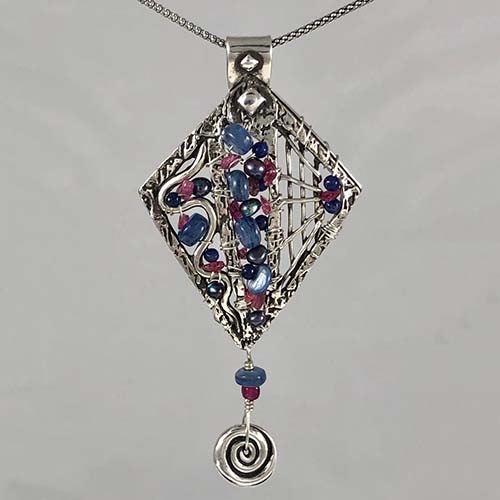 Loretta Hackman, Photo: Artist's own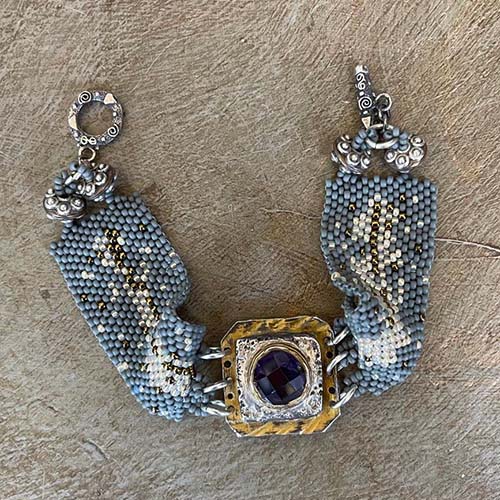 Sylvia Q. Sierra, Photo: Artist's own
6. Bead-Weaving Magic
To open up a whole new world of options, consider using 'needle and thread' to create magical patterns out of glass seed beads.
Here, the artist has used an elegant lightweight Peyote stitch and size 11 Japanese seed beads to complement the bracelet's metal clay focal. The uniformly high quality of Miyuki seed beads along with the strength offered by Beadsmith's multi-strand Fireline beading floss make perfect pieces like this possible.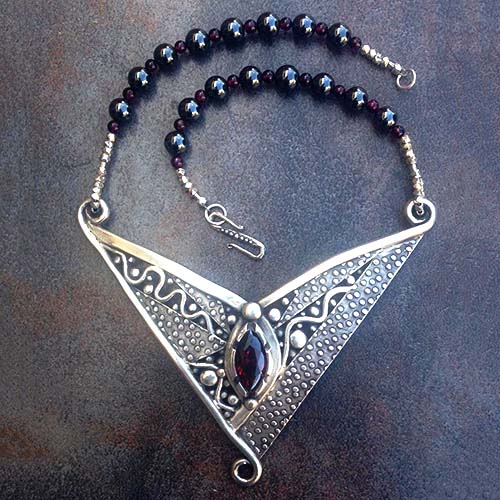 Loretta Hackman, Photo: Artist's own
7. String an Elegant Simple Strand
A hand-formed metal clay masterpiece often deserves more than a simple chain to celebrate its glory.
Here, a series of Hematite rounds and smooth Garnets are hand-strung to elegantly complement the focal collar and its large Garnet-colored cubic zirconia marquis.
The simple bead-stringing technique employed here uses flex-wire and sterling silver crimps. Elegant. Effective. Enough.

Loretta Hackman, Photo: Artist's own
8. String a Bohemian Rhapsody
And sometimes you need to go BOLD!
This free-formed sterling silver collar screamed for a more asymmetric Bohemian pairing with acid-washed Botswana Agate, Kyanite, and Black Onyx beads.
The two beaded strands on each side can be worn straight (as shown) or twisted together. Note the unconventional long double chain dangling down the back (also with bead accents… by all means, showcase the back!).
The double chain and S-hook clasp allow this necklace to be worn either short or long. Beading techniques shown here include stringing with flex wire, wire-wrapping, and dangling beads from sterling silver head pins.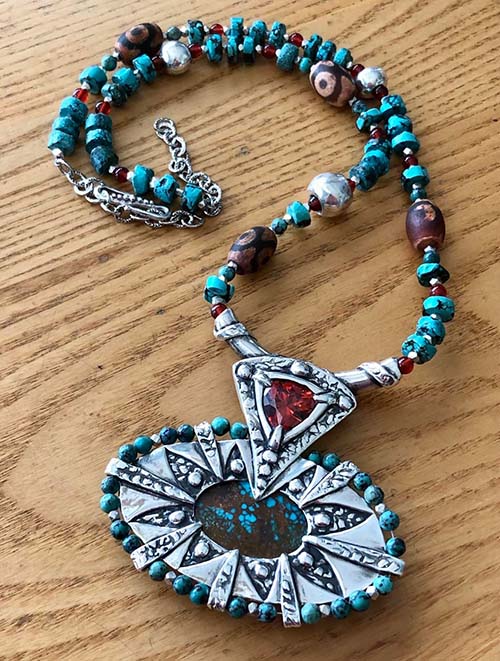 Saguaro Sunset, Loretta Hackman, Photo: Artist's own
9. String Up a Sunset
This "Saguaro Sunset" necklace was intentionally designed to have 4mm Turquoise beads framing the central Turquoise cabochon. Note that each of the long narrow rays emanating out to the edge of the pendant have loops at their outer edge that connect to the back of the piece. This creates a path for flex wire to be used to string Turquoise and silver beads around the silver pendant. Similarly, Turquoise, Carnelian, silver, and Dzi beads are strung into a randomly patterned necklace using flex wire. The full effect is a cohesive piece that celebrates the beauty of a desert sunset. The beading technique used is simple stringing with flex wire and crimps.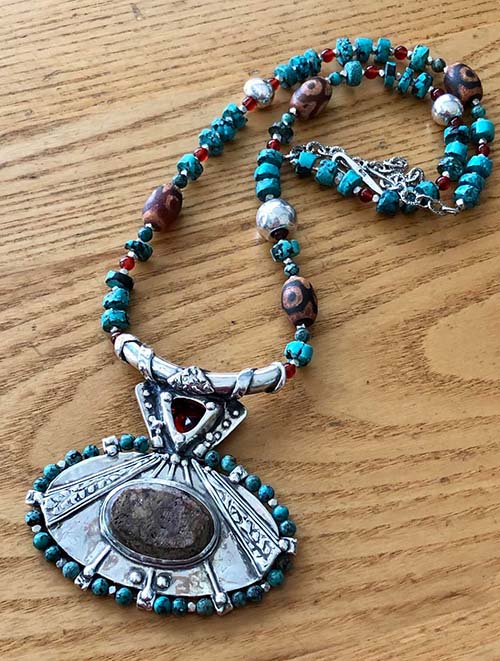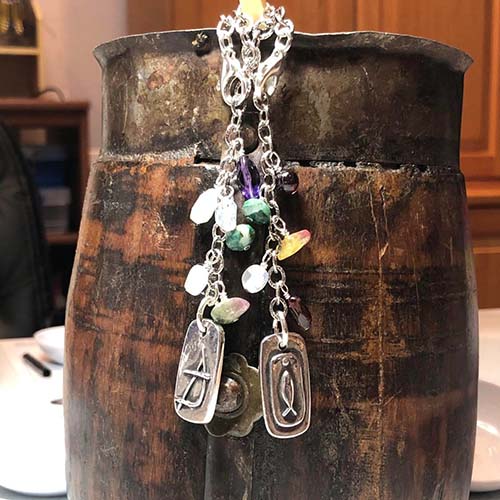 Loretta Hackman, Photo: Artist's own
10. Beads with a Message
If you really want to do a deep dive into beads, there is a staggering wealth of information covering bead history, wisdom literature, and the meaning of stones. Lapis Lazuli for wisdom and friendship. Garnet for wound healing. Pietersite to help control chaos. Amethyst for spirituality. The options for designing with intention are endless. Or incorporate birthstone beads to celebrate a new committed relationship or a new child. The keyring fobs shown on the left include the family birthstones of a newly engaged couple… her stone is added to his family; his stone is added to hers… to have and to hold.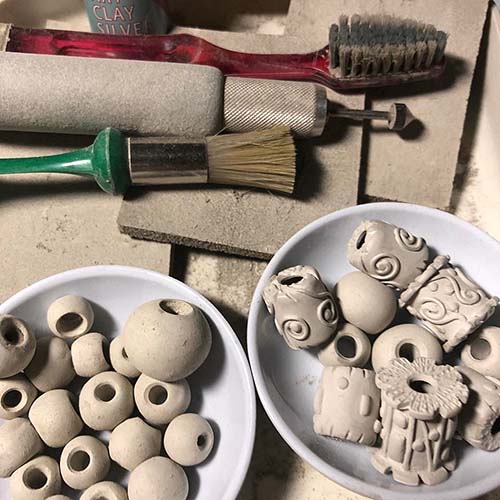 11. Metal Clay Beads
Of course you can! Metal clay beads can be hollow or solid. Obviously, hollow is less expensive in terms of materials, but a complex hollow-formed bead can be a challenging adventure (see Hollow Forms in the AMCAW Learning Center Resources).
The beads shown here were designed as 'add-a-bead' style elements that can be strung directly on a chain and worn singly or in groups.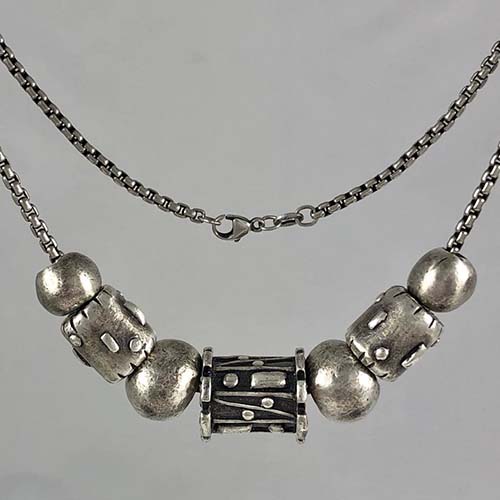 Loretta Hackman, Photo: Artist's own
Like Metal Clay, beading can become a maddeningly fun addiction! Don't say you weren't warned.