Metal clay is modern alchemy; a process that transforms powdered metal into an easy to use clay-like material. Combining the best attributes of modeling clay and milled metal, metal clay can be used to create jewelry and decorative objects in an easy and approachable way.
Metal clay is available in a variety of metals including gold, silver, copper, brass, bronze, and steel. Besides these various clay types, metal clay is available in different forms – as a powder that can be mixed to create a malleable lump of clay, as a ready-made lump clay, as a paste, in a syringe for extrusion and as a foldable form known as sheet or paper. To find out more about clay types, read our Types of Metal Clay article.
Each form has distinct properties that can be utilized in a variety of ways. Similar but unique results can be achieved by using the different forms with various techniques, for instance painting a leaf with paste or using the leaf as a texture by rolling it into lump clay. Some forms work better for some designs than others.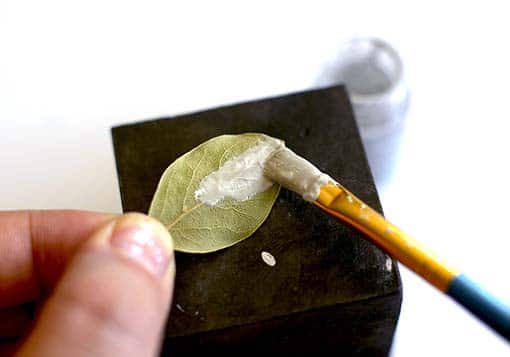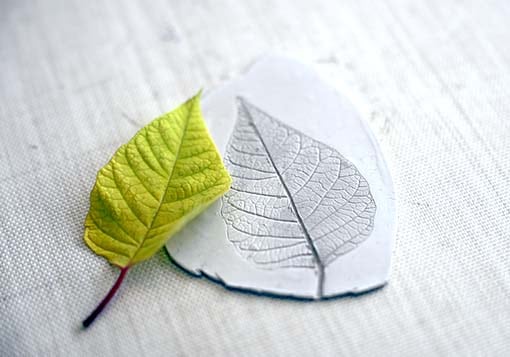 Impressing a leaf into rolled out lump clay
Combining Clay Types
Some clay types can be combined to create marbled effects like the well-known Japanese technique of Mokume-Gane. This technique offers artists the possibility of combining two or more metal colors to achieve a wood grain look. The following metal clay types are known to work well together – copper with silver, gold with silver, bronze with copper, or silver with gold and copper. Other combinations might not work as well, if at all.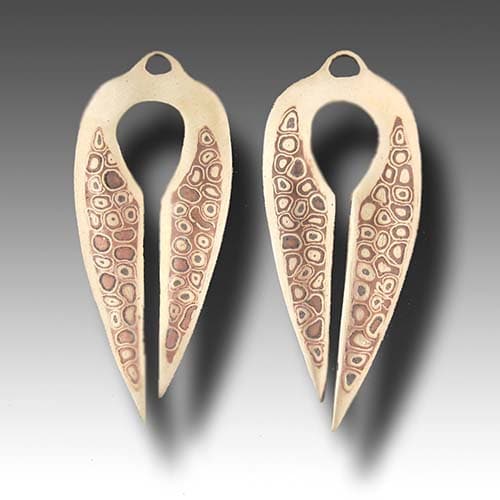 Paula Mcdowell, Mokume earrings
Exploiting the Shrinkage
While some metal clay types shrink as little as 8% during firing, others are reduced by up to 25% or 30%, which can be useful. This property can be used to design pieces in a slightly larger format for ease of working and still retain the fine detail after firing. Incredibly detailed pieces can be created this way. 
Tip: Try using the same texture or mold to make a pendant out of low shrink clay, and a matching pair of earrings with a high shrink variety
Metal clay shrinkage during firing can be used to capture embedded objects like milled fine silver bezel wire, ready-made embeddable jump rings and bails, fine silver wire to use as prongs or bails, fire safe stones and also to frame a piece of previously fired and finished copper clay.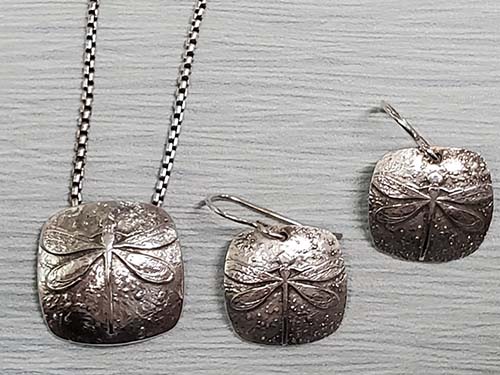 Nancy Miller, Dragonfly necklace & earrings. Made with the same texture but different clay types.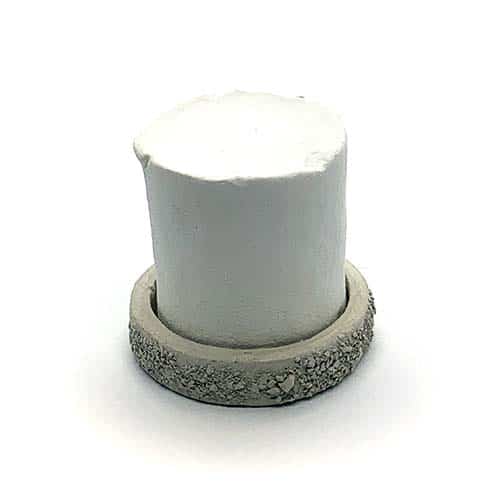 Ring plug placed inside a silver clay ring ready to be fired
In some cases, it may be useful to stop the metal clay shrinking past a specific point. This is typically used to maintain the space for an object or a stone that cannot stand up to the heat of firing or to ensure that a ring will be the right size. A crafting material like the brand Creative Paper Clay (made with volcanic ash) or any commercially sold jewelers investment – a special kind of plaster – are used to create a replica of the item that occupies the space during firing and doesn't burn out. Two-part molding compound can be used to make a replica of the object or stone etc.
These materials can also be used to create a thick cylindrical disk or plug that is placed inside a ring so that the correct size is maintained as the clay shrinks. You can buy these disks ready-made or mold your own ring plugs. Shrinkage still needs to be accounted for in the creation of the ring which will depend on the type of clay you are working with. The plug or replica used will just ensure that if the shrinkage is not totally accurate, the space or ring size will still be correct after firing.
Setting Stones
Fire in place gemstones and Cubic Zirconia (CZs) also take advantage of shrinkage by holding them in place during firing. It is important that the widest part, called the girdle, of a faceted stone or the widest part of a cabochon is positioned slightly below the surface of the clay for the shrink to fit aspect to work properly. Syringe, paper/sheet, lump and paste can all be used to set stones when the basic rules of metal clay shrinkage are followed.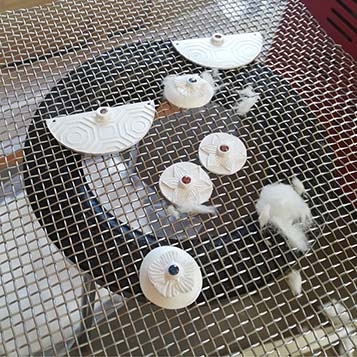 Pieces after firing with bezel set CZ's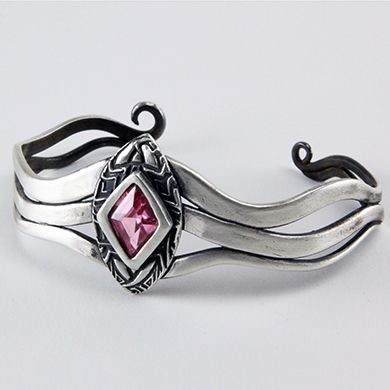 Lis-el Crowley, Pink cuff, CZ fired in place
Stephanie Chavez, Eye of the Ocean, glass cab fired in place
Creating Hollow Forms
There are several ways to create hollow metal clay objects like beads, bottles and lockets. One is to build them on a form made from a combustible material such as wood clay or cork clay that burns away at the beginning of the firing process. The form (and binder) burns out at around 800ºF (426ºC) before the clay particles begin to sinter resulting in a hollow item.
Syringe clay can be used to create delicate lacy, filigree designs on a shape that will burn out or on a domed form. Paste or lump clay can be used to coat or cover a burn out core. Hollow objects need to be supported in vermiculite or on fiber blanket while firing to avoid slumping.
Another way to make a hollow object is to use 3D forms (like marbles, light bulbs, or spoons) to make two matching halves that can be joined when dry. Or hinges can be added to the halves to create a locket.
After forming the piece, it is dried, sanded, reinforced as needed and fired. The result will be a very sturdy and durable hollow object.
AMCAW members can access our Virtual Guild Video Library and watch Alex Kraft – Creating Unique Hollow Forms for more information on how to create hollow forms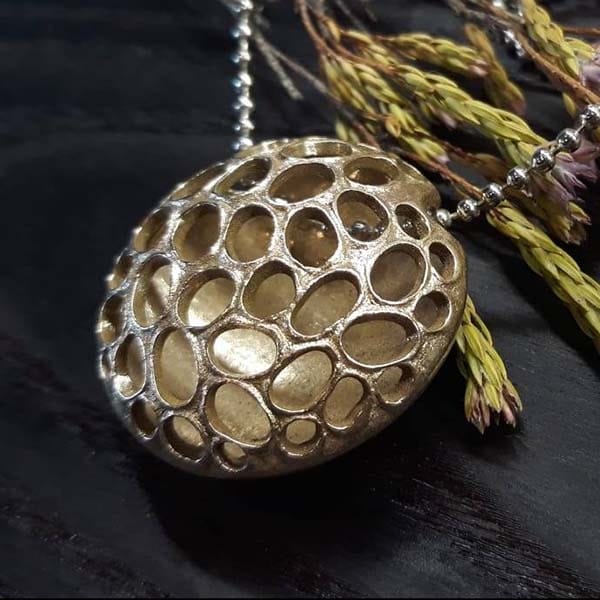 Alexander Kraft, hollow form pendant
Working Wet or Dry?
Projects involving carving or flat sided shapes being joined to make boxes or beads might be easier to complete when the metal clay is fully dry. Other projects need the clay to be fresh and moist. Embedding stones, bending clay around a ring form or drinking straw, curling coils into vines, and texturing a slab are all techniques that are normally carried out when the clay is malleable and fresh.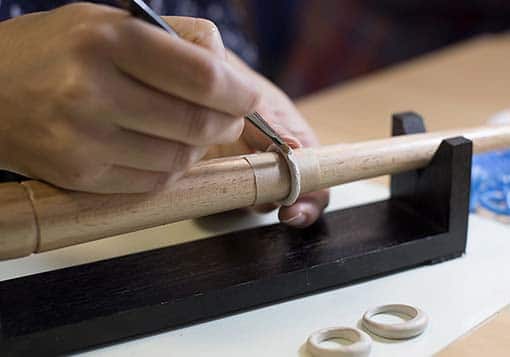 Shaping a ring requires wet clay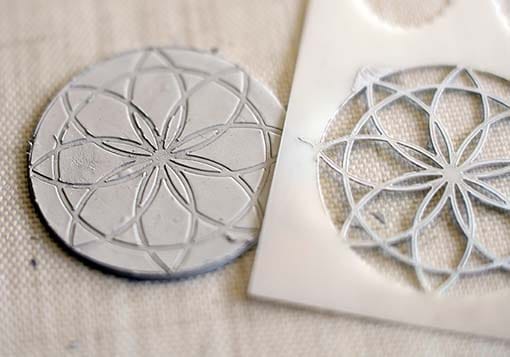 Texturing with a stencil can be done on wet clay
Making Joins
Depending on the project and the clay type, moist metal clay can be joined to other moist pieces with a little water and light pressure. Fresh clay can be joined to dry pieces with either water or paste, and dry clay can be joined to other dry clay with paste. Fresh or dry clay can also be joined to previously fired pieces with thick paste or lump clay and refired.
Metal clay joins need moisture in the form of water or paste to securely bond to another piece of clay and there are a variety of ways to link dry clay to create articulated forms like chains or swinging bails.
Then What?
Firing results in a solid piece of metal that can be used and handled in many of the same ways that any other metal element would be used. All the techniques used in traditional jewelry making such as sawing, soldering, drilling, or riveting can be used to complete a metal clay design. The metal clay element can also be combined with wood, leather, sheet metal, plastic, ceramics, polymer clay, cement and numerous other materials as part of a mixed media construction.
Color can be added with gilding techniques such as Keum Boo or using 22k gold paste. Enameling techniques like Basse-Talle, Champlevé, Cloisonné, or Plique-à-jour work well with both fine silver and copper clay. The application of color using resin, alcohol ink, ceramic or acrylic paint, pencils, waxes, and tints can also be used with fired pieces.
Metal clay can be used in ways that haven't even been dreamt of yet. Inspiration is everywhere; artists are only limited by their imagination.