Congratulations to Emma Roy, winner of the People's Choice Award! Her winning piece, Woodland Fairy Door, is a silver fairy door featuring a working door knocker and hand sculpted details. It was an entry in the Beginner Category of the Man Myth Magic Challenge.
"This piece is incredibly special to me as my little girl, who is three years old, adores all things magical, especially fairies," says Emma. "I've started to create a range of enchanted jewellery because of her enthusiasm of the magical realm. I make up little tales about the fairies at the bottom of our garden for her, and they like to leave little notes for her under her pillow."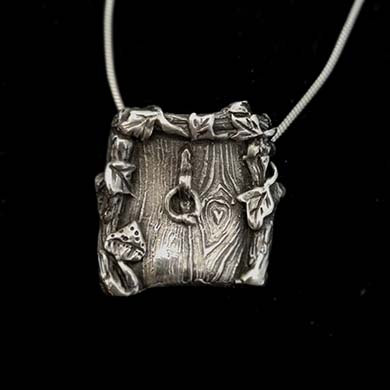 "This little fairy door is my first ever piece with a moving element. It's a technique I learned from a bail and bezel course from Julia Rai, which I adapted to my design to give it a working element. This was the most intricate piece I had made at the time I made it. The door frame, door knocker and hidden bail were cast from a mould of a little birch twig. The other elements, including the tiny toadstool and the trailing ivy were hand sculpted free hand. It really was a joy to make."
Emma discovered metal clay three years ago when she took a course on keepsake jewellery, something she had wanted to do for over a decade but hadn't had the opportunity or courage to do before. The course used silver metal clay to make keepsake jewellery, and Emma was quickly addicted!
"I love the flexibility of this medium," says Emma. "I'm still quite new to the world of metal clay and very much on a learning curve. I have just started to set stones in my pieces, and hand paint them with alcohol inks to add a little colour. I especially enjoy letting my creativity run free, and hand sculpting is a particular favourite of mine. The smaller and more intricate I can make something, the better! I've just made my first ever 3D structure – a little gingerbread fairy house, and each side has tiny hand sculpted details."
"I am a real nature lover and take so much inspiration from the gorgeous countryside. We are fortunate to live in a very rural part of the UK; the woods that surround the little village that we live in are one of my favourite places to be. This ever-changing landscape helps me decide what to make next, from the spring blossom and summer blooms to the abundance of autumn fruits and falling leaves, to the evergreen and snowfall of winter. I also am away with the fairies a lot of the time (dreaming up my next creation!), so I do have a soft spot for the playful and whimsical design."
"I love how flexible I can be with my designs, and that every last piece is clay is used; even things that don't quite go to plan can be reconstituted and made again."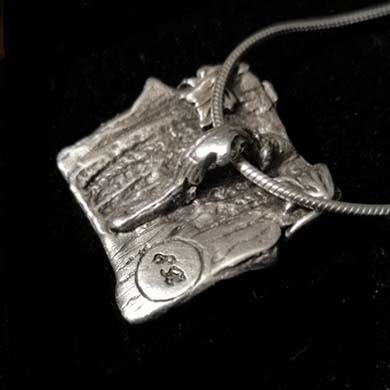 Her advice to artists considering metal clay as a medium? "Don't let fear hold you back. I wanted to do this for such a long time, but always made excuses and I worried that I would be rubbish at it. Now I am less worried about making mistakes and have come to realize that it's all part of the fun of learning. Something I think is so important is to let yourself be a beginner and not try to compare your journey with anyone else's. I know that's easier said than done; even now I still suffer with imposter syndrome when I see all the absolutely stunning entries in the challenge. I honestly didn't think I had a snowball's chance in hell of winning but went for it anyway just for the fun of it and for the experience."
"This is an incredible journey that I am so proud to be on; I am very grateful that I took that leap of faith three years ago!"
Find Emma online at jewellerybyemmaroy.co.uk, on Facebook and Instagram