Have you started building up an inventory of metal jewelry and accessories that you are interested in selling? Do you need tips and tricks on how to sell your work successfully at art shows, festivals and events?
Meet metal clay artist Brett Apthorp who lives on the picturesque island of Nantucket. She has been doing craft shows for many years and as a regular weekly vendor at the Sustainable Nantucket Farmer's and Artisan's Market, she has experienced the highs and the lows of exhibiting and selling your work outdoors. She shares her experience in the following interview.
FINDING THE RIGHT EVENTS
Q. If you apply to juried shows, what advice do you have for getting into juried shows?
A couple of the shows I do are juried and the Farmer's Market that I do every weekend from June to October is also juried. I feel that my best chance for getting into these shows, besides the quality of my work, is great photos. If you are exhibiting at a farmer's market, offering a variety of items is always helpful as there tend to be a lot of other jewelry vendors. In addition to my jewelry, I also sell hand-painted silk scarves and a children's book that I wrote.
Q. Is it helpful to always be at the same shows so you build repeat clients?
I do know that repeat clients do come to events specifically looking for me so I think it is helpful to do the same shows if possible. I feel that building up a relationship with clients that I have sold to previously is very helpful for future sales to those customers. However, if the opportunity arises to try a new venue, I am always eager to have a new audience as well.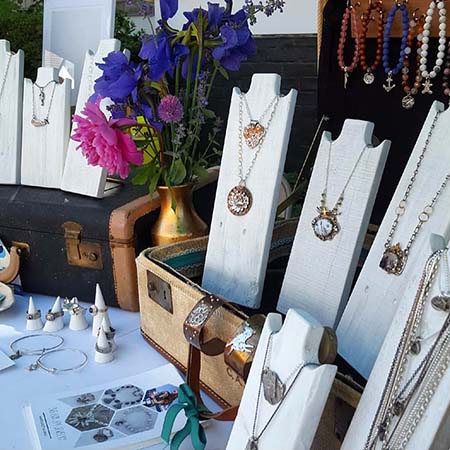 DISPLAY
Q. Any basics for setting up a display which will entice people to stop, look, and buy?
Be true to your aesthetic and make sure that your jewelry and your set up complement each other. When I was first starting out I thought that I had to have everything that I made on my table. Now, I have become a little more selective and I try not to overcrowd my work. I always keep a stash behind the table and use it to replenish items that have sold. I also use it when a client asks if I have anything else. I tell them that I have a "secret" stash and bring out what I've kept behind the table. Everyone likes to see something "secret and special."
Q. Any tips on display?
I put risers under my table so that buyers do not have to bend over. I layer how I display my work in height and depth to give it visual interest. I always have a vase of fresh flowers from my garden.
PRICING
Q. Do you create a variety of price points to appeal to a broad audience, or focus on your best work at the prices you feel they are worth? Any advice for pricing?
I have been most successful when I have a price point for everyone. Sometimes, buyers will want to start with an "entry" piece. Oftentimes, these buyers will come back for more in the future. There was a time when I only sold items from $70 and up. One day, this young boy wanted to buy a gift for his mother and everything I had was too expensive. I felt terrible. I asked him what he had to spend and he said $25. Yes, I gave him the $70 earrings for $25 but I learned to always have something in the $25-$30 range. I have had a few more happy kids buying since then.
WORKING THE SHOW
Q. What are your best tips for engaging browsers and making them buyers?
I think my best trick or tip is to create a rapport with the potential buyer…say something positive, compliment them on their jewelry or clothes, remark on the weather, or compliment their cute kids. Always wear a smile and be welcoming even if you don't feel it. Thank them for having a look at your display. Make it more about meeting a new person than trying to hawk your wares. I truly feel that people buy your jewelry because they like you. They need that personal connection, especially if your jewelry is different and unique.
Q. Do you pack everything up at night and set it out again in the morning?
The regular weekly market that I sell at is just held for the day. If I am at a show for two consecutive days, I leave my items out but cover them with a sheet. The places where I sell are secure and I am ok with the risk that something could be taken, but in the four years I have been doing shows nothing has been taken.
Q. So you're at a show, and nature calls. Do you leave your booth unattended and ask the nearby artists to keep an eye on it for a minute, or do you have a friend or family member come to help man your tent?
I always ask a nearby artist and repay the favor.
Q. Do you pack your own lunch and water, or count on finding something at the show?
I do pack my lunch. You never know if there will be healthy food available.
Q. Any other practical tips for surviving an outdoor show?
Be prepared! Bring an umbrella, sunscreen, water, tarp, something to sit on, and be flexible. Oftentimes, things come up that are beyond your control. It is a lot easier to find a solution then cry about it.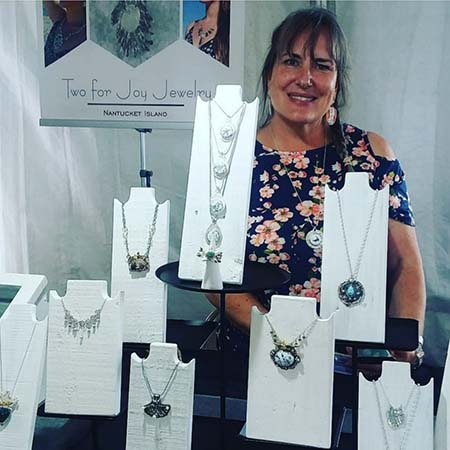 TOP TIPS
Q. What are your top three tips for successfully getting into and selling at art festivals or fairs?
1. Have a clear vision in your work, along with great photos, when you submit your application.
2. Always wear your happy welcoming face, even if you aren't feeling it.
3. Don't doubt yourself or your work if you have a bad day at a show. Sometimes it is just a bad day!
Interested in learning more about Brett and seeing some of her work? Visit her at twoforjoyjewelry.com