Meet Laura Roehl
Winner, Intermediate Category, Story Telling Challenge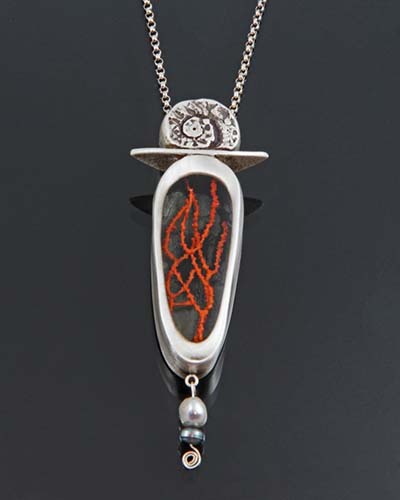 Congratulations to Laura Roehl, winner of the Intermediate Category of the Story Telling Challenge! Her winning piece, Love Deeper Than the Ocean, commemorates her father and his adventurous spirit.
"I knew I wanted to make a memorial piece after my dad died, but it took some time to come up with a design that encompassed everything I felt would be important to include. One day I was looking at some coral I had framed for my dad. He had brought this delicate piece of coral back from a diving trip he made in the Red Sea when he was living in Saudi Arabia.
"Adventure, nature and beauty were important to him so I decided that including some of the coral would be very fitting. I also wanted to include some of his ashes and decided to make a mold of one of his shells and use that as one of the sides of the hollow form I made to enclose the ashes.
"One thing I changed was the piece that is between the top and bottom pieces. I had originally drawn it straight when I was planning out my design, but as I was making the pendant, I decided that having it curved would be more appealing.
"This piece has my heart and soul in it. It expresses how much my dad meant to me. It was also something I designed in my mind for about 3½ years, so it's wonderful to see it come to fruition and be honored in this way," adds Laura.
Laura first learned about metal clay in December of 2017 when she was caring for her father when he was on hospice. "I was doing an internet search for ways to capture his fingerprint, something I wanted to do before he died. I loved the idea of using clay that turned into solid fine silver and was glad to find a kit that had everything I would need to make that special piece."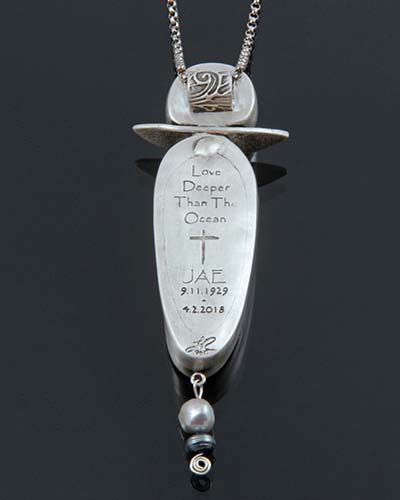 Laura has worked in stained glass, dichroic glass, ceramics and other mediums. "I love the feel of the metal clay in my hands. I love how the possibilities are endless when creating with metal clay – the shapes and textures it takes and the ability to carve and connect it. I generally need to feel inspired before I make something. It's rare that I just sit down with clay and start creating. I like to think through my ideas and draw them out before I pull out my clay.
Laura regularly creates with others. "I have 3 friends who come over one morning a week and we create in my studio. They work on stained glass, but love seeing what I am creating with metal clay. I also enjoy having friends from my local guild come over to play with clay. I find a lot of support from friends I've made through my AMCAW membership and our private Facebook group as well."
Find Laura at:
www.facebook.com/upjewelrydesigns
upjewelrydesignsbylauraroehl on Instagram