The goals of the Outreach Committee include increasing awareness of metal clay in arts communities, changing any negative perceptions, and showing the amazing possibilities of our exciting medium.
This spring, members of the Outreach Committee have been busy spreading the metal clay message at the annual conferences and expos of jewelers and other artists likely to develop an interest in metal clay. At the Glass Craft Expo where we were represented by Jackie Truty, glass artists discovered how metal clay can enhance their glass work, either by firing dichroic and other glass directly in metal clay to create unique jewelry, or by painting metal clay fine silver onto their glass creations. Of particular interest to attendees was finding out that metal clay can be fired in their existing glass kilns, making it a great companion art.
At SNAG (Society of North American Goldsmiths), AMCAW did an 'enter-to-win' giveaway at our table to attract attendees. A flyer was included in the attendee registration bags with an entry form for the drawing. At the table, manned by AMCAW volunteers, attendees could not only see the prize (a silver pendant donated by Lis-el Crowley), but also a large display of pieces made in silver, bronze, copper, and more.
Volunteer Susan Lokaj said that having the large display of pieces that people could see and touch was a real eye-opener for many traditional metalsmiths. "Having clay that they could hold and feel was very helpful, as were the demos of simple techniques," said Susan, "but the real game changer was seeing examples of finished pieces first-hand. People were amazed at the quality, and especially impressed by the mokume gane pieces which seemed to create the "a-ha" moment for almost everyone."
Other volunteers reported an overall interest in metal clay's recyclability and low waste, as responsible or ethical sourcing is a hot topic in the metalsmithing and jewelry communities these days.
"We also had great success reaching the students and younger metalsmiths," Susan added. "Most were either not at all familiar with metal clay, or had heard of it but didn't know much about it. As we explained what could be done, they became excited at its potential and were open to using it in their own work. Students, in particular, were very enthusiastic to learn about metal clay, asked lots of questions and were willing to stick around for quite a while to get as much information as they could. Several asked where they could find instructors or more information."
What's next?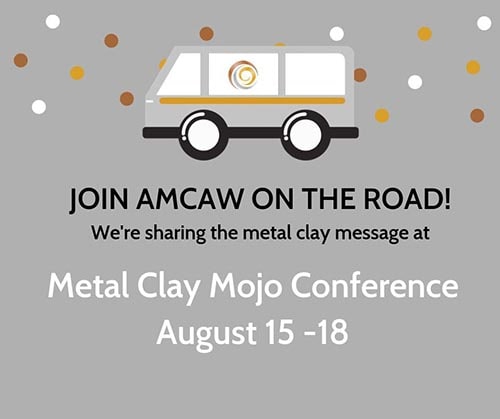 Watch for AMCAW at the Metal Clay Mojo Conference in August. If you know of other events which attract a large number of metal clay artists or jewelry artists, let us know at hello@amcaw.org.