Take the Bits and Pieces Challenge!  This monthly piece of metal clay fun will challenge you to create something with five different elements and a specific theme, which change each month. 
Bits & Pieces is taking a break for the summer! 
Bits and Pieces June Winners
The jurors loved both submissions for the June Bits and Pieces Challenge, for different reasons. So they decided to award both pieces winner status.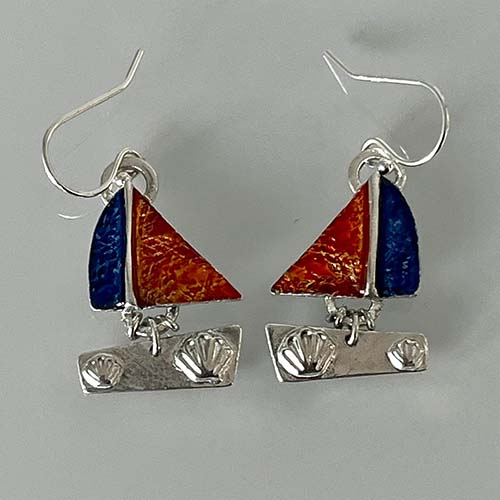 Joint 2022 winner
Mandy Fretz
Juror comments – Jurors agreed Mandy's piece was sweet, very cheerful and well designed. And also very wearable. The use of the shoelace is quite clever and yields a really good texture for the sails. All the jurors commended the solution to the attachment of the boat to the sails, it's a good example of adapting a technical element to achieve the design you planned. One juror noted that this may add movement when the earrings are worn and another that it is reminiscent of the coils of rope one finds on sailboats. The flat (as opposed to round) ring at the top where the ear wires attach to the sails is a great detail that was noted by one juror. Everything worked well, great job Mandy.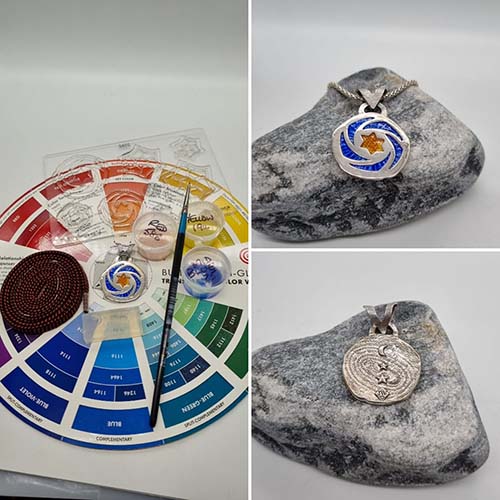 Joint 2022 winner
Joy Wignall
Juror comments – All the jurors liked the design of Joy's piece and the use of vitreous enamel was particularly well received. In fact, jurors would have liked to see the pierced enameled compartments made larger as there was a feeling that the silver slightly overtakes the lovely enamels. The central design is strong, though the jurors felt some of the other elements didn't quite integrate with the spiral. The bail, although it met the triangular requirement, could have been more in keeping with the lovely pendant piece. The colour combination worked well and met the complementary colour requirement. Once again, Joy has given jurors lots to talk about which they all love, well done!
The rules are easy:
Use any kind or type of metal clay.
You must use all five bits and pieces.
Tips
– You may combine two elements into one thing, like a color and a stone.
– If a number of elements is stated – for instance three CZ's – then ONLY use that many!
– Everything doesn't have to be on the front of the piece but remember to show us the back if you use bits and pieces there.
– The fifth element can be used either as a texture or actually made as part of the piece.
– You're free to add ear wires, chain, cord, brooch fittings, jump rings or other findings to complete a piece.
– You will find not just physical things to use but also some design elements to include. If you're unsure what they mean, Robert Dancik has written a blog post as an introduction to the elements and principles of design which will help you. Read it here.
Don't forget:
– Join the Metal Clay Fun with AMCAW Group on Facebook to post pictures of your piece in progress.
– Post a good quality image of the end product on our Metal Clay Fun with AMCAW when you're done so we can all see how you've used the bits and pieces and interpreted the theme.
Member entries will be juried, and you'll be able to see your jury comments which is a great learning opportunity. The jury will be looking for good interpretation of the theme, creative or innovative use of the bits and pieces, interesting or quirky pieces, fun designs – all the things we all love about working with metal clay!
Winners will be featured online in our Bits and Pieces Gallery and if you've posted good progress images, you may be the subject of a blog post on the AMCAW website!
Do I have to use the exact number of things quoted or can I use more or less?
If a number is quoted, for instance three CZ's, then that is the requirement for the challenge. Some elements will have the option to add as many as you like but when a number is specifically given that's the number to use. Some of the challenges ask for '…at least' or words like 'some' etc to give you the choice. Always read the requirements carefully!
Tell me more about the piece that can be used as a texture or in the design.
In each challenge there is an element that can either be used as a texture or actually in the design. It could be something that you can use to hang the piece, like string, a ribbon or cord, or maybe something you can sandwich between two layers using cold connections or bezel or prong set after firing. Or it could be something that you use to impress into the clay or make a mold of to use in the piece. Think outside the box and see what you can come up with!
I'm finding it hard to include all five things.
The purpose of the challenge is to make you think and push your creative boundaries. Perhaps you can combine two of the required elements in one thing, like a color option and a stone. Or maybe something can be used for texture, not actually in the design. There's nothing to stop you using something to add surface texture rather than what you might normally use it for. Could the embeddable eyelets be used to texture part of your design for instance? Be sure to explain how you've used all five elements when you submit your final piece but the purpose is to get you thinking creatively and that's what makes it fun!
What if I make earrings, do I include the number of stone etc. in each earring or across both?
If you make earrings you can use the number of stones, embellishments etc in each or across both.