Silver Clay can be used to mount and/or embellish ceramics in the same way as glass. Ceramics combine well with low fire silver clay and can help you create exciting mixed media jewelry.
Ceramic clay is a versatile material to create beautiful, tactile, and unusual jewelry. There are many different types of clay from earthenware to porcelain. The clays come in different colors and shades and may be colored with beautiful glazes. Silver clay is a lovely material to mount, wrap or frame a beautiful piece of pottery and it can even be painted onto the ceramic surface to create or enhance a pattern.
It is not necessary to be able to create your own ceramics; beautiful and unusual pieces of pottery can often be found swept in on the shoreline, and broken bits of porcelain and buttons and beads can also be used to create with.
Most clays fire far higher than silver or base metal generally firing between 1000˚C /1830˚F to 1305˚C /2381˚F. This isn't a problem if the piece you wish to use is a broken piece of pot or a washed-up treasure, but you cannot combine raw clay with your metal clay. If you are creating your own pieces of ceramic to use in your design, it must be fired and glazed before adding the clay.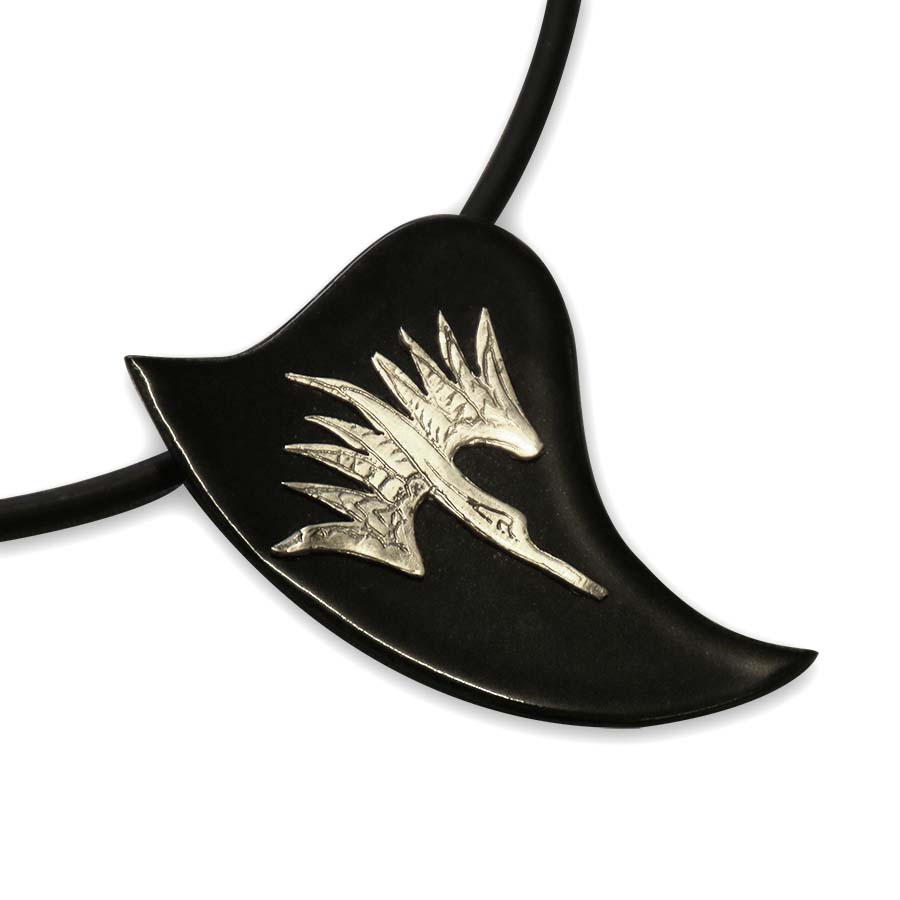 If you fancy having a go at combining ceramic clay and silver clay check out our member's only tutorial Play with Clay By Noortje Meijerink. You will need to be logged in to view the page.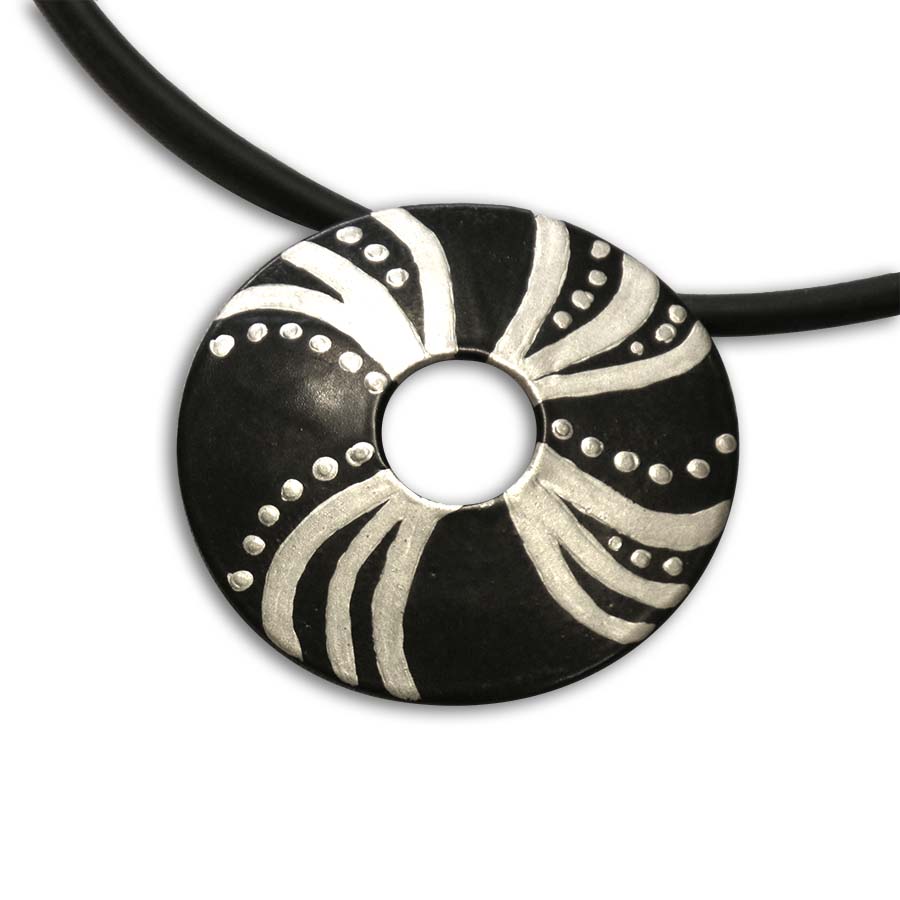 Adding silver to ceramics
When adding silver clay to ceramic you will need to fire in a kiln. This is because the glaze (which is a thin glass layer) is prone to crazing and will need to cool slowly.
Creating a frame for your ceramic piece
1) Firstly, clean your piece, especially if it is an old piece you have found. Wash it and use methylated spirit to clean off any grease. Once clean you need to file off any sharp edges. Use a diamond pad for this and always wear a mask to avoid breathing in any dust. Diamond pads are available from glass fusing or enameling suppliers.
2) Measure around the outside of your piece using a strip of paper and marking where the pieces meet. You will also need a slight overlap.
3) Roll your clay the length of your piece of paper at 2 cards (0.5mm) thick, making sure it is also the width of your piece of ceramic. Use a craft knife to cut your strip.
4) Lightly wet one side of your clay strip and then gently press it round the edge of your ceramic piece smoothing it on.
5) Where the silver overlaps, cut through with a craft knife, and smooth the join with some paste. Pay attention to the join as otherwise it may pop open in the firing.
6) Thoroughly dry your piece and attach a loop of clay at the top as a bail for a chain. Make sure that the loop is attached well with paste and thoroughly dried.
6) Place on ceramic shelf paper on your kiln shelf and fire to 760˚C /1400˚F. Hold for fifteen minutes and then allow the kiln to cool to room temperature before opening the door.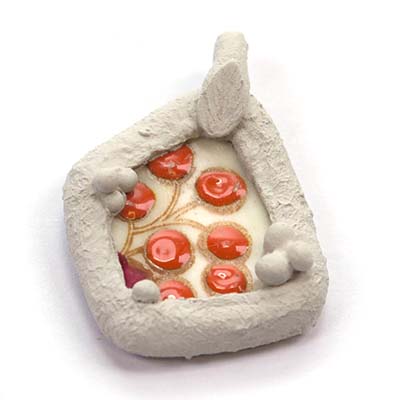 Wrapping ceramic in silver clay, Julia Rai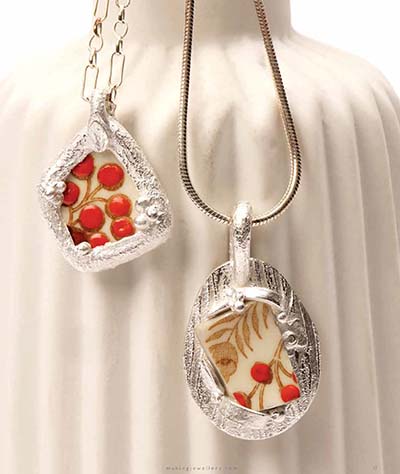 Artist: Julia Rai, pendants made for a tutorial in Making Jewellery magazine.
Adding a silver design by using Overlay Paste

Art Clay Silver 650 Overlay Paste consists of pure silver particles, a special binding agent, and water. The binding agent is produced from harmless pulp fiber. During firing, the pure silver particles solidify. The binding agent consists of carbon, hydrogen, and oxygen resulting in the release of harmless carbon dioxide and steam during firing. The special formula of this product allows for combination with glass, porcelain, and ceramic materials, and is also suitable for firing with sterling silver findings and wire (SV925 and higher quality recommended).
This product is water-based and can dry up. Always keep the container tightly capped. If it becomes too thick, add a little water and stir well. The clay may crack during firing if it is not completely dry.
As some silver settling may occur at the bottom of the jar, stir the paste well with a metal spatula before use. To dilute the paste, take out the necessary amount and place it in a separate container.
Overlay paste can be used to paint designs or embellishments onto your ceramic piece, either free hand or using a stencil. You can also create sgraffito designs where you paint on a thin layer of Overlay Paste, leave it to dry, and then scratch designs into the unfired paste so the ceramic shows through.
Overlay paste can also be used to create silver beads using a ceramic bead as a base. It is possible to buy unglazed greenware beads and pendants on which you can paint several layers of silver overlay paste and then fire. It is important to make sure the ceramic is clean, and the layers are well applied to avoid air pockets.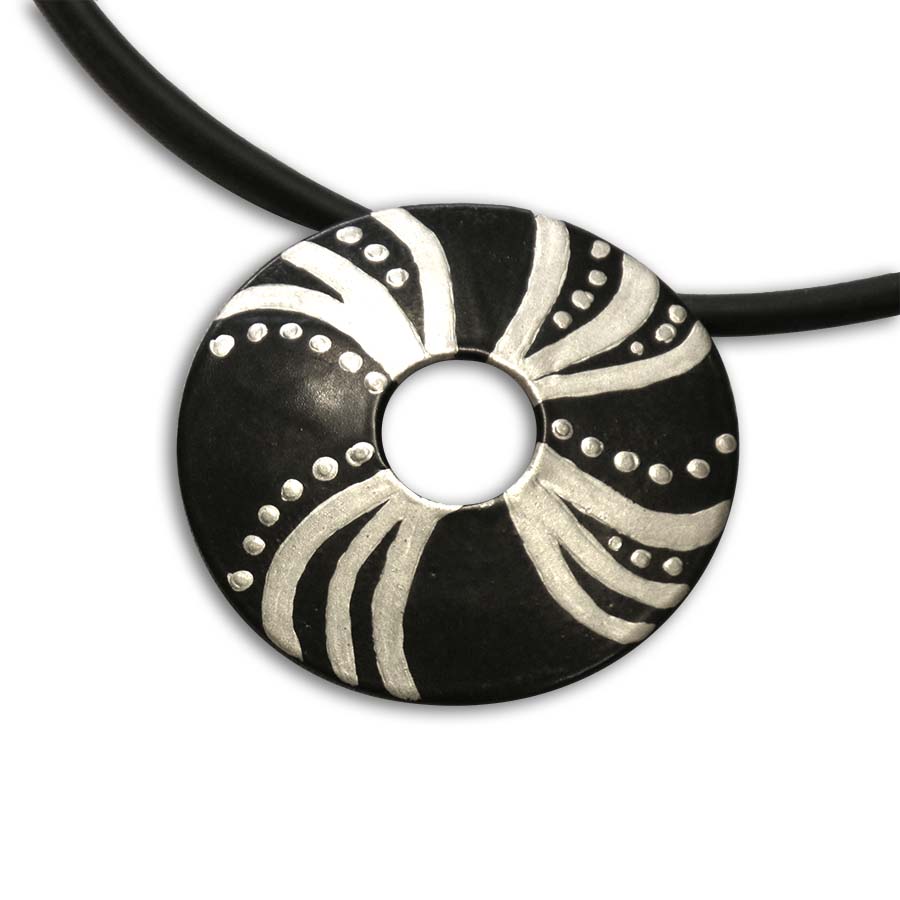 Creatures & Critters Collection Tutorial (members only)
Firing Instructions
To fire, place the piece in a cold or slightly warm kiln (below 300˚C). To avoid thermal shock which can crack your ceramic/porcelain, it's best to start with a cold kiln. You also need to leave your piece to cool down inside the closed kiln, until it reaches close to room temperature.
Depending on the size of the ceramics, you might want to slow down the ramp speed (how fast your kiln heats). You can use any of the four firing temperatures and hold times listed below. Choose the appropriate firing temperature and hold time depending on the material you are combining the paste with.
These times are as recommended by the manufacturers. As always, with fine silver clay and paste, the longer and hotter you can fire, the stronger your silver will be.
| | | | | |
| --- | --- | --- | --- | --- |
| Temperature | 650˚C/1200˚F | 700˚C/1290˚F | 750˚C/1380˚F | 780˚C/1435˚F and higher |
| Holding Time | At least 30-45 min. | At least 15-30 min. | At least 10-20 min. | At least 5-15 min. |
Earthenware clay works best for combining with metal clay. The glazes that work best with silver are blues and other cool colors as other colors can react with the silver in the same way that glass or enamel does.
Conventional stoneware clay can be pressed into metal clay either before or after the metal clay has been fired. The two materials will often fuse, but a mechanical grip is recommended to ensure a strong bond. It is important to remember that the ceramic piece will not shrink as it has already been fired but the metal clay will, so you need to allow for shrinkage. If the piece is bigger than 3mm it is best to cut a small hole at the back to lessen the strain and avoid puckering and damage to the ceramic.
It is important to put your piece in a cool kiln to begin the firing and allow it to cool down slowly until it reaches room temperature before removing it from the kiln to avoid crazing or cracking of the ceramic. You should never quench a piece that contains ceramics.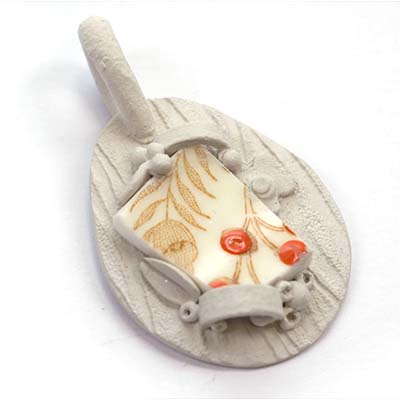 Attaching a ceramic shard using silver clay shapes as prongs, Julia Rai
Silver clay mount
Another technique that can be used to attach a ceramic piece is to make a silver clay piece and attach some prongs to hold the ceramic in place.
Many ceramic pieces can be set in place and fired using this technique.
If you are interested in setting the piece after firing see the article about setting stones after firing for more information on prong settings.
Ceramic elements can add color and interest to your metal clay work. Follow these guidelines and have fun!