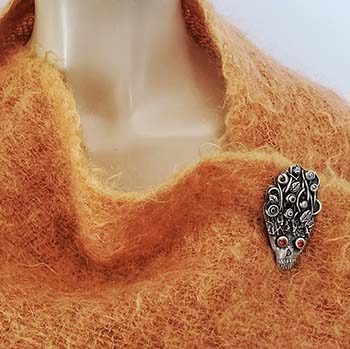 The pandemic has caused a lot of us artists to lose our mojo, me included. My mind has been frequented by a lot of negativity and discouragement and for me that is not conducive to creativity, not to mention that the craft show thing is not happening. The Bits and Pieces Challenge is a wonderful way to get you out of your head and into making.
I had watched the amazing work that was created in August and September and each month I thought, "I should try that." October came along and what could be more fun than something spooky? Normally, my work is very nature themed and organic, so I thought the fanciful theme would be a great jumpstart to get that mojo going!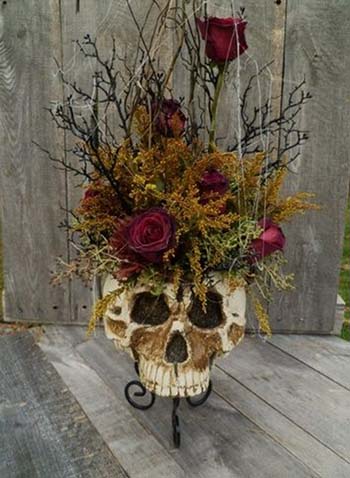 Sometimes, when I want to be inspired, I find a quick way to do that is to pick a theme and look through the hashtag on Instagram – not specific to jewelry, just anything within that theme. So, of course, I plugged in "Spooky." One of the images that popped up was a flower arrangement of a skull with branches and flowers coming straight up out of the skull. It was spooky for sure but also looked feminine and somewhat tortured. It kind of went with my mood, so that's where I started.
My first step was to draw it out and then loosely make it in polymer clay to see if I could get the feel that was in my mind. Once I thought I could, I started making the texture with walnut pieces as I didn't have any shells. I made this on polymer clay and baked it as required. I then cut out a template from cardstock of a loose version of my skull.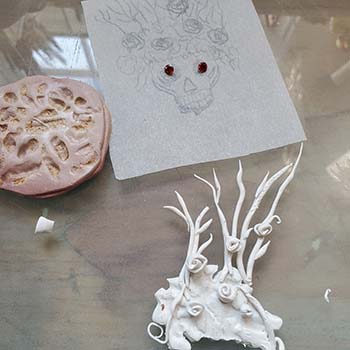 I rolled out my clay and textured the back with the walnut texture and then cut the textured clay with the template. I drew in the eyes, nose & teeth with my needle tool, made bezels for the orange garnet eyes, and applied a really cool thorny texture that I had made previously to dried Flex clay.
Next on the agenda was the coils. Now, I love making coils. I find it very soothing and meditative and every time I make them, I think of wonderful Lisel Crowley who taught me how to make them in my very first metal clay class. I wanted them to be wavy and strong with an upward motion to try to replicate the feeling I got from the flower arrangement photo.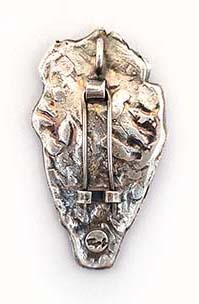 The roses are also coils that I flattened and rolled up. I placed these around the snake branches in what I thought was a pleasing pattern and added some leaves for interest. I have had a really hard time making a functioning pin, so I wanted to give it another shot. I also wanted it to be a pendant. Fortunately, this time is worked just great. It has been pinned to my jean jacket, and might become a permanent fixture!
I really enjoyed participating in this challenge, and it seems to have worked in the Mojo department! I have been making more in the last couple of weeks than I have for ages. Thank you AMCAW, and all the wonderful and talented artists out there, inspiring me to keep at it!
Guest Blog: Brett Apthorp
Fancy having a go at the current Bits and Pieces challenge? Check out the details here