Meet Victoria Ralph
Winner, Intermediate Category, Bling! Challenge
Congratulations to Victoria Ralph, winner of the Intermediate Category in AMCAW's Bling! artist challenge! Her winning piece is a necklace, Dragon Treasure, with a dragon possessively clutching her prize of a sparkly gem.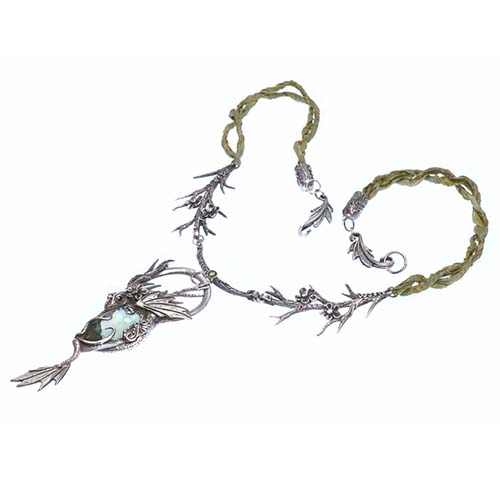 "I wanted to create a creature that was beguiled by bling," says Victoria, "in this case, a tiny forest dragon who had found a large sparkling gem deep inside the forest. My idea was that the body would wrap around the treasure and rest upon it. I gave the dragon a sense of character by carving her face; a dark CZ gives her a twinkle in her eye, and she has an expression of delight and mischief."
"I tried to convey the idea of a magical forest where tiny dragons lie recumbent amongst ancient, blossomed boughs. The branches were sculpted, textured, and adorned with blossoms holding tiny CZs at the centre for added sparkle. I particularly liked the mossy colour of the silk cord; I created textured end caps and then finally a clasp which mirrors the dragon's wings.
"The challenge for me was the fact that the prasiolite (green amethyst) couldn't be fired but I needed the dragon to be exactly the right size as her tail wraps around the back of the gem, so I made a replica stone. The metal clay was shaped and wrapped around the replica before being fired. I always make design sketches, but my pieces often take on a life of their own as was the case with this magical little creature – she ended up with antlers and a flower on her head!"
Victoria first became interested in making jewellery in 2015, when after admiring many beautiful pieces, she realized that she wanted to create and wear her own designs. "At that time, I had a lot of ideas in my head, and what I needed was an accessible and versatile method of creating those ideas with the minimum amount or equipment," says Victoria. "I'd never heard of metal clay but after a little research I decided to take my first workshop, and I've never looked back."
"Metal clay gives me the freedom to explore my ideas, and I like the way anything I make can change and evolve during the process. It gives me a sense of freedom and excitement – anything can happen! I also like the longevity of being a metal clay artist, a beginner can make something amazing and yet someone who has been working with metal clay for 20 years is still evolving and learning and making amazing pieces."
"A great deal of my inspiration comes from nature," Victoria continues, "I'm drawn to small creatures and the world they live in: they are among us but often unseen and overlooked. I strive to capture the exquisite beauty of the natural and sometimes supernatural world, all the tiny details and movements – the essence of a forest floor or the detail of a moth wing. I want to observe and investigate all the layers of life; the surface of a leaf may seem smooth but when you observe closer? I want someone to want to look closer when they see my work, and for their eye to be drawn across the piece. My pieces often have an interesting reverse as if turning over a stone. I strongly feel that nature speaks to us of ancient wisdom, and I create pieces as an expression of that wisdom."
"I start with an idea which turns into many, many very rough sketches and then I start to think about which stone would complement the design. When I'm satisfied with the final design, I start creating the elements and putting the piece together. Often this is a convoluted journey of discovery into what works and what doesn't; how could it be better? and what if I did this or that? That's why I love metal clay – like magic the final piece emerges exactly as it was supposed to be.
"I do a lot of carving as metal clay is so easy to carve, and recently a lot of syringing for texture. I find myself sculpting more now, something I used to be afraid of, and I bring elements together, often around a semiprecious stone. I tend to solder bezels onto the pieces after firing. I also like to create my own bails and clasps.
"Through my journey, I've found the online community on Facebook to be really friendly and supportive, a great source of inspiration and fun. I'm constantly learning from fellow artists and communities. An example of this was the advice I received for photographing my pieces. My winning piece needed to be lit from underneath to show off the stone, so I went to the AMCAW Facebook group to seek help, procured a tracing pad with light and it worked!
Her advice for artists interested in metal clay? "My advice to anyone starting metal clay is to fully explore all the wonderful learning resources available, we are so lucky in that information is shared very freely within our community and there are so many sources of learning such as excellent online tutorials and courses as well as Facebook groups. Just ask as many questions as you need to and keep learning!"
Find Victoria at www.victoriaralphjewellery.com and on Instagram and Facebook.