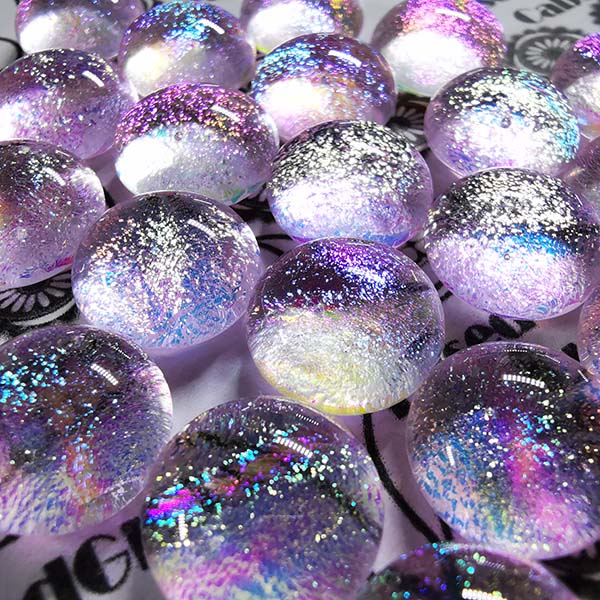 I started my metal clay journey in October 2015 with a one day taster course with Anna Campbell at the London Jewellery School. I continued playing with metal clay as much as I could with a full time job, doing online courses with the fabulous Tracey Spurgin. And then Tracey launched her dichroic glass and silver clay course. During this course, I learned how to fuse glass, and that was a life changing moment!
I quickly became addicted to fusing glass to create cabochons for my metal clay, and started to supply some of my friends in the metal clay world with fused glass cabochons. I was asked to write an article about glass fusing for Making Jewellery Magazine in February 2018, despite only fusing for a few months. It was quite difficult hiding this secret from my metal clay gang before the magazine was published.
Things progressed quite rapidly from that point, and my business was established around the end of September 2018. In April 2019, I set up a Facebook page for my glass, Fused Glass Cabs by Chillipepperdesigns and this caused quite a stir with lots of interest. I then decided a private group would be better to give my clients a little more privacy when they are buying as they seem to be addicted to what I produce!
This page was also where the skull logo originated from as I have a huge skull obsession. This has led to my logo being used in a unique packaging strategy that seems to be popular among my existing clients adding to their glass collections.
In July 2019, I launched my website fusedglasscabs.com as not everyone uses Facebook, and this has been a great addition to my business.
The Facebook group is fantastic, and I have an amazing bunch of lovely and supportive members. I can ask them questions and normally get a very positive response as to what their needs are. The members on the group are able to use what I call "the stash system." They can add glass over the period of a month to a personal "stash" which is then invoiced at the end of the month, like a month-long shopping basket.
Members of the group sometimes have sneak peeks into glass in production and can see new products early. They are always excited for new combinations and I love to give them something new as often as I possibly can. Making new combinations is lots of fun, but now with the demand I often find myself recreating batches that sell out. Some glass seems to be so popular that it sells out before the cabs even hit the kiln!
One of my favourite things is choosing new glass and buying more tools to expand on my skillset, allowing me to develop what I can offer. I have a machine for grinding that I use when I am making custom shapes – the teardrop shape is very popular. I've also purchased a ring saw to be able to create more interesting and custom designs. Another kiln will be required in the very near future to increase my output.
Over the past year, I was asked to sponsor some classes at the epic 'You Can Make It' conference. in March 2020. Unfortunately, this was right at the start of the COVID-19 pandemic and classes were cancelled as instructors either could not travel to the event or were called home as the virus took its grip on the world. Despite this, Petra Wennberg and her team from Metal Clay, Ltd. were amazing and those of us that attended had a fantastic time!
I have learned that the demand for cabochons is way beyond expectations and I am very fortunate that I took advantage of the gap in the market at the right time. It has opened so many new opportunities and allowed me to meet so many wonderful people!
So, my little business is going strong with clients worldwide, which is truly amazing. One day I hope to be able to give up my day job and do glass full-time, which would be a dream come true! Until then I will carry on making beautiful glass cabochons for metal clay artists and jewellery makers to use in their gorgeous creations.
Guest Blog: Sara Johnson
Sara Johnson runs Fused Glass Cabs by Chillipepperdesigns and makes glass cabochons specifically for the metal clay market (glass cabochons can be easily fired in silver metal clay). She's based in London, but has a worldwide customer base, even though she has a full time job which has nothing to do with her fused glass work.
Website – fusedglasscabs.com 
Facebook Page – FusedglassbyCPD
Facebook Group – Fused Glass Cabs by Chillipepperdesigns
Instagram – fusedglasscabs