Calls for Entry and Making Submissions
As metal clay enthusiasts, we love to make beautiful things. Some of us do it with the intent of selling our products, and some do it solely for the love of creating.
Most of us already practice a form of marketing if we post pictures on social media, have a shop, or participate in craft shows. The marketing and sales portion of the job is just as crucial to the end goal as creating. This article will briefly outline some of the details that are needed for 'Calls for Entry' or any submission opportunity.
Who Might I Submit to?
There are several avenues for makers to submit their work. Some examples are:
Jewelry and Craft Magazines

Craft shows

Art Gallery/Museum Exhibitions

Manufacturer or Retailer Challenges

Regional Guilds and Art Organizations

Alliance for Metal Clay Arts Worldwide (AMCAW)
Where Can I Find Information About Challenges and Competitions?
Some examples to get you started on your journey are listed below:
Alliance for Metal Clay Arts Worldwide offers the chance to submit your work for challenges, calendars, and exposure on the website.
Exhibition opportunities are listed on snagmetalsmith.org for their members.

To find information via an online search engine, such as Google, use search terms like "jewelry design competitions and challenges + the year/date".

When other artists you follow mention shows or challenges; take notes and plug those dates into your calendar. You can then be ready the next time the same opportunity arises.

Online submission sites, like Zapplication and CaFÉ

, routinely send out newsletters that have information on current calls for entry.

Find newsletters or other publications that alert artists to a variety of craft opportunities like:

Contact individual print and online jewelry magazines to find out about their submission opportunities.

Think outside the box. Instead of limiting yourself to specifically jewelry-related opportunities, look for more general calls. In a call for entry that specifies 'black and white' you may be the only jeweler in a sea of mixed media artists and jurors for a sculpture call may be very impressed when presented with a piece that is 2in (50mm) x 1.5in (45mm) when other artists are showing life-size works.
Each year AMCAW publish a calendar of artists work.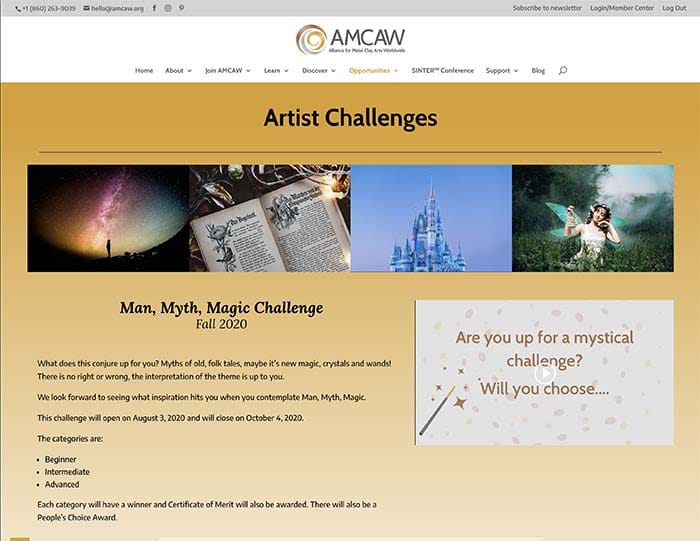 New Challenges are announced twice a year in Spring and Fall. Check out the latest here
How Do I Prepare in Advance?
Creating an account on Zapplication and/or CaFÉ will keep you up to date on events, which they list in their member newsletters.
Pay attention to due dates for submissions and create a calendar/timeline with all the goals that must be met. Include making and finishing the new piece, sending it to the photographer, recording the jewelry dimensions and submission details, etc., and of course put a big red X on the calendar when the submission has to be sent in.
Many submissions will require information that relates to the work being submitted and often include the request to 'name' the photograph in a specific way. The easiest way to rename the photo is to copy it to the desktop, highlight the existing name, and retype a new title to align with the requirement request.
Occasionally you'll see a call for entry long before the deadline. In that case, you will have time to make something to fit the requirements as well as gather the required information. But more often you'll come across the request at the last minute and will want to enter with an image of a piece you've already made. Being prepared in this instance is critical! 
Every time you make and photograph your work keep all the details and dimensions in a 'submissions' folder, so they're handy for the next opportunity. Create a document that lists every event or group to whom you submit. Having an easily accessible record of this information can be helpful so that you don't duplicate images when submitting to competing publications. This doesn't mean you can't submit photographs of the same object, just not the same photo (especially to magazine galleries). It may be beneficial to have shots of the same item on two backgrounds or using two different angles.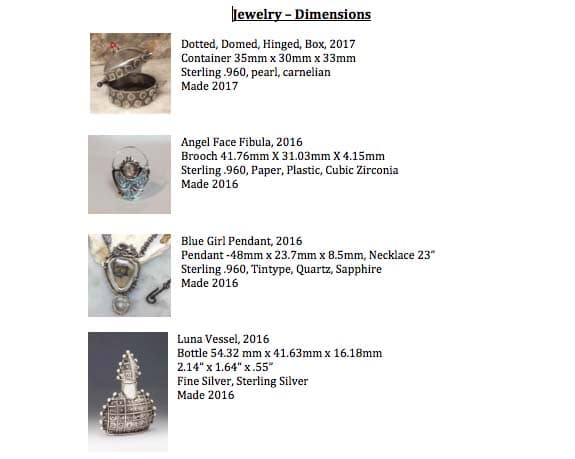 Add another document to the folder called 'jewelry dimensions.' Include a thumbnail of each piece of jewelry you photograph, followed by descriptive information including:
Dimensions – height, length, width or depth in both mm and/or inches.

Materials used.

Date created.

Photographer credit (if you didn't take the photo).

Title of the piece (if you don't use names or titles – write something like 'Untitled – Ring' or 'Untitled – 'X' Collection' or just 'Untitled').
If you have this information easily accessible, you won't need to guess or repeatedly measure the item. This information will also be helpful for older pieces of work that may have been sold.
How Do I Photograph for Submission?
The photographs for submission are everything! Images taken for a selling site can be very different than those for a competition or print submission. The use of props might make a piece of jewelry more understandable or more attractive to a buyer, but they will visually confuse and distract the focus of evaluators and jurors. Photograph your work on a white, black, or gradient backdrop, and leave models, props, and artistic backgrounds for your shop.
You can take your own photographs, or you can hire a professional photographer. Most smartphones take good quality photographs. Look for tutorials online that show how to get the most out of your phone camera. The more megapixel capacity, the better the image. It is a good idea to take reference photographs of every piece you make. This is an excellent way to practice taking pictures. Make sure your images are:
Well lit.

In focus.

Free of props and distracting backgrounds.

Identity free, no signage or watermarks.
If you decide to hire a professional photographer some things to consider are to ask for more than one background (both white and gradient), or for a front and back shot of the piece. Getting to know your photographer, building a relationship, and being precise about what you expect will lead to successful photographs of your pieces.  
Shipping work through the mail directly to the photographers' studio is quite common. Photographing jewelry takes a very specific talent, and you might not be able to find a good photographer in your hometown. Remember to:
Pack well.

Buy insurance.

Inform the photographer when the piece(s) are in transit.
The photographer will probably send your images on a CD but if you need them sooner, ask that the photos be sent via email as well. Some photographers may offer to upload your images directly to Zapplication or CaFÉ.
Look for a partial list of jewelry photographers here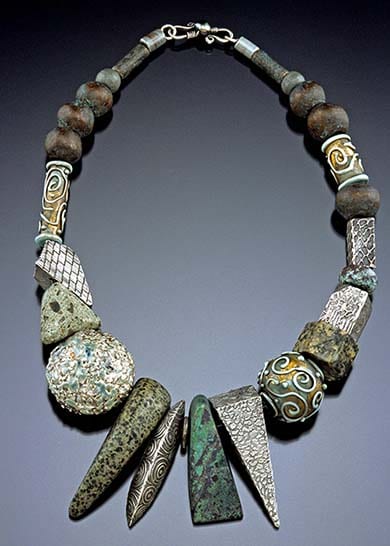 Well photographed work will help you!
Barbara Simon, Green Rocks (photo credit: Artist's own)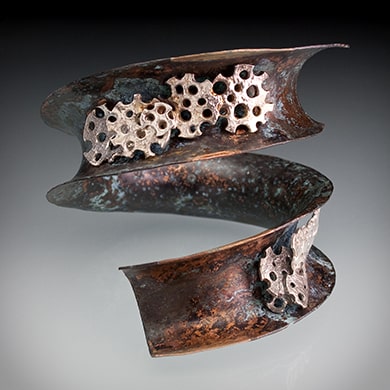 Julia Rai, bangle
Photographed by a professional: Paul Mounsey
Explanation of Submission Requirement Terms
DPI means dots per inch. It refers to the clarity of a photographic image as it is seen in print media. The larger the number, the more dots of color to fill in the details, and the clearer and more detailed the image will be. While photos seen on the Internet are only 'printed' or viewed at 72dpi, 300dpi is standard for print media, and is the resolution that most submissions require.
PPI is practically the same thing but refers to pixels per inch (PPCM is pixels per centimeter), which is the standard measurement of an electronic image.
JPEG .jpg or .jpeg stands for 'Joint Photographic Experts Group,' which is the name of the group who created the JPEG standard (ref). It's the format that images are saved on the computer as opposed to a documents .doc extension.
TIF or TIFF is a 'Tagged Image Format File.' .tiff's are not compressed like jpeg's, contain more data, and deliver a more detailed image. TIFF images can easily be compressed on the computer by re-saving the image as a jpeg.
CMYK refers to the four inks used in some color printing formats: cyan, magenta, yellow, and black.
RGB is another type of color representation and refers to red, green, and blue.
MB stands for megabyte, a unit of storage capacity.
How Are Your Pieces Judged?
Jurors can be chosen for a variety of reasons and from a variety of backgrounds. Sometimes they can gather in a single location to view the submissions on a large screen, but more often they are looking at images on the computer in their homes. The larger the image format, the more precise the details will be, and the better they'll be able to assess your work.
Most often, they have to view hundreds or even thousands of entries. If the photograph doesn't tell the whole story immediately, they won't have time to 'imagine' what it might look like in real life. They may look at the scores from all evaluators and/or discuss the entries before making a final decision, but they won't give a bad photograph a 'pass' just because they recognize the work of a well-known or talented artist.
One of the most important things to remember is to do as they ask. If they ask for a white background, make sure there's a white background. If they asked for a specific size, make sure you transform the image to match the requirement. If the challenge has a theme, make sure your work reflects it. If you don't, those details may rule you out before they even look at the craftsmanship of your entry.
Submitting to calls for entry is a way to:
Challenge yourself.

Become known to your peers and potential clients.

Further your career.

Meet other makers.

Become inspired.

Inspire others.

Share your knowledge.
If you have sources for international photographers, magazines, or submission sites, please contact us and we'll be glad to include them in this article. 
Plan for your future and be prepared so that the next time you see a Call for Entry, you can answer it.