There are so many ways of adding color to your metal clay designs that we definitely won't be able to cover them all. Three of the most obvious are patina, enamel, and setting stones – both before and after firing. But there are many others that are fun, challenging, and easy to master. Whether they were originally intended for industrial applications, developed for scrapbooking and craft work, or were added to the jewelry toolbox right from an artist's imagination, the following mixed media materials would make beautiful additions to your metal clay designs.
Mixed media refers to art works created by combining more than one material. In the jewelry making universe combining precious metals with gems, glass, or enamel is a traditionally accepted practice, but using uncommon materials is a 20th century innovation. Exploring ways to include mixed media techniques gives you freedom in expanding your creative horizons. The following materials can be used to give your work a modern, eclectic, point of view.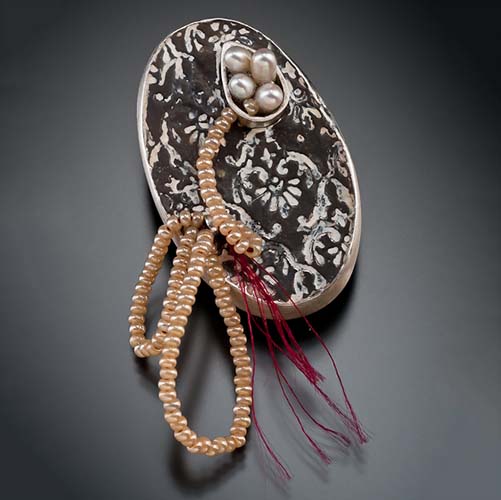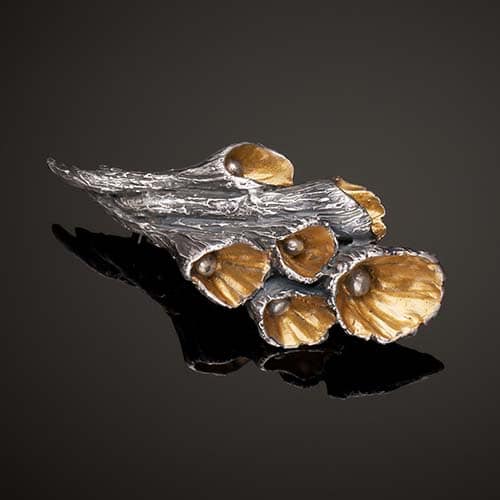 Julia Rai ceramic paint (gold highlights)
Photo Paul Mounsey
1. Paint
There are many paintable liquids that can be applied to sintered metal. Make sure you do extensive research into each method before trying to do it yourself. Always take proper safety precautions into account, and work in a well-ventilated room.
Automotive touch up paint is pretty pricey, but the kind that is used for model cars is much more affordable and available at craft stores or online. It comes in acrylic, enamel, or lacquer with finishes like high gloss, flat (matte), metallic, opaque, transparent, and even fluorescent!
Acrylic and oil paints that are sold at art supply stores can also add vibrant colors to metal surfaces. Be sure you leave enough time for oil paints to dry before turning the work into a finished piece of jewelry.
Water based porcelain paints can be cured in a home oven at around 300ºF (149ºC).
Glass paints are normally transparent and come in a wide range of vibrant colors. They are available in solvent or water-based formulations and are thin enough to be easily painted into specific areas to add color.
Under the right circumstances even nail polish can be used to add a pop of color. To make it a bit more translucent, add a drop of acetone to the polish or try buffing some of the polish off when it is partially dry.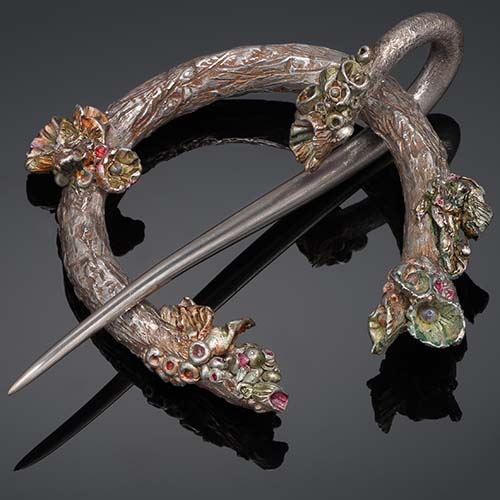 Julia Rai alcohol ink and liver of sulfur
Photo Paul Mounsey
2. Liquid Colorants
Alcohol ink is a dye-based colorant that is suspended in alcohol instead of water. An inexpensive and easy to use medium, it is recommended to use a UV sealant that does not contain isopropyl or acetone! A water-based sealant will not re activate and smear the design. If you can't find one that has been recommended or manufactured by the same maker of the inks, try a spray like Krylon's Kamar® Varnish.
Opaque patinas that have been specially formulated to adhere to metal are available in a wide range of metallic, pearl, and rainbow colors. Matching glazes can be used to blend gradients and seal surfaces, including those developed with traditional patina solutions like Liver of Sulfur (LOS).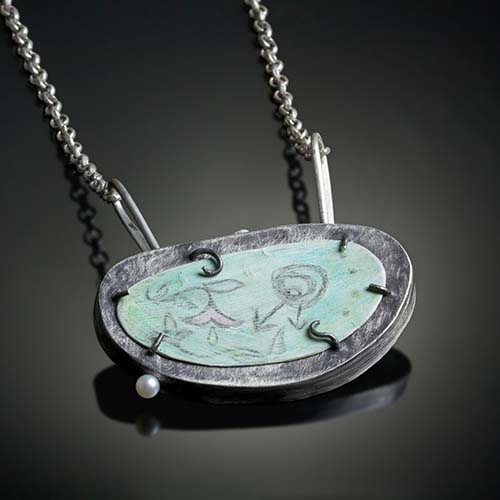 Lora Hart PrismaColor pencils
3. Colored Pencils
The technique of adding color to metal by simply layering the surface with colored pencils, is a relatively new addition to the jewelry world. Wax based colored pencils are a safe medium, easy to use, and come in a rainbow of color choices.
To achieve great designs, start with clean metal and apply a base coat of liver of sulfur, Jax green patina or artist's gesso, then layer color with pencils. Use a spray fixative between layers and apply something like Renaissance Wax as a final sealant. Let the beauty of the metal show through the color or apply enough layers to develop an opaque surface.
Lora Hart resin colored with spices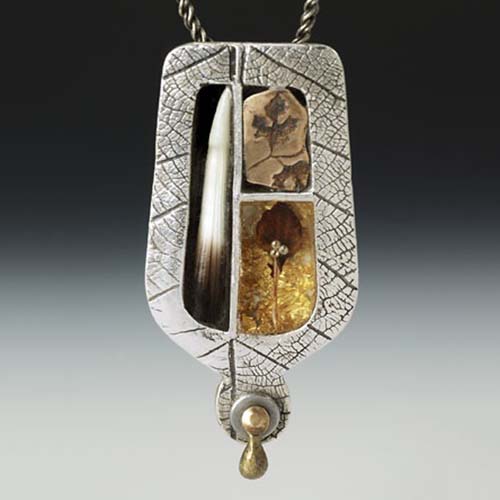 Lora Hart found objects set in resin
Photo Marsha Thomas
4. Resin
There are several types of thermosetting resin that can be used in jewelry. Depending on the project you may choose to use a UV resin that will cure almost immediately under a light like those used in nail salons, or one that takes longer to cure in household light. Two part epoxy can also be used and is often more easily obtained from your local hardware store.
Each type of resin you can find online will have different amounts of viscosity or clarity, so read the description to make sure you buy one that cures water clear, instead of one that might yellow over time. Two part epoxy resin also has a variety of different curing times from a matter of seconds through to several hours so this can have a bearing on the type of product you choose.
Create colorful effects by embedding different objects like decorative papers, foils, photographs, flowers, leaves, feathers, glass frit, and so on.  Add color to the resin by stirring in eye shadow, spices, mica powders, liquid dyes, and other types of pigments. A little goes a long way, just a drop or two will create a very colorful inlay but too much might negatively affect the way the resin cures. This is especially true if light cannot completely penetrate UV resin. A two-part epoxy resin might be a better choice if you want to create an opaque surface.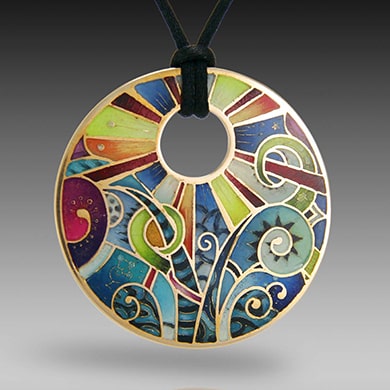 5. Cold Enamels
The phrase 'cold enamel' is a fairly recent way to describe a variety of resins that can be cured at low or room temperatures but should not be confused with vitreous glass enamel which must be fired at temperatures around 1450-1607ºF (780-860ºC). 'Low Temperature enamels' which require a curing temperature of around 250ºF (120ºC) can be applied to any porous surface that will not be affected by the heat of the curing cycle like metal, ceramic, porcelain, glass, etc.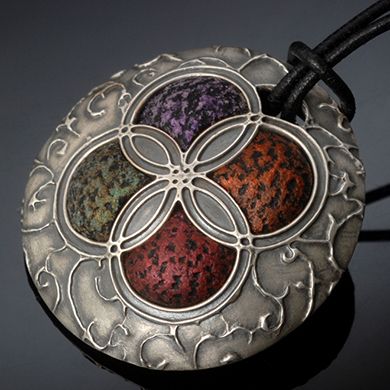 Cindy Silas, polymer clay
6. Polymer Clay
Polymer clay is a man-made modeling clay used worldwide for making colorful sculptural items and is basically a plastic, PVC material. Before curing at temperatures from 265°F (129°C) to 275°F (135°C) using a domestic oven – it can be shaped, molded, textured, etc. The variety of colors commercially available is rich and they can be blended to create specialized hues and gradients. Special effect colors and composites include translucent, fluorescent, phosphorescent, and faux pearls, metallics, leather and stone. When combining polymer with metal clay, the metal clay base would be fired and polished first and then the polymer inlay would be added and baked in a home toaster oven.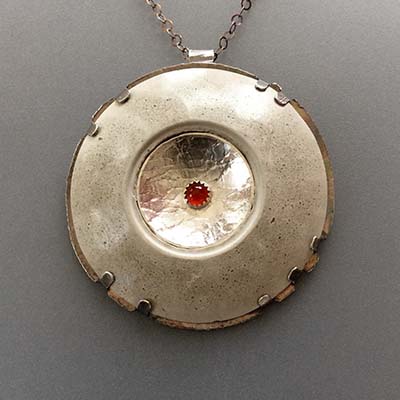 7. Grout and Concrete
Grout and Concrete are similar materials. Concrete is heavier and denser than grout and is great for setting small items like screws, bolts, or even colorful gemstones. Grout is much lighter and has a fluffy and smooth consistency due to the smaller particles in the composition. Grout does not hold 3D elements as well as concrete but does create beautiful inlays.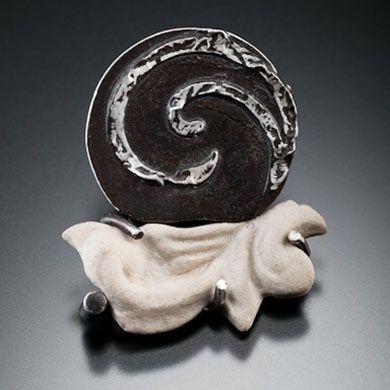 Lora Hart found object set with prongs
Photo Marsha Thomas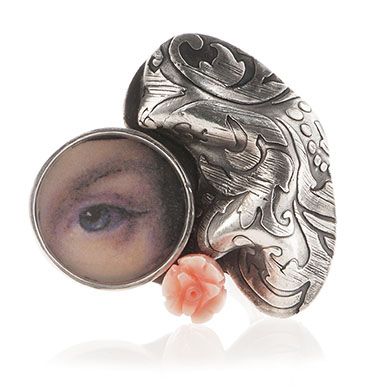 Lora Hart photo set in resin
Photo Marsha Thomas
8. Found Objects
Found objects can be any object or material that is not usually intended as a supply for the artwork being created. For instance, paint on canvas is completely conventional when it's intended to hang on a wall, but a fragment of a painting is a found object when it's included in a piece of jewelry. Old coins, bus tokens, bottle caps, an old watch dial, parts of failed projects and whatever catches your eye can help your creations tell a story. Visiting hardware and electronic stores, scrapbooking or craft supply stores, antique stores, flea markets, or just examining the ground beneath your feet can bring new creative ideas to your work.
Colored wires – Thin colored wires are perfect for weaving, stitching and wrapping. Anodized aluminum craft wire and plastic-coated telephone wire are fun to work with, but cannot be co-fired in the kiln, so it is better to add them after your metal clay work has been fired and finished.
Metal parts – Unusual bits and pieces, nuts, bolts, rivets, eyelets etc. come in various colors and can give a more industrial look to jewelry. Even rusted relics discovered on the street can be used as intriguing decorations.
Paper objects like photographs, currency, maps, or words and phrases printed in a magazine can all be set under clear quartz, a glass cabochon, or resin.
Vintage rulers, measuring tape, inexpensive broken jewelry, children's toys, bits of plastic, ceramic shards, and mini mint tins will all make jewelry seem a bit more interesting.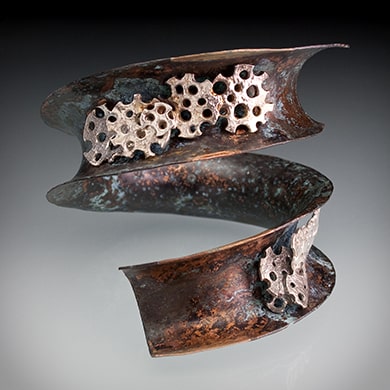 Julia Rai fumed patina on copper sealed with Renaissance wax
Photo Paul Mounsey
9. Sealants
Many of the materials listed above might benefit from a sealant to help them last longer, but be careful what you choose to preserve, and what you use to do to it. Many types of commercial sealants will make ink run or change the way light hits the surface of the object – which will change the color we see. Always experiment with a sample before you try to seal painted surfaces, photos, or printed materials.
As you can see there are so many ways to include color in your designs that the only limits will be set by your imagination!