This year I hit my half-century mark and so far, I've had three 'careers' in my life. My first was in sales and I sold everything from advertising copy, to packaging materials (I know far too much about the technical details of cardboard boxes) to smart cars. I learnt a *lot* about building relationships.
The second was as a jeweller (which I'll talk more about later) and the third was in cyber security.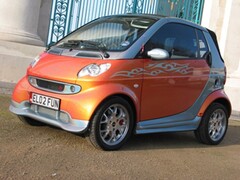 It turns out that building relationships is about building trust, and that building trust is mainly about listening to what people need and want, and helping them get there. For example, when I worked for Smart of Nottingham selling cars, I discovered that the 'Smart Car Owners Club' wasn't really catering for all the people who loved the brand. There were a significant number of people who loved the quirky nature of these compact and fun cars and wanted to take it further. They wanted to paint them red and add black spots and ladybird theming; they wanted ones that looked like the pink panther, and some folks (like me) wanted to add 'street style' and remap their engines. The dealerships didn't cater to those people.
So, I created 'Smartmaniacs' (a site which is still going strong) which connected us quirky, fun-loving people who wanted to get creative and meet up and do stuff like the London to Brighton run! Then I built a relationship with a local garage that could help people get their cars painted or add graphics etc. My car 'Arizona Blaze' was a great example of some of their modifications.
All of this resulted in people coming from all over the country to buy cars from me. I was part of a tribe – a tribe of quirky people with a love of these quirky cars. We had shared interests and this tribe trusted me to help them source the perfect cars for them. I was totally transparent and honest. If they wanted to remap their engine, I let them know it would invalidate their warranty and how much a new engine might cost if they stressed it. I let them know if I couldn't get what they wanted (and if somewhere else might have it) – it was all about service.
Smart of Nottingham began regularly outselling London dealerships and some folks from Smart HQ in Germany came to visit and see what was going on. When I told them what I'd been doing, they were initially quite concerned, but once I explained my customers bought 'factory standard' cars and understood their warranty implications as part of my process, they realised I'd found and successfully tested an untapped market. Smart then introduced a custom service for the higher end Brabus cars, all as a result of my little sales escapades.
What is interesting and the lesson I learnt from this is that when you focus purely on the other person, success inevitably follows. Also interesting was at about this time a marketing guru called Seth Godin wrote a book called Tribes, about how humans naturally form tribes and the power of those tribes in terms of 'word of mouth' marketing and sales. I can testify to that as finding and serving tribes well has made me very successful both in sales, in jewellery design and in cyber security. Which brings me onto my career in jewellery, which started entirely by accident.
Then Came Jewellery
Smart of Nottingham changed hands and it wasn't the same 'family' anymore, so I got a job in technology selling technical solutions. Tech was lots of fun, it had a whole new tribe of folks who were mainly geeks like me, there was tons of new stuff to learn: it was awesome! As an added bonus, there was less travelling and less social interaction, which left me with a lot more personal time. So, I took up jewellery making as a hobby…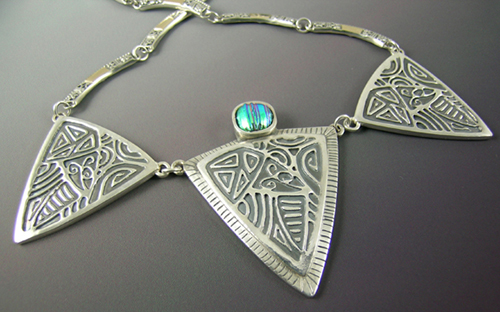 My hobby soon became a passion and I started seeking out weekend courses, first in soldering, then in enamelling, then in forming and shaping metals, until eventually I encountered a new material which appealed to the 'tech geek' in me. It was called silver clay. Silver clay sounded amazing! Microscopic particles of fine silver, in an organic binder, which you could mould, shape and carve like clay, but when fired turned into pure metal. I had to try some, and of course as soon as I did I was hooked.
All of my spare time (and cash) was consumed by metal clay. I started making so many things that I had to sell them, at first to family and friends but then I rented some space in a bricks and mortar shop too. My hobby became a career as I followed my passion. Soon I had multiple shops and I made some fantastic friends along the way, as I joined a new tribe of artisans and creatives.
Soon I was travelling to conferences in America and learnt all I could from artists around the globe which naturally I integrated into my own styles and techniques, and I wanted to share those too. I began writing a blog sharing my learnings, then I was invited to write for jewellery magazines and then I won 'Jewellery Designer of the Year' from Beads and Beyond Magazine.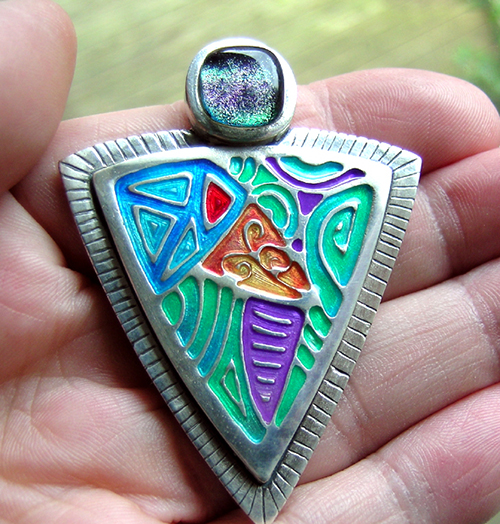 It was really, really cool. I made the local papers and my Art Clay work got into jewellery design books too. I felt like I was really being useful to my tribe, and eventually I ended up as Chairperson of the Art Clay Guild which was a huge honour.
I owe huge thanks to people all over the world in that tribe (they are too many to mention) but I loved my time and learnt so much from folks like Julia Rai, Tracey Spurgin, Lora Hart, Lorena Angelo, Donna Penoyer and Alison Lee. Through you and others in our tribe, I found my style – you all rock.
Unfortunately, my jewellery career came to an end with my divorce as I sold my shops when I moved from Cambridgeshire back to Worcester. It was a devastating time for me, but despite me not being an active designer, the fantastic community of artists and artisans really helped me through personally and emotionally. That's how amazing people are in the metal clay and artisan community!!
My Third Career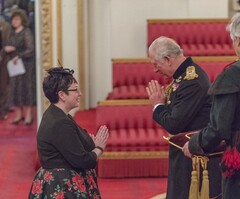 Eventually I started to heal, got back into technology, and met and married my soul mate, Ian.
Together we built a company – Titania. We grew our customer numbers and income through serving a global tribe of cyber-security experts, helping them secure critical national infrastructure, finance, and trade. It's been another exciting ride which has given me fantastic experiences, including receiving the inaugural 'UK Cyber Citizen Award' for my work in UK cyber security. I met the Queen with Ian when Titania got a Queens Award for Innovation and received an MBE (Member of the Order of the British Empire) for 'Services to International Trade and Diversity' from Prince Charles. (For non-Brits, an MBE is the third highest ranking Order of the British Empire; Nicola shares this distinction with people like Ed Sheeran and Adele.)
Today I continue to mentor organizations, help increase diversity in tech and speak internationally on all kinds of interesting topics. Ian and I are blessed to have a leadership team that we trust to grow Titania and it's meant that we could move to Cornwall. I'm very much looking forward to getting my workshop set up again. There's a definite creative vibe here that's fanning the embers of creativity. So, who knows what my fourth career might be!!
Guest Blog: Nicola Whiting
Nicola is co-owner of Titania Group, an Amazon best-selling author, and has been recognized as one of the top 30 most influential women working in cyber security. She received the UK's inaugural 'National Cyber Citizen Award' for her 'outstanding contribution to the world of cyber security and protection' and was awarded an MBE by the Queen for services to International Trade and Diversity. She is autistic.
More info is available on nicolawhiting.com or follow her on twitter @cybergogiver