Congratulations to Inna Soummer, winner of the People's Choice Award in the Alchemy Challenge. Her winning entry, Coral Reef, is a bronze ring with red coral and pen-plated silver elements.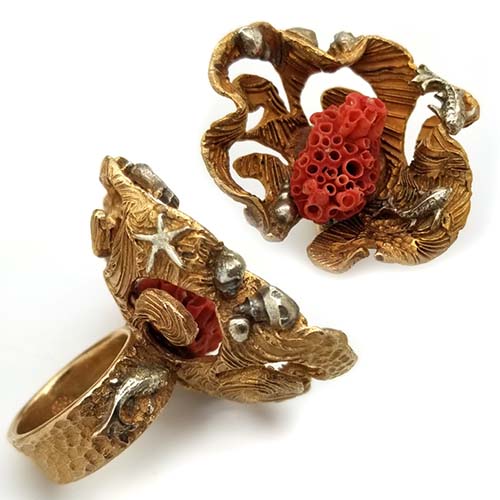 "My inspiration was the beauty of the world underwater, with all of its unusual forms and exotic colors, creatures, plants and corals," says Inna. "Coral reefs are like a fairy tale filled with delightful treasures and fantastic characters. I love to snorkel in warm water, swim surrounded by fish, and explore the underwater ecosystem. In my ring, I tried to create the atmosphere of a small coral reef with shells and fish surrounded by water."
Inna's interest in metal clay started "I began creating jewelry back in 2007 when I was looking for jewelry to wear for a special occasion. After spending some time on the internet and in jewelry stores not being able to find what I needed, I decided to make my own — a simple but bright and bold coral set of a necklace, a ring, and earrings.
"I started with just stringing, then I moved on to more complicated gemstone beading but I felt that wasn't challenging enough. I decided to learn wire wrapping, bead embroidery, and seed bead crochet. Then I wanted to learn how to make other elements for my beaded ropes and found metal clay – which I started learning last year by watching online videos and eventually taking master classes in Moscow at MetalClayStudio."
"I've been a student of the arts my entire life and I like to think that I haven't made my best piece yet. I'm always learning new techniques and trying new things with different materials. I really enjoy the process of creating jewellery and for me, art is a labour of love.
"My inspiration comes in all forms but nature and museums have always been great places for me to generate new ideas. Over time and after a lot of experimentation, you will develop your own unique style and create pieces you're proud of. Even if this is just a hobby, it's a great creative outlet and has a very high ceiling for improvement!"
Inna's work has been published in several European magazines, including Perlen Poesie and Beads & Jewelry. One of her creations was a finalist in the Bead Dreams 2016 content.
Find Inna online on Facebook at Inulitkaand and Instagram at inulitka