It's hard to believe that, in little more than thirty years after metal clay was first produced in silver, it's available in so many forms and from so many manufacturers. You can work with silver in paper type, lump form, paste, overlay paste, and syringe. Many forms and brands can be torch fired, and while all can be kiln fired, firing temperatures and times vary widely.
It can be overwhelming when faced with all the choices! How do you decide which to use? Start by thinking about what you want to create and ask yourself these questions.
Do you want to torch fire your project? That will eliminate a number of clays.
Do you want a high shrinkage rate, or do you want a low shrinkage rate to minimize alteration of your greenware design? Review the shrinkage rates and eliminate those that don't fit your desired shrinkage parameters.
Do you want the strength of sterling, or the brighter shine of fine silver? Now you should be down to just a handful of choices and will have an easier time deciding what you want to use for your project.
Here's Help – Silver Metal Clay Reference Information
Not everyone has a long list of all the silver metal clays and their characteristics on hand, but we're here to help! We've compiled a reference sheet on silver metal clays with information provided by their manufacturers, which you can download to help sort through all their characteristics and find the ones best for you and your project.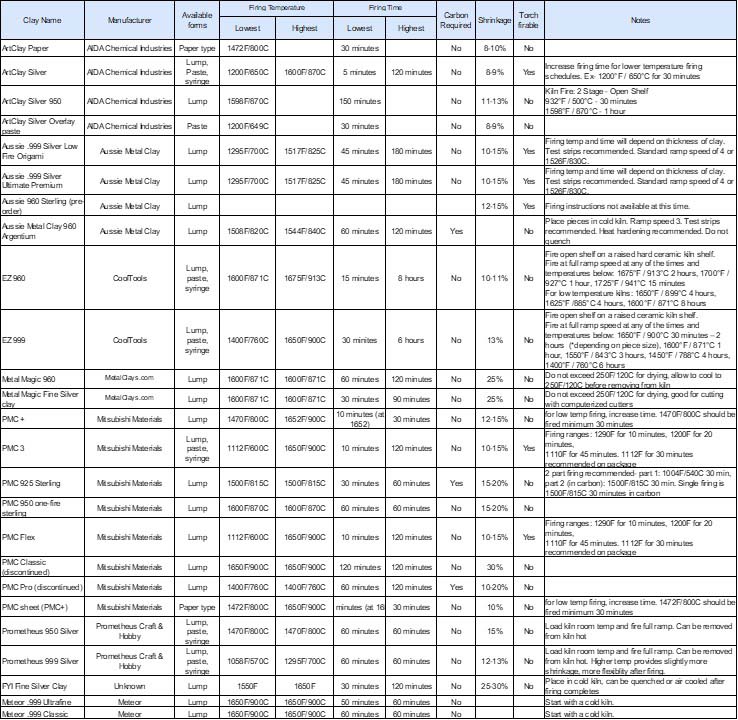 Click here to download the Silver Metal Clay Reference sheet
TIP: Print out the reference sheet and record your own results on it as you try various clays. Many metal clay artists keep a kiln log to record firings and results so mistakes are not repeated!
Please note: you should always check the handling and firing information packaged with your metal clay as it is occasionally subject to change. The information in the Silver Metal Clay Reference sheet was compiled from information provided by the manufacturers; AMCAW bears no responsibility or liability for information contained herein. You should contact the clay's manufacturer or distributor if you have questions about a specific clay. Clay manufacturers are invited to contact AMCAW to update information about their clays or to have a new-to-market clay added to the silver metal clay reference sheet.