Meet Holly Gage
Winner, Advanced Category, Story Telling Challenge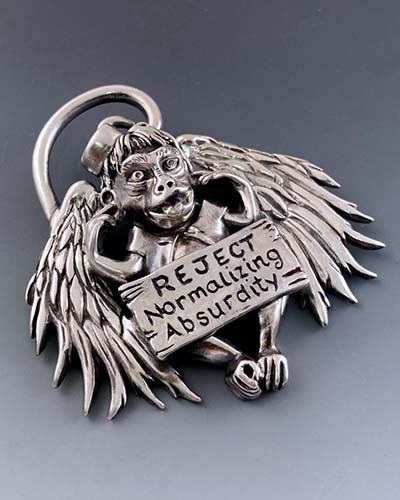 Congratulations to Holly Gage, winner of the Advanced Category of the Story Telling Challenge! Her winning piece, Flying Monkey,
"It was an outlet for emotion and frustration," Holly said. "It took me a while to put all the various parts of the concept together as I sorted out my own feelings. It is hard for me, or anyone else, to articulate myself when my thought and intentions aren't clear in my own mind."
"In psychology, flying monkeys represent people who carry out much of a narcissist's dirty work, allowing the narcissist to keep their hands clean while pulling all the strings. Gaslighting is a big part of it, where you are told falsehoods and are convinced of their validity through charismatic presentation, but all the while the motives are self-serving.
"When I decided to put the fingers in the ears, the piece really came together for me. It represents the monkey's ignorance and compliance while doing the narcissist's dirty acts. I think people do this in real life knowingly and unwittingly. The sign he carries says it all "Reject Normalizing Absurdity" as these crazy acts and behaviors which you are told are normal are NOT.
"In studying Narcissistic Personality Disorder, I've learned a lot about Narcissistic behavior and how highly manipulative and dangerous. The one thing I like the most is educating people. I've gotten some public and private messages about how it has opened people's eyes who have looked up the terms Narcissist Personality Disorder and Flying Monkeys."
"My personality is multifaceted, and I use art to express each of the many faces of me. I can be humorous, a romantic, a lover of nature, or a lover of the arts and dance. When I get the spark of inspiration, I often research the subject matter and find out as much as I can. For instance, I created a piece with the central theme of gratitude, so I studied symbols of different cultures and fell in love with the Celtic Spiral. From these ideas, I can develop a rich story informing the work. I pick and choose the details that speak to my sensibility, and I start to sketch. As the drawing develops, I am mentally working out the mechanics of how I'll translate my thoughts into an actualized piece."
Holly's favorite technique is carving. "When I carve, the work comes alive and starts to really look like something. This stage is preceded by the "ugly" stage. Many of you can relate to envisioning a piece in perfect completion, but in the ugly stage it doesn't quite meet that vision with what's in front of you in a working stage. It isn't until the refining stage and minute details are applied that make the work sing."
"My other favorite technique is dry-to-dry construction, where complex pieces are made possible. Pieces look more involved than they are until you break them down into steps.
"I love the flexibility and the diversity of using metal clay. I like the precision of the end result, but those who know me know I'm a klutz, so I love, love, love the forgiving quality which allows me to just smoosh it and start again or rehydrate it. My favorite thing to do is go into what my family calls "Holly's World" and get lost in the refining and carving. It's very therapeutic."
Holly is a well-known metal clay instructor, teaching for more than 20 years with in-person and online classes. She helps lead the Greater Philadelphia Metal Clay Guild, and is an administrator for the Metal Clay and Mixed Medium Forum. She won a Saul Bell Award in 2015 for distinction in design for her work "Je t'aime," a hand-sculpted metal clay creation in silver with pearls and a sunstone.
Find Holly at:
HollyGage.com
facebook.com/people/Holly-Ginsberg-Gage
instagram.com/gagedesigns
youtube.com – gagedesigns
pinterest.com/gagedesigns