Anca Crahmaliuc from Romania is one of the artists who regularly enters our just-for-fun monthly Bits and Pieces challenges in the public Metal Clay Fun with AMCAW Facebook group. There are no prizes for this challenge but the artists who enter something always get feedback from our friendly and knowledgeable jurors. The feedback is designed to encourage the artist and help them to grow in their metal clay development. And everyone can see the feedback and learn from it so it's a great resource for all metal clay artists. A winner – or several – are selected each month and appear on the AMCAW website. It's amazing what can be achieved with just five weird and wonderful elements and a theme. Jurors are always delighted with the way the artists use these bits and pieces to create something wonderful.
We asked Anca – who also volunteers for AMCAW – what she enjoys about the Bits and Pieces Challenge and why she's one of our most prolific entrants.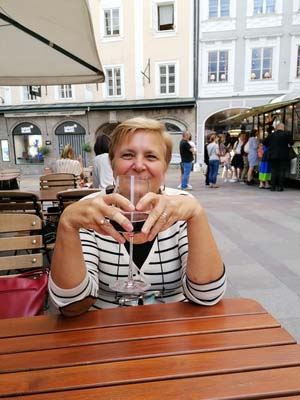 I have been passionate about jewelry forever.
As a teenager, in the 70s, I used to make and wear all kinds of strange pieces made of wood, cork, stones, shells…whatever. Now, I would say that mixed media is in my nature!
My attraction to metals and stones led me to geology and geophysics and my academic background lies in these areas. For me and my colleagues, geology was a blessing in the 80's. We were among the few free people in the last years of Romanian communism. Stones, fossils and metals saved us from ideological borders. Unfortunately, due to the economic turmoil after 1989, geology remained for most of us just… a hobby.
For a long time, I was a passionate jewelry buyer. That meant that I purchased jewels in each of my trips around the globe. This collection is like a personal history because when I look at them, I suddenly feel mentally transported to places and times I love. Definitely, jewels are not simple objects. For me, they are a personal form of communication, always telling a story.
Discovering metal clay was like a miracle. It happened at a difficult moment of my life, when my mother suffered a stroke and then died. Keeping me busy with doing beautiful things was a very effective mind therapy. And I found a way of expressing myself and making designs that I didn't find as a buyer.
I am grateful to my instructor, Corina Gheorghe, for both introducing me to the metal clay world and for encouraging me to join AMCAW, first as a member and then as volunteer. AMCAW opened a lot of new awesome possibilities for me: meeting generous and talented artists, the best metal clay instructors in the world, getting gorgeous tutorials and access to wonderful challenges.
Although I am fully aware of my skill limitations, I am never reluctant to test my current abilities.
An AMCAW member has nothing to lose but can only win when participating in an AMCAW challenge: there is no entrance fee, the chance to be judged by experts you never dream to meet otherwise, the benefit of a worldwide exposure, competing according to your skill level and learning continuously.
One of the most accessible challenges, open to both AMCAW members and non-members, is Bits and Pieces, hosted by the public Metal Clay Fun with AMCAW Facebook group. This group is really 100% fun for a metal clay fan. Each month there is a different theme and you only have to incorporate the five different bits and pieces into your metal clay piece. I've entered in almost all the months since August 2020 till now, and each time I've had a wonderful experience.
Although pandemic restrictions kept us in our houses, creating felt like it was liberating us from lockdowns. Somehow it was like all the external barriers grew my self-confidence. As I said, there's nothing to lose, only funny hands-on learning experiences.
A great benefit of this challenge is the fact that you can follow how the other participants approach the same theme. I've learned so much from them. Moreover, fulfilling the challenge requirements I discovered new techniques, tools and materials. For example, the punchinella texture required one month proved to be quite a beautiful discovery. Because for the moment only UK suppliers seem to have it, Julia sent samples to Annemarie Klappe in the Netherlands and she shared them with me. That shows how inclusive this challenge is.
The jurors' evaluation is incredibly useful. Basically, your piece is seen and judged by metal clay gurus. What would normally be your chance to have this opportunity?
From one month to another I pushed my limits and …guess what? I even managed to win with some pieces.
I truly love all types of metal clay but there is no doubt that silver is much more craft friendly than base metals. However, using base metals and moreover combining them or including mixed media can expand one's creative opportunities. This was my personal challenge and I am happy that my progress is real and acknowledged by the jurors.
I don't know if my personal experience is of any use to somebody else but …you never know until you try, do you?
Find Anca on Facebook